LocalBozo.com's special beat reporter Jordan Rubenstein will be covering the New York Jets all season long, with quarterly season recaps about where the team is headed. We'll also have reporter Tim Sachs tackling the New York Giants head on as we bring you all local NFL coverage heading to the upcoming 'Big Game' held at MetLife Stadium in 2014. We look back at both teams' first three quarters of 2013 and ahead to what the remainder of the season holds in store.
Check out Jordan Rubenstein's Preseason Preview here and see how the team is stacking up against his predictions.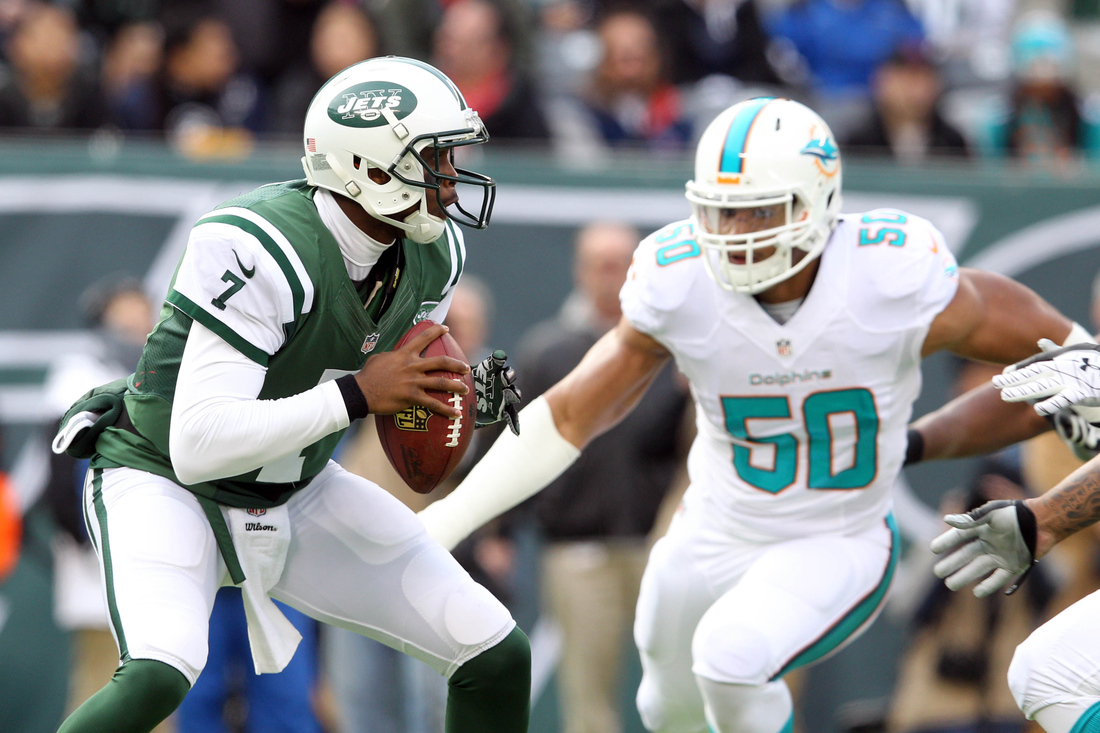 Well, it was fun while it lasted and honestly, it lasted much longer than anyone expected. After the New York Jets managed to alternate between losses and wins over the first nine games of the season, they have lost three straight, each one in disastrous fashion. Before even talking about the Jets, first consider that the Ravens gave up 17 points or more in the seven games leading up to their matchup with the Jets and the Dolphins have given up less than 20 points twice all season. The Jets offense managed a total of six points against these beleaguered defenses. Not to sound (read) like a broken record, but it all starts with one man: Quarterback Geno Smith.
His struggles needn't be rehashed again. It's evident that he's failed to maintain his composure in the pocket and calling him an erratic passer is a compliment. But if any single moment encapsulates Smith's regression, it was the moment that cameras captured this past Sunday against Miami. Wide receiver David Nelson was wide open downfield. Smith not only missed him by several yards, but the pass landed harmlessly out of bounds. That's not the good – or bad, depending upon your perspective — part. Television cameras caught Nelson's face after the play which revealed some combination of amazed and bewildered that Smith's throw wasn't even close.
The Quarterback Conundrum
So why does Rex Ryan stick with his young quarterback? For starters, he has no legitimate backup quarterback on his roster. Matt Simms hasn't proven any better and David Garrard is probably just happy to be receiving an NFL paycheck at 35 years old. Hey, who wouldn't be? It is entirely possible that the Jets will win just enough games this year to take them out of contention for one of the potential franchise quarterbacks in next year's draft. Not likely given how deep the class is slated to be, but certainly possible. The scary thought then is that Mark Sanchez might be the Jets' best option at quarterback next season barring a significant free agent pickup. Stew on that for a moment.
Defensively, there's not much more you can expect from Gang Green at this point. Quotes and clichés aside, guys like Muhammad Wilkerson and David Harris, both in the midst of what should be Pro Bowl seasons, know this offense isn't going to get magically better over the final quarter of the season. Anyone will tell you that it's only natural that type of acceptance can wear you down. No one is saying those guys will slow down or not play to their full potential- they will. They're standout professionals. But it's tough to motivate an entire defensive group at all times when the season appears lost and offseason vacations can be booked.
New York tried to catch lightning in a bottle with the mid-season signing of safety Ed Reed, but it seems the future Hall of Famer could be playing his final days in a league that he once dominated like few before him. That signing only confirmed the worst-kept secret in Florham Park: the Jets' secondary is nowhere nearly as good as advertised. Granted, Antonio Allen is having a fine season at free safety and Dawan Landry is living up to his expectations but beyond those two, there's nothing exciting brewing. Highly touted first round draft pic Dee Milliner has been a disappointment, Antonio Cromartie isn't the same without Darrelle Revis and Kyle Wilson doesn't see the field as much as expected when he was drafted in 2010.
Based solely on defensive metrics like their yards per game allowed, it would seem the Jets are doing just fine, but the reason they rank in the middle of the pack (12th) is because their defensive line leads the league in rushing defense. Meanwhile, the secondary has struggled all season to the tune of allowing 256.8 yards per game, ranking them 25th, an unsustainable statistic and one that only furthers the need for the Jets offense to produce much more than one field goal each game. The Jets players won't tell you they're looking toward 2014 as they approach this week's game at home versus the Oakland Raiders, but the front office is another story. General manager John Idzik will be watching to see if this team responds to Ryan down the stretch, if Chris Ivory, who is quietly averaging an impressive 4.4 yards per carry, can be a long-term frontline running back, where the real skill player deficiencies exist and, ultimately, how he needs to approach next April's draft.
So while the Jets have sputtered and their holes have finally proven too much to overcome, there's still four games left to determine who will be part of the Jets future. And hey, for the diehards out there, that might just keep the fun going a little longer.
My Preseason 2013 New York Jets Prediction: 4-12

- Jordan Rubenstein
Related Articles
Share
About Author
(1) Reader Comment