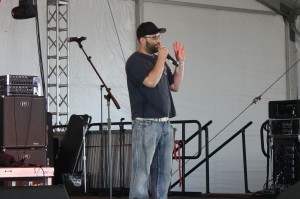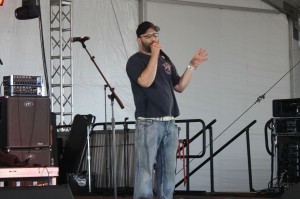 Any listener of Sirius/XM's Howard Stern Show knows his signature catchphrase – "Shalom, Biotch." He's Shuli Egar, a comedian who mixes his own Jewish background and upbringing with the staples of any stand-up comic: weed, reality television, and sex. As a member of the Howard 100 News Team, Egar's role has expanded to that of a competent news reporter- well, one who reports on the likes of High Pitch Eric's whereabouts or Bigfoot's run-ins with the law anyway. More recently, Egar has become sort of a headliner- performing around the country on a Stern show inspired tour called "Ronnie's Block Party," led by Stern's undersized security guard Ronnie Mund.
LocalBozo.com got a chance to sit down with Shuli Egar backstage at Metallica's Orion Music & More Festival at Bader Field in Atlantic City, New Jersey for a candid interview. Read below as we recap how Egar was selected to participate in the festival, opening for Metallica, his thoughts on Howard Stern's performance as a judge on America's Got Talent, upcoming plans for the "Block Party," and much more. And to learn more about Shuli Egar or to find out where you can catch him performing live, check out jewgonewild.com.
LocalBozo.com: Shuli, thanks so much for some time today bud.
Shuli Egar: Thank you and thank you for getting my name right. You're the first one today.
LocalBozo.com: Been doing a lot of interviews today?
SE: Yeah, yeah. I think I just did a wrestling show. There's a lot of shit going on here and I don't know what exactly I signed up for. But it's been fun man. Shit, to be honest with you the fact that I'm here and I didn't have to buy a ticket- I'm pretty stoked to be here, man. Very excited.
LocalBozo.com: Awesome, we're happy to have you. We're huge fans of yours. How did you get involved with Metallica and with a metal festival?
SE: Well my first involvement with Metallica was an album I bought, years and years ago. Other than that, this kind of came about where Richard Christy, who I work with- he's a writer and producer for the Howard Stern Show and former drummer of Iced Earth and Death, and now he's the drummer of his own band, Charred Walls of the Damned. So Lars (Ulrich) was calling in for an interview with Howard and mentioned this festival and also mentioned for the first time to Richard's knowledge that his band was going to play at this festival. So Richard was completely blown away and surprised and my job at Sirius- one of many- is as a news reporter and I went and interviewed Richard about it and I guess somebody at Orion heard the story and Richard forwarded me the e-mail from them saying that we're interested in talking and getting in touch with Shuli to perform at this festival. But when I got the e-mail- I read it like three or four times. I'm like 'why is my name in a paragraph with Metallica. I don't fucking get it.' And then it said 'put us in touch with his manager,' and I'm like 'my manager's making a gravity bong right now.' But you know, we put on the professional gear and I'm here. So it's my first experience with it- hopefully not my last. I hope they continue this festival and take it around everywhere.
LocalBozo.com: So your set is later this afternoon. Your comedy pulls no punches- a lot of it is Jewish related humor, if that's fair to say. How do you have to temper your act or transition it toward a metal crowd?
SE: The Jewish stuff you hear, is 'cause you write what you know. That's why you don't hear too many Qwanzaa jokes during my sets. I try not to focus too much on that because at the end of the day not everybody knows what it's about to be Jewish. What people know about- the majority of people- is fuckin', smokin', drinkin', and you know, making fun of retarded people. I'm not big on politics, so you're not going to hear me do a lot of that. But it's notoriously known that comics and concerts go together- it's all in the way it's presented. What's good about this is, they have a specific stage set up for that. So the people that are there, are there to see comedy. So you're not going to see people who are waiting to see a band surprised at a comic. You know my first gig ever doing that- I lived in Vegas. It was some local band. The lead singer saw me do stand up and he said 'hey, come open for us- we're doing a show, 800 people.' I said, 'awesome.' So the guy who's introducing me, he's like 'you guys ready to rock? You ready to rock? But first…' I was like 'but first? What an asshole.' It was the worst intro ever. I remember coming up- the crowd's booing. I'm like 'thank you. Thank you for coming out tonight. Shabat Shalom, everybody.' And it didn't go well. This, what's weird about it- I'm not nervous about it, like I feel like the shit I have to talk about, they're gonna get. They're gonna dig. And we're gonna be alright. And even if I bomb horribly, I still get to watch Sepultura and Metallica.
LocalBozo.com: If it's any consolation, Don Jamieson and Jim Florentine killed yesterday so I think you're gonna be in good hands.
SE: Those guys are great man. And to work with Jim Breuer again, like I am today. Going on before Breuer, opening for him if you will, I mean- I love it. All the guys who are doing stand up here, I've worked with and like 8 or 9 years ago, these are guys I was watching. I didn't think I'd be here ever doing this. I was climbing up the ladder so slowly stand-up wise and career wise. It's just The Howard Stern Show- it's like the modern era Carson show. If he says 'you are fucking funny' it's like 'I like you.' And everybody's like 'yeah, you know what he's right. This guy is alright.'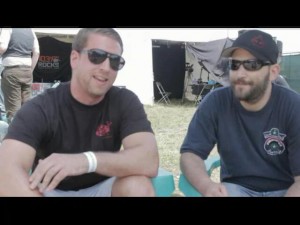 LocalBozo.com: Gives you the rub.
SE: Yeah man. And thank God. People are always like 'hey, what's Howard like?' I'm like 'great, he hired me.' I could give a shit about anything else, you know? He's an awesome guy.
LocalBozo.com: The rest of the summer you have some Block Party dates lined up with Ronnie the Limo Driver and some other guys from the Stern Show, what's on tap for the rest of 2012 for you?
SE: 2012, we're booked with this Block Party. In September, we have some big shows coming to Los Angeles and San Diego. A lot of celebrities are going to be out there. There's been talk of possibly a Celebrity SuperFan Roundtable going on. And not just that, we're going to be touring this entire time- we're going to Vegas, Texas, Florida, Boston, Baltimore- in March 2013, we're going to be on this island of Jamaica- a little thing called- Ronnie Mund's Jamaican Island Getaway, where it's just going to be a ton of people from the show- staffers that you hear everyday, comics, Wack-Packers, you're gonna see comedy shows, different people from the Stern Show are gonna host different kinds of events. We're gonna have 'Bocce Ball with Beetlejuice.' We're gonna have all kinds of shit. It's gonna be a lot of fun. There's no more loyal fanbase than Stern fans. And if you give them something that they like and you treat them with respect, and you don't try to fucking schner them, they are the most loyal people out there. And I love that. There's nothing better than hanging with other fans.
LocalBozo.com: Two quick Stern show questions- 1) how is Robin [Quivers] recovering and 2) your thoughts on Howard Stern's performance on America's Got Talent.
SE: Robin is doing fine- I haven't spoken to her. I sent her an e-mail. I hear she's doing well. She's recovering. Any surgery is tough you know, so it's going to take time. But they were predicting that she wouldn't even be able to do what she's doing now after surgery and she did it right away. She's a fighter- she's fought all her life and we're looking forward to seeing the beautiful Robin Ophelia Quivers back at work very soon. I know Howard misses her a lot. As far as America's Got Talent, I'll be honest I never watched that show before, nor did I really look to watch it because those types of shows really aren't my thing. I have talent, I don't care what anybody else has- but anyways. But I love it, you know, because it gives a chance for Howard- there might be some hardcore Stern enthusiasts, fans from day 1 who are like 'Howard sold out.' It's not selling out dude, he's evolving. Every human being does it. Howard can never be more powerful than when he's mainstream and when everybody that's respectable has to respect him. And he's on his way with this show. He's so great at it. I tape it every week now, I watch it every week. My wife's like 'when's AGT on?' We're into it man. I think he's doing a great job. It's fun. I'm really impressed with Nick Cannon too. I think he's funny on there and his role on the show is good. I love Howie [Mandel] and Sharon- it's good tv. I'm hooked. I'm hooked.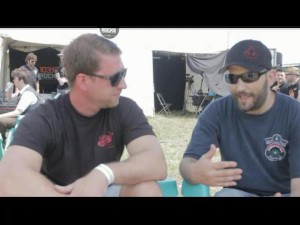 - Jane Van Arsdale
Related Articles
Share
About Author
(0) Readers Comments