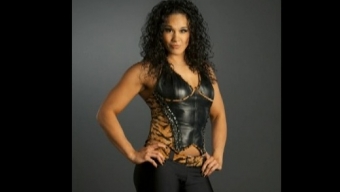 Second and even third generation athletes have started becoming commonplace in most major sports, with the sons and daughters of previous legends attaining greater levels of success than their parents and grandparents. We've seen sons of baseball sluggers called up to our favorite teams, outstanding shooting guards in basketball, and even a certain pair of star quarterback brothers, who've collected several championship rings in the NFL. From a similar mold and pedigree, WWE Diva Tamina began her professional wrestling career in early 2010 in Florida. Under the tutelage of her father, legendary wrestler "Superfly" Jimmy Snuka and her brother, former WWE performer, Deuce, Tamina quickly rose to prominence, debuting with the main roster in the spring of that year, as a manager.
Relying more on her size and strength than most of the other Divas in the women's division, Tamina's athleticism has become her calling card and she's worked to become one of the more impressive female workers on the roster, since her call up. With fans clamoring to see more of Tamina in the ring, only time will tell what the future holds for the promising young athlete.
On Sunday, March 18th Tamina and the Superstars of the WWE return to New York City's Madison Square Garden on the "Road to Wrestlemania Tour" with a special start time of 5pm. Headlined by a six man tag team Main Event, Randy Orton and WWE Champion CM Punk team with the returning Triple H to take on Chris Jericho, Dolph ZIggler, and Cody Rhodes, the show is packed with all of the Superstars from the Raw and Smackdown brands and is the final New York City stop before Wrestlemania 28 in Miami, Florida on April 1st. Also of note, John Cena battles Kane in a Last Man Standing Match and World Heavyweight Champion Daniel Bryan defends his title for the first time at The Garden against behemoths Mark Henry and The Big Show in a Triple Threat Match.
LocalBozo.com was fortunate enough to grab a candid interview with WWE Diva Tamina. Listen in as we discuss her start in the wrestling business, standing out amongst a sea of other Divas, her conditioning and nutrition on the road, and which past or present WWE Diva she'd like to battle in a Wrestlemania dream match. Also, Tamina makes her pick for the winner of the Wrestlemania 28 main event between John Cena and The Rock. Listen as LocalBozo.com sits down with one of the more promising young female Superstars to come along in quite some time.
- Jane Van Arsdale
To check out some of our previous posts on the WWE, check out our links below:
- Things We Like That Don't Get Enough Respect- WWE (Posted 7/8/10)
- The WWE & a Blizzard Invade Madison Square Garden (Posted 12/28/10)
- LocalBozo.com Invades the Wrestlemania 27 Press Conference (Posted 3/31/11)
- Listen to LocalBozo.com's Interview with Mason Ryan (Posted 11/19/11)
- The WWE Raw Holiday Tour at Madison Square Garden (Posted 12/28/11)
- LocalBozo.com's Video Interview with Adam "Edge" Copeland at the 'Bending the Rules' NY Press Day (Posted 3/8/12)
Related Articles
Share
About Author
(0) Readers Comments