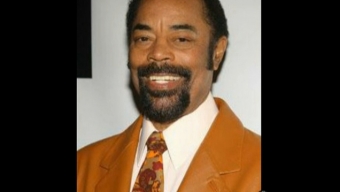 On any short list of the most charismatic personalities in sports and broadcasting, Walt "Clyde" Frazier sits at the very top. With a Hall of Fame NBA career spanning 13 seasons, bringing two championship rings to the New York Knicks, since 1997 Frazier has utilized his unparalleled way with words and his incredible vernacular on television as the team's color commentator on the MSG Network. Always the showman, donning one of his trademark flamboyant suits, Frazier has added yet another title to his extenstive resume- restaurateur. Earlier this month, the New York City restaurant scene accepted Frazier with open arms with 'Clyde Frazier's Wine and Dine,' a dishing and swishing, hustling and bustling, stopping and popping homage to Frazier's legendary career in a stunning and sprawling restaurant space that is changing the face of the conventional sports bar.
The LocalBozo team was invited inside 'Clyde Frazier's Wine and Dine' to preview the recently completed space. Designed by Pritzker-Prize winning architect Tom Mayne, his team transformed the 10,000 square foot layout into a three-tiered 190-foot long area, displaying images from Frazier's playing years. Some of the finest work inside sits on the ceiling in an ornate collection of aluminum and metal inspired by Frazier himself. At first glance, the main dining area is meticulously decorated and colorful. But upon closer inspection the design is actually patterned after Frazier's classic suits. They are even hanging overhead and their array of colors adds to the overall ambiance of the main area's dining experience. 
The kitchen also adds that cherry on top to an already exciting venture. Led by head chef David Waltuck (Chanterelle), it features the ever popular open view design allowing guests to watch each cook preparing their dishes. Seating is available for counter dining and if that wasn't cool enough HD TVs are situated a long the space to watch any available games.
Blog: Clyde Fraziers Wine and Dine
If the design of Clyde Frazier's Wine and Dine impresses you, then wait till you hear about the cuisine. Waltuck has personalized the entire menu, which will provide diners with a variety of fantastic selections. Starting with appetizers, guests can get their meal off on the right foot with an order of innovative shared plates like the "Asian flavored guacamole with lotus chips" ($9) or "Potato "knishes" with sweet and spicy mustard, and chive crème fraîche" ($8). Highlighted main dishes range from the hearty to heart healthy. In the mood for a steak? Look no further than Frazier's choice of a 14oz New York Strip, 16oz. Ribeye, or their 10oz Filet. Non meat eaters can feast upon the "Hearth-roasted vegetables, goat cheese, olive spread on seven grain bread sandwich" ($10). Besides the ones listed here, Frazier's menu is packed with delicious choices perfected by some of New York City's finest cooks.
Perhaps best of all is that "Clyde Frazier's" is a restaurant, a sports bar, and a lounge, all comfortably rolled into one vast space. They've even got a foul line inside, encouraging people to head in and shoot free throws at will, making the restaurant an ideal spot for large parties- bachelor parties included. And Frazier has promised to make rounds at his restaurant fairly often. With an inspired food menu and cocktail list, a ton of space to kick back (and 56 flat screen tvs!), and just a stone's throw from Madison Square Garden, "Clyde Frazier's Wine and Dine" is officially shaking and baking in New York City's Hells Kitchen. Regardless of how the Knicks are doing.
LocalBozo.com was privileged to sit down with NBA Hall of Famer and New York Knicks Color Commentator Walt "Clyde" Frazier for an exclusive interview. Listen as we discuss the concept behind his new restaurant, why 2012 was the right time for such a venture, donating his eccentric suits to decorate the space, the biggest challenge he faced in bringing the idea to fruition, and yes, we even talk about the rollercoaster ride of a season for our beloved New York Knicks. For more information on "Clyde Frazier's Wine & Dine," check out the website here (coming soon).
Clyde Frazier's Wine and Dine is at 485 Tenth Avenue near 37th Street in Hells Kitchen.
- Jay Rubin
Related Articles
Share
About Author
(0) Readers Comments