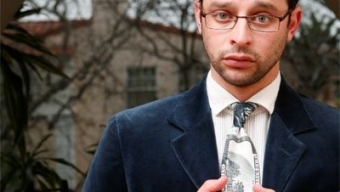 The New York comedy scene has produced some of the most brilliant minds in the business. There's just something about this town where creativity just oozes from it's core. Maybe it's the fact that we are all crammed together on this little island, fighting like rats to get the holy piece of cheese that is success. And because of this fact, many creative, funny people emerge from it and move on to greatness. Hell, this is the city that houses the mecca of all things comedy, Saturday Night Live where for over thirty years bright comedic minds from all over the country have be assembled at 30 Rockefeller Plaza to tirelessly produce a live variety show every week.
Comedian, actor, and writer Nick Kroll is a perfect example of one of the hard working, talented few who are making it in this cutthroat business we call show. Since entering the New York comedy scene over ten years ago, Kroll has established himself as a work horse, choosing diverse and alternative forms of the comedy to really cut his teeth. Kroll honed his craft with marathon performances of sketch and stand-up at both the The Upright Citizens Brigade Theatre, and the now defunct club Rififi, where Kroll carefully developed his spot on biting stand-up and great character work.
Along with his long time writing partner, John Mulaney (now a writer on Saturday Night Live) they created the, "Oh Hello Show." An on going weekly show at UCB, following the lives of two quirky middle aged men, living in the Upper West Side of Manhattan. The live show was hilarious and a biting satire of that neighborhood, and many of it's residents. Along with his work on the New York scene, Kroll has appeared on, VH-1′s Best Week Ever, Reno 911, and Parks and Recreation. You can currently see him on the FX Series, "The League" as the smarmy Rodney Ruxin.
LocalBozo.com was fortunate enough to sit down with Nick Kroll to discuss his time growing up on the comedy scene in New York City and how it has paved the way for the performer he is today. We got some great insight to see what he feels about his own character creations like the Jersey Shore-esqe Bobby Bottleservice, Craft Service expert Fabrice Fabrice, and Spanish radio host, El Chupacabra. Last but certainly not least, Kroll provided us with an exclusive about the future of his hit FX series, The League. Check him out wherever you can, because this guy is going to be the new benchmark for comedy.
- Alan Smithee
Related Articles
Share
About Author
(0) Readers Comments