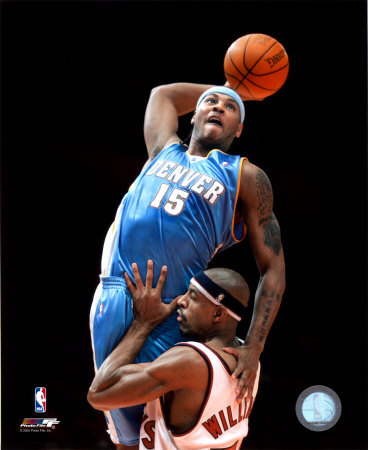 While the New York Yankees were out "building mansions" this winter, the New York Knicks were out building a championship caliber basketball team, as proven Monday night with the report that the Knicks had completed a trade for Denver Nuggets superstar forward Carmelo Anthony. In a much ballyhooed NBA season that has revolved so intensely around the new members of the Miami Heat, the continued dominance of the Lakers, Celtics, and Spurs, and the emergence of Derrick Rose, Russell Westbrook, and Blake Griffin as the league's newest superstars, it is our own Knickerbockers that have perhaps pulled off this season's biggest story.
For months, rumors of Anthony's desire to play in the Big Apple persisted amidst countless distractions to both Knicks and Nuggets players, and rampant league wide speculation about other teams dropping in and out of the bidding. But this February, Donnie Walsh, Jim Dolan and company are to be commended, just as they were vilified for failing to lure LeBron James to New York last June. The deal itself though was no small task. The reported four team, twelve player deal has the Knicks bringing back Anthony, Chauncey Billups, Shelden Williams, and Renaldo Balkman from Denver, and Corey Brewer from the Minnesota Timberwolves. In exchange (get ready), New York parted ties with Wilson Chandler, Raymond Felton, Danilo Gallinari, Timofey Mozgov, Anthony Randolph, Eddy Curry, a 1st Round Draft Pick (2014 or later) and $3 million. Whew. But at the end of the day, it was a move the team had to make and it was a move the city was desperate to have completed. And today, the Knicks have their man.
The league is coming off of the biggest All-Star Weekend in its history, with an estimated 8.1 million viewers (it's highest in 26 years) for All Star Saturday Night and Griffin's victorious Slam Dunk Contest jump over a car, and another 9 million for the game itself on Sunday (it's most since 2003). And the fact that the biggest market just landed its second Top 10 NBA player (with Amare Stoudemire's signing last summer) in the last ten months should do nothing but bolster the NBA's re-energized national fan base. As news of the 'Melo signing made its way through various outlets, rumor has it that seats for tomorrow night's home game against the Milwaukee Bucks are up to $10,000 per seat for Anthony's Madison Square Garden debut. Moreover, with Anthony firmly entrenched and expected to sign an estimated 3 year $65 million extension, the Knicks are expected to earn over $100 million in ticket sales for the 2011-2012 season alone!
The league in 2011 is arguably at the healthiest it's been in years. Rising superstars like Durant, Wall, Paul, and Love have re-invigorated downtrodden fan bases with the athleticism and character that the NBA had been lacking. And now with a second legitimate superstar in New York, with a strong class of potential free agents coming up this offseason, the Knicks have secured their place among the Eastern Conference's elite for years to come. Whether or not they manage to make the right moves from here on out is another story. The ball is very clearly in their court.
- Jane Van Arsdale
Related Articles
Share
About Author
(0) Readers Comments