He's a face you've seen or a voice you've heard a thousand times, even if you don't recognize him by name. From his stand-up specials on HBO and Comedy Central, to his role as awkward sidekick Spence Olchin on "The King of Queens," to the voice of Remy as the lead in Disney's "Ratatouille," to his chilling role as a sports superfan in "Big Fan," funnyman Patton Oswalt has been had a multi-faceted, scene-stealing presence on television and movie screens for well over a decade. Now with the release of his brand new book "Zombie Spaceship Wasteland," it appears Oswalt is set to take over the world of literature as well.
These days, it is not all that uncommon for a comedian to be so widely versed. Seemingly every comedian has released a book recently- be it Adam Carolla, Jim Breuer, even Greg Fitzsimmons has dabbled in autobiographical work. What sets Oswalt's apart, however is his creativity in delivering his imaginative story based around a series of essays, which are both poignant and clever. And downright hilarious. But perhaps what's most interesting about Oswalt, and it's truly a testament to the comedian's talents, is the fact that every piece of material he touches, he makes better. The actor is fearless- both in the roles that he selects and the honesty with which he writes, and while so many Hollywood types continue to put on appearances, his sincerity is something to be lauded.
This weekend, Oswalt treks through our area with a book signing on Thursday, January 6th at 1pm at the Borders on Wall Street, followed up by two nights of two shows a piece (8pm/10:30pm) at Carolines on Friday, January 7th and Saturday, January 8th, not to mention a signing at The Warsaw in Brooklyn on Saturday at 5pm, before the shows begin.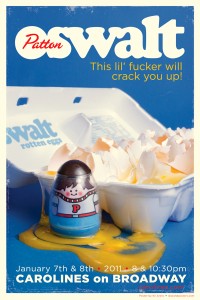 On the docket for 2011, Oswalt has roles in "A Very Harold & Kumar Christmas," as well as continued roles on the Sci-Fi series "Caprica," the animated "Robotomy," and Showtime's "The United States of Tara," just to name a few. He's also got plans for another book release and another comedy special, if all goes according to plan. But most importantly, Oswalt is focusing on working on projects that interest him, that have good, solid ideas and writing behind them. And if his past work is any indication, his upcoming projects will be just as creative, and his work similarly inspiring.
LocalBozo.com had the opportunity to sit down with Patton Oswalt to discuss amongst other things: the idea behind the writing of his new book, his recent essay on the death of geek culture for Wired Magazine, his work on "The King of Queens," plans for 2011, and so much more! Listen to the audio above.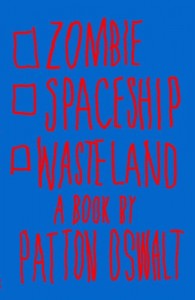 - Jane Van Arsdale
Related Articles
Share
About Author
(1) Reader Comment