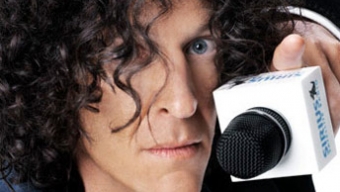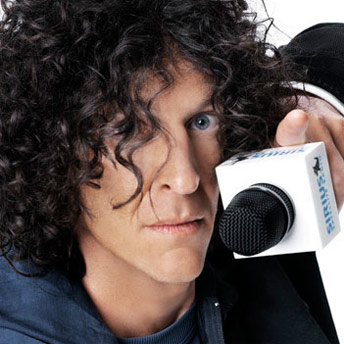 The clock is ticking on the 5 year, reportedly $500 million contract inked in 2005, by New York radio institution Howard Stern.  And with suggestions that negotiations have not yet even begun, analysts, fans, and even staff members are left to wonder just what exactly Stern will do as his contract expires at the end of this year.
The move from "terrestrial radio" to the world of satellite was not an easy transition.  At the time of the announcement, Sirius was a relatively new but floundering company, roundly being beaten by competitor XM.  Stern's arrival however, all but shook up the satellite radio landscape and within 24 months Sirius' serious growth had forced the two companies to merge.  To Stern fans, the show has never been better.  The shadow of Artie Lange's departure has forced Stern to be more hands on and seemingly more prepared and on his game than perhaps ever before.
However, casual listeners that chose not to follow the Stern Show to Sirius have all but forgotten the iconic radio personality, even though some show headlines do occasionally manage to grab the attention of the mainstream media.  Still, with the clock winding down, and fresh off of a vacation where listeners were treated to a week of "Best of Howard on Sirius" shows, the past four plus years have shown that there is nobody better at making even the most uninteresting guest seem entertaining to an audience.  Critics suggest that Stern has always been about sex and that his behavior is both crude and crass.  But Stern's honesty opens him up to his own vulnerability and he is extremely humbled by and revels in the self-deprecation of his own personality flaws.  Perhaps this is the reason for his intensely personal connection with his audience.  After all, how many other personalities would have been able to have such an immediate and groundbreaking impact on a new medium?
We can endlessly continue to extol the virtues of Stern's greatness, but the question still persists: What Will Howard Do?  To non-listeners, this is a non-issue; Stern's appeal died when he moved to satellite radio.  But to the devoted and rabid fans who rely on his every opinion, who get truly bummed out when his show takes vacation, who laugh out loud just by hearing Howard himself laugh out loud- the thought of Stern deciding to pack it in has enormous potential ramifications.
To predict Stern's future, a couple of questions need to be answered:
Q:   What is Stern's motivation?
A: The man clearly has made enough money, but Stern is as competitive as he is savvy.  Is he looking for that one final, financial windfall?  Probably.  Would he take less to work a less demanding schedule?  Perhaps.  But aside from waking up at 4am every day for a morning show, Stern works a 4 day work week at less than 5 hours a day- couple that with some additional weekly meetings and the guy still has a heck of an easy work schedule.  But in his mid-50's, Stern definitely sounds more burnt out than ever before, even with an estimated ten weeks of vacation annually.
Q:   Could he actually jump to another new media or even (gulp) retire?
A: It sounds as if Stern himself doesn't even know.  Staffers, fans, and stock analysts are left guessing.  Even bloggers like yours truly have no inside information.  And SiriusXM hasn't made mention of negotiations either.  But we do know Stern and we know the facts.  The self-proclaimed "King of All Media" is loyal to a fault.  Never one to breach his contract when unhappy or ever take advantage of his fans, Stern knows the commitment so many of us made when we jumped with him to Sirius- both financially and emotionally.  Some of us bought lifetime memberships and some of us pay year-to-year, but many of us are there just for him.  Stern knows this.  Perhaps more importantly, Sirius knows this.  And every time Stern is mentioned as a potential judge of American Idol, or bashes a late night host and Stern gets pub, so does Sirius.  Stern has a faithful band of followers, and perhaps in big picture fashion, the future of a rising company on his back right now.  And leaving at the wrong time, albeit at the top of his game, could prove injurious to both parties, as well as his celebrated reputation.
Q: So…What Will He Do?
A: The answer: Enough to appease everyone.  The school of popular thought says that he'll work roughly three days per week and potentially less hours a day.  We are not going out on much of a limb by agreeing that is probably the most amicable solution to keep Stern on the air at Sirius.  This way he can satisfy his thirsty audience, continue to employ his extensive radio and television staff, allow SiriusXM to fashion out a more practical financial deal to cut their costs, and still remain one of the most influential and powerful media moguls of all time.
Howard Stern has transformed the way that social conventions, taboo content, and overall comedy is interpreted, communicated, and understood over the past 35 years.  And yet throughout his career as unquestionably the most successful radio personality in broadcasting history, he is one of the most polarizing public figures of our time.  He has made headlines, shifted listening patterns, stabilized audiences through periods of turmoil, and has been one of the single biggest influences to me personally.  His fans have voices and as fans, we appreciate him.  Will SiriusXM step up and do the same?
- Jane Van Arsdale
Related Articles
Share
About Author
(0) Readers Comments