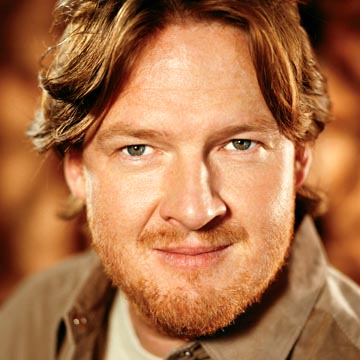 When this week's character actor walks down the street, I guarantee he receives many double takes. The general response is most likely, "Hey where have I seen that shaggy haired guy before?" The gentleman they are seeing is none other than Donal Logue. Mr. Logue is film and television's "everyman."
During the early part of his career, Donal Logue played an integral part in MTV in the early 90s. You may remember, him playing Jimmy the Cab Driver. These humble beginnings really show you how well he could immerse himself in even the simplest of roles.   Yes, it's true that the character was quite annoying. But, it kept you watching MTV, and not flipping to other stations. This also helped Logue garner some media attention, and helped propel his career into more comedic roles.
If one takes a look at Mr. Logue's IMDB page you will see a pattern. He has been the lead or at least a major supporting player on many TV shows that have been canceled.  The career of the character actor is full of these type events.  Producers in the world of sitcom and/or dramatic television business know of hundreds of actors who they feel could carry a whole show on their backs. When a producer thinks of who is the best to portray an "every man" their list is a lot shorter then you would imagine.  The actor needs to be convincing or the audience won't buy into it.
It can be said that Donal Logue's biggest success was from 2001-2005 on the television show "Grounded For Life". On the show, Logue played, Sean Finnerty, the patriarch of a Staten Island, Irish family. Once again, Logue is playing, the "every man."  In each episode we get to see a semi-realistic take on a middle class New York family. The way in which he played a loving father and husband was so believable. He was a working class guy just trying to make it.  After a good four year run the show was canceled, leaving a huge void in the world of positive family situation comedy.
Donal Logue's second chance at carrying a show occurred in 2007. The fall television line up was rolling out, and ABC, had what they thought was a hit on their hands. The show was, The Knights Of Prosperity. The overall concept was pretty large in nature.  A group of everyday misfits, who were just trying to make it in the big city, would ban together. Sounds like an honest concept but here is the catch, and most likely the reason why this show failed. This group of misfits, joined together in order to rob Rolling Stone's lead singer, Mick Jagger, in order to better their lives.
Logue was quite impressive as the lead. Once again he played the every man, with a blue collar job.  But the high concept of the show fell on deaf ears to viewers. After a short run on ABC the show was removed from the prime time line up and canceled.  I just don't get why the general television viewing audience, still needs to be spoon fed the same drivel after all these years.
Besides being a great utility character actor, as the every man, Donal Logue is well liked by his fellow thespians. Logue is good friends with Stephen Dorf f and Edward Burns. He has appeared alongside Burns in two features, Confidence and The Groomsman.
It is true, that throughout Donal Logue's career he has hit several bumps in the road. But when you're a committed person like he is, there is no giving up. Starting this fall Donal Logue can be seen on the FX Network, playing an Ex-cop turned private investigator on the new series, "Terrier's".  So, when you're flipping through the channels and you spot a familiar shaggy haired, and bearded face don't change the channel, stay put and watch Donal Logue work.
- Alan Smithee
Related Articles
Share
About Author
(0) Readers Comments