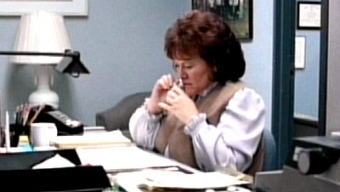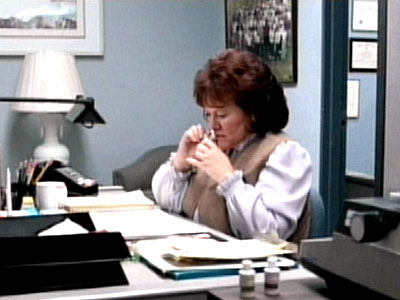 The Groundlings have been the home to some of Los Angeles' funniest improvisational and sketch comedians over the years.  From the late Phil Hartman to Will Ferrell, the troupe has been the host to comedy royalty.  This weeks' Character Actor, our first female, also came from these storied halls, and if the name doesn't ring a bell, the face and body of work surely will.
Edie McClurg was a member of the Groundlings during its golden age, helping her become established as the stubborn yet dim-witted mid-western character that we have come to know today.  Initially, McClurg worked with fellow Groundling player, Paul Reubens, aka Pee-Wee Herman, on his first play "The Pee Wee Herman Show," which later became the very popular, "Pee-Wee's Play House."  She would also go on to play a supporting role in Cassandra Peterson's first film, "Elvira, Mistress of the Dark".
"Ferris Bueller's Day Off" is a classic; we all know that.  Matthew Broderick's performance as everyone's favorite high school slacker was brilliant, and we can all agree.  But, without the support of his fellow actors, the film would just not be the same.  Edie McClurg's, "GRACCCCE," the high school secretary, spends most of the film sitting at her desk, taking loud verbal abuse from the school principal, Mr. Rooney played by Jeffery Jones.  McClurg plays a brilliant straight-man to all of the chaos that surrounds her.  At the same time however, she displays her impeccable timing by spouting out some of the best one-liners in the film, such as a memorable exchange with Jennifer Gray's character, where she refers to her as a "little bitch."  This is also a great visual gag, where she is seen trying to sniff white out- a very popular 1980's pastime.  Similarly, McClurg also played a secretary in 1986's "Back to School," featuring Rodney Dangerfield.
Not sticking strictly to film work, television in the 1980's similarly welcomed McClurg.  In 1986 she was cast as nosey neighbor Bonnie Brindle on cult-hit "Small Wonder," a sitcom about a girl who was actually a robot.  McClurg followed up the short lived series with a role on the primetime sitcom "Valerie's Family," playing Mrs. Patty Poole.  The show's name would be changed to "The Hogan Family," when Valarie Harper wanted too much money (Great job Rhoda!) and Sandy Duncan would be brought in as her replacement.  McClurg's Mrs. Poole character was the major antagonist of the Hogan family, constantly harping on them about their wrongdoings (again) as the nosey neighbor.   Clearly, McClurg had been type cast throughout most of her personal career, which is not necessarily a bad thing.  For a show during the mostly vanilla 1980's, McClurg's Mrs. Poole provided a needed campiness to an otherwise boring family show.  Side Note: check out this show out for some of Jason Bateman's earliest work.
The 1990's saw McClurg continue to land roles in film and TV.  One of those standout performances was in the 1993 rollerblading film, Airborne as Edie plays Aunt Irene.  The film is basically a fish out of water story with a Surfer from California who is made to relocate to Cincinnati, OH with his quirky family.  McClurg's Aunt Irene character is an extreme over the top, almost caricature like portrayal, as she combines the nuances from her prior roles into this one.  The film also contains a very early performance by a young Jack Black, as Augie, the "Bully's" best friend.  Riveting stuff here.
It is truly a breath of fresh air to see a woman develop into such a prominent character actor in a niche most often filled with men.  She has evolved to the point where the audience cannot tell if she is actually the person she is playing when the camera stops rolling.  For almosto thirty years she has played the nosey neighbor, meddling church lady, and smarmy secretary.  With stints on "The Golden Girls," "Seinfeld," "Different Strokes," "The Jeffersons," "Roseanne," "Full House," "Married with Children," and "Mad About You," McClurg's resume reads like a television Who's Who.  She has done this all for our benefit.  She has done this to make us laugh.
Next week I will focus on the life and times of Mr. Hank Azaria.  You may know him as Moe from the long running show "The Simpsons", but there is a lot more you don't know about him.  Until next time.
-  Alan Smithee
Related Articles
Share
About Author
(1) Reader Comment