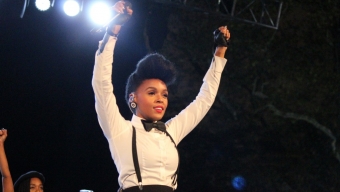 Janelle Monae & Nate Ruess

A LocalBozo.com Concert Review
Central Park SummerStage, New York, NY
September 29th, 2016
For 31 years, Central Park's SummerStage has been playing host to an unforgettable lineup of free shows for New Yorkers during warm weather months.  With roughly 133 of them this year alone, 2016 was perhaps the most expansive one yet.  Officially capping off the season, Thursday night's showcase at Rumsey Playfield welcomed a high-energy showcase with two headlining acts, sponsored by Capital One.  Both acts came together in the public consciousness while collaborating on 2012′s "We Are Young" by the band Fun., but since then both the group's enigmatic singer and the artist performing on the song's backing vocals have risen to even greater heights of stardom.  Headlined by Nate Ruess and Janelle Monae, the SummerStage season finale said goodbye to summertime in style.
Despite the persistent threat of rain, the open air field was filled with festive revelers as the sun began setting over Central Park.  The end of DJ Moma's lively set would welcome former Fun. singer Nate Ruess and his talented band out first to center stage.  Wrapping up a run of dates in support of his debut solo album- 2015′s "Grand Romantic"- Ruess ripped through a smattering of his own material, some Fun. tunes and a rendition of Elton John's "Rocket Man," during an energetic hour long set.  Though fans were a bit less familiar with newer cuts like "You Light My Fire," "Harsh Light" and first single "Nothing Without Love," they were appreciative and more importantly- responsive- to his music nonetheless.
Backed by a supremely talented band, Ruess joyfully strode around the stage with youthful exuberance, despite the fact that he would intimate an oncoming hiatus from touring near the end of his set.  Nevertheless, with a commanding stage presence that alternates between boyish charisma and veteran frontman charm, his wonderfully high-pitched vocals nailed every note on Fun. tracks like "Some Nights," "Carry On" and the aforementioned "We Are Young," which predictably amplified the standing audience of onlookers.  Though his absence from the limelight is likely overdue, the native New Yorker can always count on this writer being front and center at any of his local appearances- his talents for performing live warrant as much dedication.
Aside from a headlining appearance in a Pepsi commercial during Super Bowl 50, I can't say that I knew much about Janelle Monae going into her headlining set on Thursday evening.  I was however firmly in the minority as the crowd that gathered at Rumsey Playfield was clearly in her corner.  With nearly a dozen musicians and backup dancers behind her, the quaffed-haired songstress  was wheeled out to the stage Hannibal Lecter-style, decked out in a futuristic ensemble replete with eye-goggles, a feathered cape, black leather gloves and a bowtie- because, this is New York City after all.  Her twelve song set was fiery, meshing soulful vocals with unparalleled performance pinache, ripping through tunes like opener "Givin Em What They Love" and a dazzling version of "Electric Lady."

Cover songs would also show their faces during Monae's excellent showcase as she turned back the clock with nods to James Brown ("I Feel Good"), The Jackson 5 ("I Want You Back") and a rousing rendition of Prince's "Let's Go Crazy" that allowed the live crowd to come unglued.  Though rain would drizzle a bit throughout the evening, it was perhaps Monae's energy that staved off much of the heavy stuff.  Meshing positive stagefront vibes with real world clarity, the singer raised her arms overhead in a show of unity, rather than divisiveness- and catchy cuts like "Tightrope" and show closer "Come Alive (The War of the Roses") managed to unify the entire standing room crowd in SummerStage's swan song to summer.
- Dave Gendelson
Related Articles
Share
About Author
(0) Readers Comments