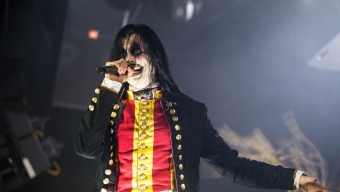 Avatar

A LocalBozo.com Concert Review
Highline Ballroom, New York, NY
May 4, 2016
In what can only be described as a savage display of fundamental metal, Swedish-metal five piece band Avatar unleashed a menacing fifteen song set on Wednesday night leaving a New York City crowd awestruck in the wake of their mayhem. Chelsea's Highline Ballroom hosted the sonic circus that clocked in at just over seventy action-packed minutes, brilliant meshing rock music and stage show theatrics. The house lights quickly faded to black, leaving a visual void that would soon be filled by the band's frontman and ringleader Johannes Eckerstrom followed by his minions of heavy.
When it comes to stage presence, Avatar wasted little time in establishing their penchant for rocking fast, heavy and hard and would not accept anything less from the more than happy to oblige crowd. Eckerstrom strutted to stage with elements of both lunacy and grace while wielding his scepter as he approached the microphone stand adorned with a chrome skull. At a glance the makeup and wardrobe might appear a bit gimmicky, but that sentiment is quickly put to rest after one pummeling guitar riff. Avatar is quite simply heavy metal incarnate.
The frenzied gig kicked off with the breakneck headbanger "House of Eternal Hunt" from their upcoming album "Feathers & Flesh" (fittingly slated for release on Friday, May 13th). The rhythmic behemoth of a song forced waves upon the crowd and showed the loyalty of Avatar's fans as they were singing along to every word. From the first note the energy was exorbitant and only escalated from there. "Hail the Apocalypse," the title track from their 2014 release allowed guitarists Jonas "Kungren" Jarlsby and Tim Ohrstrom to test both the integrity of their fretboards and their neck muscles. The hypnotic and feverish headbanging of the two stirred the crowd as a mosh pit swarmed the standing room floor.
Ominously, the equally groovy "Smells Like a Freakshow" followed and the pit continued to grow. While the guitarists shredded solos and shared harmonies, Eckerstrom with his demonic clown make up, top hat and coattails could be seen drinking out of a black gasoline canister in front of drummer John Alfredsson. The singer's antics and gallivanting kept the crowd literally on its toes throughout the entire show as Eckerstrom utilized his scepter to conduct the crowd with his every wave.
The aural assault continued with pulse pounding new tracks "Tooth, Beak, and Claw" and "The Eagle Has Landed" along with a diverse spread of songs across the band's six album catalog. Among the night's finer moments, the group's performance of the manic "Bloody Angel" blurred the line between heaven and hell, meshing soft melody juxtaposed with demonic distortion. Equally as raucous, "Ready for the Ride" was a rapid paced song that only slowed for a few seconds during the bridge before giving way to an insane guitar solo. Following a brief hiatus from the stage, the band returned to encore with "For the Swarm," a cut riddled with haunting harmonies and enough double bass for any metalhead. Keeping up frantic level, Avatar exploded into "Tsar Bomba" and show-closer "Let It Burn," a song driven by a brutally funky bass line from Henrik Sandelin. Five heads on stage banged in unison, locks of hair swirled simultaneously and an ear-popping chorus was echoed by the vocal live crowd- and there was no more appropriate song to close out the set as Avatar set New York City ablaze.
- Jon Asher
Related Articles
Share
About Author
(0) Readers Comments