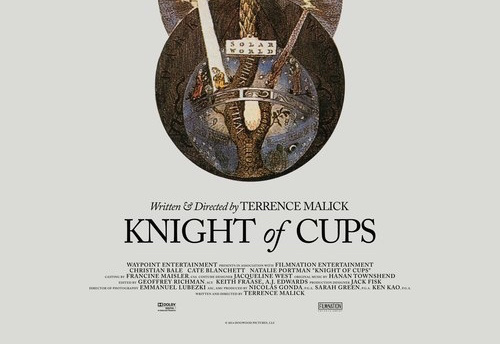 If you didn't know that "Knight of Cups" was an actual film written and directed by the acclaimed Terrence Malick (The Thin Red Line, The Tree of Life), you may have figured that you had stumbled into a rambling, sometimes non-sensical two hour commercial for a new men's fragrance. The movie is layered with an array of hazy yet quick moving jump cuts, which can be slightly confusing even into its first full hour.  But with "Knight of Cups," the audience members at our showing who foolishly left the theater prematurely likely out of sheer confusion, missed out on a strong overriding message delivered by the film which stuck with us long after our walk home from the theater.
Christian Bale stars rather mysteriously as 'Rick,' a quickly ascending Hollywood writer- one whose troubled relationships with both his younger brother (Wes Bentley) and his father (Brian Dennehy) have left him incapable of real intimacy.  You wouldn't necessarily know any of this from watching the film though, as Malick's entire story is left to be interpreted through time jumps and voiced over dialogue. The movie unfolds as Rick immerses himself in different relationships with six different women of differing types- Cate Blanchett, Natalie Portman, Freida Pinto, Imogen Poots, Teresa Palmer and Isabel Lucas. As time continues to pass, Rick seemingly moves from one women to the next with little care or feeling, despite the fact that each of these relationships appears to be fairly serious. By doing so, Malick is able to illustrate that despite these characters' relative importance to Rick while in the moment, the minimal impact that some folks have on our own lives can wind up being fairly minimal in the end.
The cast boasts a slew of notables utilized in cup-of-coffee cameos and comedic actors like Tom Lennon, Nick Offerman, Joe LoTruglio, Kevin Corrigan Nick Kroll and Joe Manganiello serve little purpose other than for a quick moment of recognition by the audience- more likely a bucket list moment for the actors to work with a director of Malick's acclaim.
Fascinating as the film's prevailing message may be, the ride getting there is less than compelling. "Knight of Cups" definitely feels like every bit of its two hour run time in the hopes that something, anything develops. And yet, looking back, the film's effectiveness still managed to be rather poignant long after the credits hit the screen. Says narrator Ben Kingsley, "Pay attention to this moment. Just this moment. It's all there. Perfect and complete. Just as it is." And as we walked back from the theater, we managed to follow his advice- the bright New York skyline, the colorful yellow cabs, the footsteps all around us- the moment was, just as the film suggested, beautiful and all there, in its own way.
- Dave Gendelson
Related Articles
Share
About Author
(0) Readers Comments