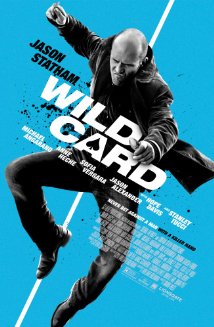 You can probably put the pieces together yourself when posed with the question: What happens when you put a Jason Statham action movie in Las Vegas? Out today in limited release is "Wild Card" (R) featuring the British-accented heartthrob cast as a bodyguard who's one part 'world's most dangerous man' and one part gambling degenerate. Flanked by a cavalry of impressive supporting actors, the 91 minute film is a fun and predictibly violent glance at the criminal underworld of Las Vegas and one man's revenge fueled efforts to win at all costs.
"Wild Card," a slight remake on 1986′s "Heat" (a decided flop) is a quick cutting and captivating trip through the underbelly of Las Vegas, though it's not likely to fetch much in the way of critical praise. Statham to his credit has remained firmly entrenched in his own comfort zone, churning out a steady slate of entertaining flicks a few times each year between stints in "The Expendables" and "The Transporter" franchises. Here, the film's focus is more on story, but that's not to say that Statham's gory glory doesn't rear its head in several breathtaking fight scenes.
The story follows Nick Wild (Statham) who's been self-tasked with carrying out a revenge beating on the slimy Danny DeMarco (Milo Ventimiglia) for having beaten and assaulted his call-girl friend Holly. But DeMarco's connections to the mob have made Wild a targeted man. In the midst of all this physical tension, Wild is also approached by a young software mogul named Cyrus (Michael Angarano) willing to pay an exorbitant sum to be mentored by Wild into becoming a man behind the ruse of hiring him as a bodyguard. Inevitably, each of the backstories intertwine in grand fashion and as it turns out, the down on his luck Wild needs Cyrus far more than he initially had thought.
Part of what paces the film along nicely in the non-action scenes are cameos by the likes of Sofia Vergara, Jason Alexander, Anne Heche and Stanley Tucci- in the sort of 'oh, look who else in this movie' simplicity that makes these brief appearances so enthralling. But its Statham's charisma that's allowed him to carve out a niche for himself in these types of films. Sure the script could be more air tight, and certainly, there's some questions about what's physically plausible here and there- but for an hour and a half, Statham allows us to escape ourselves in "Wild Card," a concise, no-nonsense thriller with enough fight scenes to appease any action film fan.
"Wild Card" starring Jason Statham and Milo Ventimiglia is rated R, has a runtime of 91 minutes, and is in limited release on Friday, January 30th.
- Dave Gendelson
Related Articles
Share
About Author
(0) Readers Comments