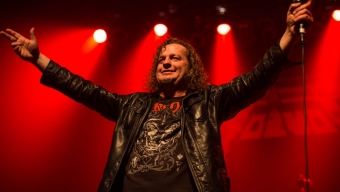 Voivod

A LocalBozo.com Concert Review
Gramercy Theatre, New York, NY
February 7, 2015
Touring in support of their upcoming EP "Post Society" – slated for release on February 26th- rock outfit Voivod pumped a pure dose of metal into Manhattan on Sunday night. On a night where countless people gathered around to watch a relatively ho hum Super Bowl 50, hundreds of fans inside of the Gramercy Theatre received a very healthy serving of heavy from the Canadian metal band. There was no Beyonce, Bruno Mars or Coldplay to be heard on this night (That's kind of a lie; the game was being shown in the lounge area but no one was around to catch that half time show)- but after a set spanning three decades of metal, there were virtually no complaints from the head banging, horns-raising fans filing out of the venue at show's end.
The crowd on Sunday evening was predictably diverse with fans ranging from teens to baby boomers. Though they varied in age, the standing room only floor was unified by a sea of long hair, leather jackets, torn jeans and a collective love for heavy metal. With a room rife with anticipation, the arrival of Voivod singer Denis Belanger to the stage utterly electrified the crowd. Donning a Motorhead t-shirt, an obvious homage to the recently fallen legend Lemmy Kilmister, the band tore through opening track "Ripping Headaches" from 1986's "Rrroooaaarr." The already frenzied crowd somehow continued to amplify as the show progressed, needing only the first half of "Tribal Convictions" for fans to begin whipping around in the evening's first mosh pit
It was difficult for Belanger to get a word in as the crowd would instantaneously start a Voivod chant between each subsequent song. The band to their credit seemed to eat up the adulation, allowing for a transfer of energy between Voivod and their fans to be constant and unfiltered throughout the entire set. While much of the night's thirteen song set was derived from their 80's era material, three tracks from the new EP were included for good measure. But it was set closer and Pink Floyd cover "Astronomy Domine" from 1989's "Nothingface" that stood as the show's lasting highlight. The track was a dedicated nod to the band's vast range of influences in a career that spans some 34 years, and despite a multitude of line-up and style changes over the years, Voivod continues to prove that they are still here and heavier than ever.
- Jon Asher
Related Articles
Share
About Author
(0) Readers Comments