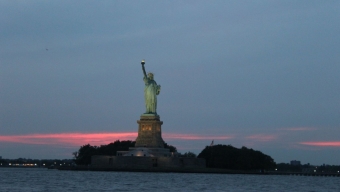 Be it for romance or for sheer warm weather pleasure, there's nothing like boarding a boat and cruising around the isle of Manhattan in summertime. Since the early 2000′s Manhattan By Sail's fleet has been showcasing the beauty of New York City and its surroundings from the middle of the Hudson River, from 50-130 passengers at a time, depending upon its boat of transport. Themed dinner and brunch cruises highlight some of the organization's daily runs, along with private catered charters and parties- but in the middle of July, an evening Sunset Sail seemed most seasonally appropriate.
Joining our fellow passengers on the ledge of the North Cove Yacht Harbor in Battery Park City, our two hour tour would welcome us aboard the SHEARWATER vessel, a yacht recognized as a national landmark in 2009. The schooner, which dates back as early as the 1920′s, has a long and storied history- utilized during World War II, participated in a global navigation on two separate occasions, and has been competitively raced a multitude of times over the past four decades. Today, Manhattan By Sail uses the SHEARWATER for as many as five sails daily, ranging from Daytime Statue Sails at 12:30pm to pitch black views of the City Lights Sail at 9:30pm. In concert with its sister vessel, Clipper City which holds 130 passengers, nearly 750 guests a day can board an MBS sail, affordably priced for just about any budget.
With the July sun setting later in the evening, our 'Sunset Sail' kicked off promptly at 7pm, where the remaining daylight would guide us onto the bow of the sizable yacht. Finding a seat proved no issue despite the sail being entirely sold out. For just $50, we would spend the next two hours taking an array of pictures- as well as taking pictures of likeminded guests seeking to capture their similar experience for themselves. A cash bar on board proved pivotal in our enjoyment of the evening as ice cold pours of white wines and bottles of Corona allowed us to maximize the atmosphere on board. The boat may not have been ours- but with drinks in hand, we certainly reveled in a taste of the good life.
The sail would ultimately provide incredible and picturesque views of the Statue of Liberty and Ellis Island at sunset, glimpses of the New Jersey and Brooklyn waterfronts and unparalleled shots of the Manhattan skyline brightly lit up by the cityscape. Though the ride could be slightly bumpy at times- it is an open air sailboat after all- the friendly, engaging crew did plenty to assuage the concerns of any passenger- and moving about the vessel was not only allowed, it was encouraged. Sure, you'll have some folks that absolutely demand recreating a Titanic-style photo, but that hardly mars an otherwise reasonably priced and exciting look at New York City from the outside in. And because a trip aboard Manhattan By Sail is such a fun and unique experience, it's one that every local New Yorker can truly appreciate.
With a full slate of sails each day, there are plenty of schedules to choose from.  Check out Manhattan By Sail and book your cruise HERE.  
- Jane Van Arsdale
Related Articles
Share
About Author
(0) Readers Comments