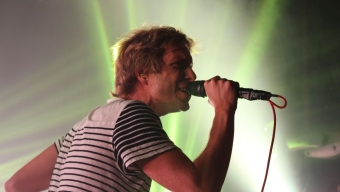 AWOLNATION
A LocalBozo.com Concert Review
Irving Plaza, New York, NY
June 26, 2015
Concert Review: AWOLNATION at Irving Plaza
T
he first of two sold out nights at
New York City's Irving Plaza
was filled with rousing electronic rock and a spectacle of lights that would rival any major arena tour. Led by frontman
Aaron Bruno,
the collective
AWOLNATION
roused an excitable Manhattan audience on Friday night in support of the band's sophomore effort
"Run,"
released back in May. For seventy non-stop minutes, Bruno and company dazzled the live crowd with their signature blend of melodies and rock riffs with an unmistakable touch of electronica yielding a sound that's almost industrial. But while each song's tempo can change on a dime, the overall product coupled with the party atmosphere that exudes from the band's live show combines to explain why these tickets were so quickly gobbled up in the first place by a rowdy collection of more than 1000 fans.
Anticipation ran rampant around the standing room floor at Irving Plaza where space became increasingly minimal as show time approached. Loud synth beats and string music boomed over the house speakers as the band made their way to the stage, opening with the slow building "Run," the new album's tantalizing title track. Eventually, the crescendo would unleash a far heavier chorus led by Bruno, a meticulous conductor of sorts to further fuel the crowd's frenzy. The band's latest single, the catchy and upbeat "Hollow Moon (Bad Wolf)" would soon follow suit leading much of the audience in a fun sing-along that would fittingly pace the remainder of the evening.
Throughout the performance, attention rarely shifts from the prep-dressed Bruno, who rarely stops moving long enough for fans to catch a candid picture of the singer. But it's that energy level that makes said performances so captivating. Some of the show's finest moments featured an especially physical Bruno screaming intensely during song verses- many of which uniquely breakdown into lullabye-esque choruses for fans to join in. The bands fourteen song set was evenly split between the first two AWOLNATION albums, and though the newest release has been a bit critically polarizing, new tracks like "Windows" and "Like People, Like Plastic" were especially well received, fitting nicely into the band's show.
A cavalcade of colors continued to swarm the stage as the four-piece outfit shuffled through tracks like "Kill Your Heroes," perennial fan favorite "Knights of Shame" and set closer "Burn It Down" from 2012′s "Megalithic Symphony." But the uproarious encore brought out electric new cuts like the stirring "I Am," the invigorating "Dreamers" and the band's wildly successful first single "Sail," which initially brought them to prominence back in 2011. From the back of the house, watching a sea of hands overhead singing "Blame it on my A.D.D. baby" was a particularly fascinating sight, especially given the overriding message of what's being sung. But watching so many young folks becoming enraptured by a similar and singular passion was but a snapshot of the potential of live music- and a likely foreshadowing of the staying power of AWOLNATION, a band that continues to feed its fans exactly what they're looking for.
- Jane Van Arsdale
Related Articles
Share
About Author
(0) Readers Comments