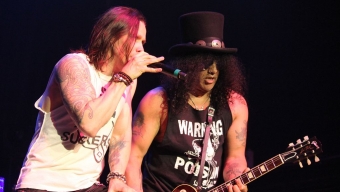 Slash featuring Myles Kennedy and The Conspirators
A LocalBozo.com Concert Review
Terminal 5, New York, NY
May 7th, 2015
Another weeknight in New York City and another blistering performance for a band that makes it all look so ho-hum. Thursday night, iconic rock guitarist Slash, joined by Myles Kennedy and The Conspirators ripped through a two hour set comprised of a preponderance of new material as well as some old favorites to the delight of a sold out Terminal 5. The rock venue was about as jammed to capacity as we can ever recall having seen it- and with good reason- there is perhaps no more cohesive, dynamic or complete band in the genre at this moment in time. And there were about 3000 fans in the house fortunate to have experienced it for themselves.
We've long extolled the virtues of both Kennedy's unparalleled vocals and Slash's masterful guitar-playing as we've tracked them at different venues all across town. But Thursday night's show was a little bit different- with favorites like "Starlight," "Standing in the Sun" and "By the Sword" eliminated from the set in favor of surprises like "Ghost" and "Dr. Alibi" and a riveting fifteen-plus minute solo/jam from the acclaimed axe-man. The band continues to tour in support of 2014's "World on Fire"- their second full length release as a group, in between Kennedy's work in fronting Alter Bridge. But with his own bandmate Mark Tremonti plotting dates as part of his Tremonti project, now seemed like as good a time as any for Kennedy and Slash to hit the road through the spring and early summer.
The performance itself, was predictably fantastic. Kennedy manages to gain more confidence sharing the stage with the legendary guitar player with each performance, though he always comes off as both humble and grounded. Coupled with his ability to somehow surpass the original vocals on Guns 'N Roses classics and Velvet Revolver hits makes him a perfect fit for this band- a multi-faceted musician with phenomenal talent that doesn't mind being overshadowed by his guitarist. Slash, to his credit, remains a simply riveting performer- a guitar shredding wizard who weaves around the stage in undeniably cool fashion, with his trademark top hat barely moving as his fingers expeditiously pluck each of his six strings in a frenzy. Though it's hard to shift attention from the pair, bass player Todd Kerns managed to grab the spotlight, capably handling vocals for two songs right in the middle of the set, giving Kennedy's high pitch a brief respite.
Though the distinctive setlist offered a slew of notable highlights, show staples like "Nightrain," "Back From Cali" and the awesome "Rocket Queen," featuring Slash's memorable and aforementioned solo were each exceptional. Recent singles "Bent to Fly" and the thought-provoking "Beneath the Savage Sun," seemed to be tailor made additions to the show, allowing the crowd to really appreciate favorites like "You Could Be Mine" and "Sweet Child O' Mine," leaving no lyric left unsung. No Slash show would be complete without the requisite surprise however, and the introduction of singer Kimberly Nicole from NBC's "The Voice" was certainly one such instance- leading the band on a cover of Jimi Hendrix's "Hey Joe" during the mesmerizing encore. But once Nicole had finished, it was time to welcome Kennedy's return as the band launched into a stirring performance of "Paradise City," replete with red and white confetti fluttering throughout the sold out venue. There was screaming, there was dancing in place, and there was Slash standing with Kennedy, once again in total command of the room as the jam packed crowd marveled in awe at their collective talents until the last note was played.
- Jane Van Arsdale
Check out some of our Slash/Myles Kennedy reviews over the years below:
Santos Party House, September 2014
Myles Kennedy, MOSCOT, September 2013
Irving Plaza, May 2012
Terminal 5, September 2010
Related Articles
Share
About Author
(0) Readers Comments