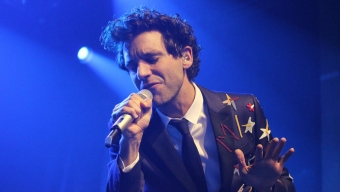 MIKA
A LocalBozo.com Concert Review
Webster Hall, New York, NY
May 4, 2015
Backed by a five piece band and an elaborately cartoonish cityscape, a sold out Webster Hall awaited singer-songwriter MIKA on Monday night inside its Grand Ballroom. The jam packed venue would play host to a lavish stage setup that featured the pageantry of a Broadway show played out to the British pop singer's entire catalog. But behind all the pomp and circumstance, the colorful array of neon lights and the cardboard structures erected to house his backing band, MIKA unleashed a particularly revelatory showcase- one that was equal parts uplifting, fast paced and undeniably entertaining for each of the set's ninety minutes.
Slated to release his fourth studio album "No Place in Heaven" on June 16th (Republic), the charismatic frontman strode out to center stage promptly at 10pm with little more than a sole spotlight there to greet him. The frenzied crowd meanwhile remained at a literal fever pitch as the singer confidently began with "Toy Boy," a lullabye-esque opener featuring MIKA collaborating only with the vocals of his bandmates and the keys of a piano. Despite the opener's dulcet tones, things picked up in a hurry with catchy pop tracks like "Popular Song" and "Gracy Kelly" following suit. The standing room only floor was shaking as a result from the sheer number of people jumping in place, singing along to the singer's every lyric.
Outfitted in a slim-fit suit jacket adorned with some sewn-on stars and the letters of his moniker, MIKA would play to the crowd fairly subtly throughout the show without ever going overboard- a fact that the audience certainly took note of as they waited to explode during song's chorus. With the stage presence of a veteran performer, MIKA held the crowd in his hands with each epic track- from the slow building "Underwater" to the suggestive "BoumBoumBoum," a hit with this audience despite the fact that all of the song's lyrics are in French.  As a singer, the frontman certainly has a penchant for the performance, as he's often routinely mentioned in the same breath as Queen's Freddie Mercury.  Similar flamboyance aside, his ability to balance brilliant harmony with a knack for hitting the falsetto makes MIKA a remarkable talent on his own.
It also helps that as a performer, his stage show is second to none. Track after track of fast-paced dance and singalong pop songs enliven his audience, where the concert is more of an interactive experience than perhaps any other. And because everyone around you is really enjoying themselves, it's hard not to wholly throw yourself into the mix along with them- even if you aren't fully caught up to speed on the group's entire playlist.  So impactful was MIKA's performance that fans were noticeably getting choked up during the band's rendition of "Last Party," the closest thing to a ballad that the singer showed during Monday night's otherwise energy-laced set.
But with some bouncy pop tracks like "We Are Golden," "Love Today" and show closer "Lollipop" which followed, the floor at Webster Hall returned to the dance party that had ensued throughout the night previously. MIKA didn't spend all that much time addressing the crowd as the night wore on, despite being gracious for the opportunity to have played Webster Hall for a fourth time. But as he and his bandmates ripped through song after song in short order, he really didn't need to. It was that old cliche that allowed his performance to do much of the talking- and as usual, MIKA overdelivered with an insanely fun show that would make pop music fans of even the genre's most cynical critics.  The singer's talents simply demand as much.
- Jane Van Arsdale
Related Articles
Share
About Author
(0) Readers Comments