Sunshine, is that you? After a long and brutal winter that extended into spring, we've finally got some signs of hope. Fortunately, with May comes a slew of fun and exciting events- not solely limited to our very first springtime foray, which we're sure you're all attending anyway. There's Mother's Day and Memorial Day and the start of beach season so let's get right into it with our May 2015 Can't Miss List.
May 2015 Events in New York City: Where You Need to Be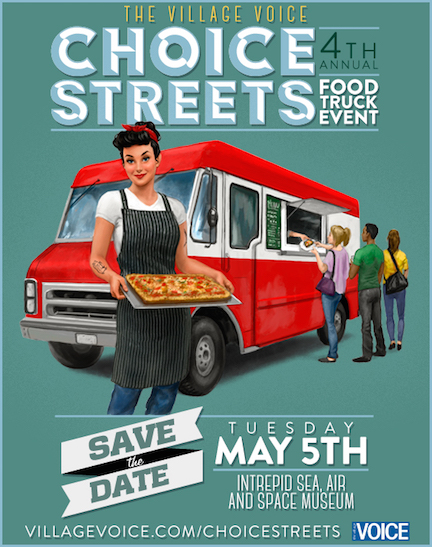 Date: Tuesday, May 5th, 2015

Event: Village Voice Choice Streets

Place: The Intrepid Sea, Air and Space Museum

Cost: $85 – VIP; $65 – Early Entry; $55 – General Admission

The Scoop: The fourth year food truck frenzy returns to the picturesque waterfront setting along the Hudson River as The Village Voice once again presents 'Choice Streets.' As of press time, the affair is 100% at capacity, but guests will indulge in food samples from more than twenty of New York's most celebrated food trucks. Participants include the likes of Big D's Grub, Ponti Rossi, Korilla BBQ, Mike 'N Willie's, Sweet Chili, The Souvlaki Lady, Solber Pupusas and The Vintage Ice Cream Guys. Aside from the views, there'll be mariachi music, delicious drinks, access to the museum and much much more!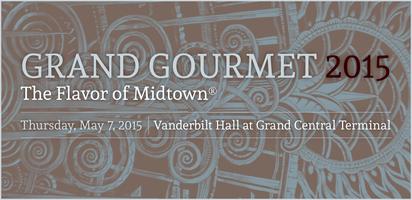 Date: Thursday, May 7th 2015

Event: Grand Gourmet – The Flavor of Midtown

Place: Grand Central Terminal – Vanderbilt Hall

Cost: $350 – VIP; $125 – General Admission

The Scoop: More than 40 restaurants from Midtown East and West collaborate once again this year to raise money for the neighborhood around Grand Central Station. It's the 2015 "Grand Gourmet" featuring a ton of great food and drink to enjoy from Shake Shack and Public House to Davio's and Benjamin Steakhouse. There's also The Capital Grille, The Campbell Apartment, Strip House Midtown, Pera Mediterranean Brasserie, Magnolia Bakery and just far too many to mention here. Unlimited food and drinks and the dishes are always spectacular amid the bustling transportation hub where it all goes down.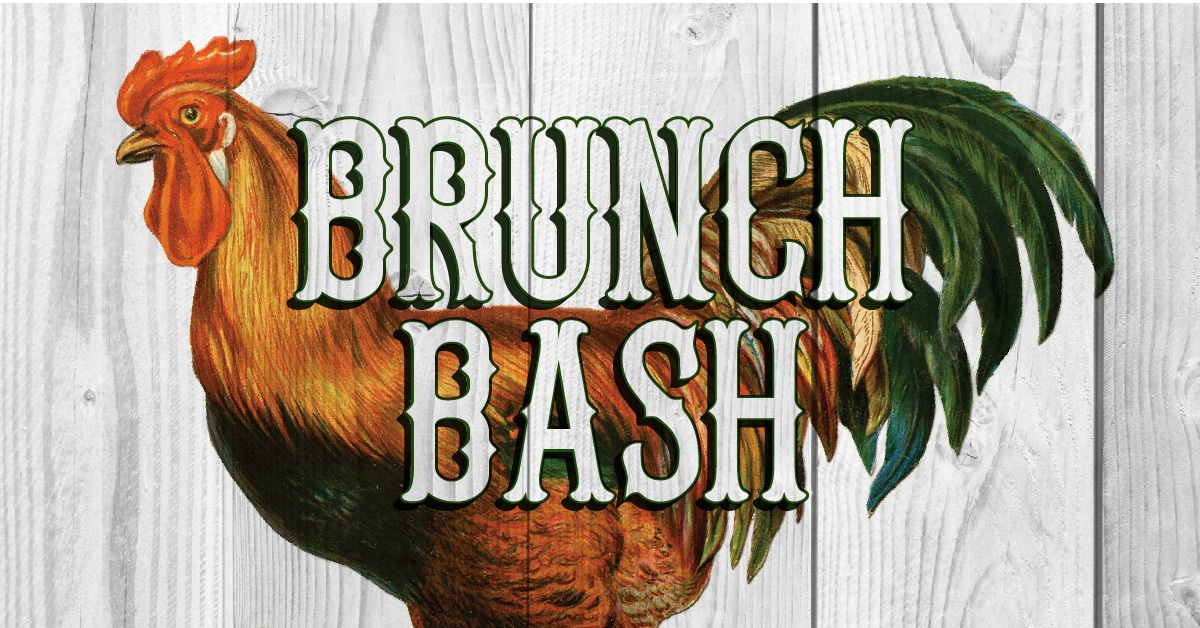 Date: Saturday, May 9th, 2015

Event: LocalBozo.com's #BrunchBash II

Place: Studio Arte

Cost: $45

The Scoop: Look we get that it's our website, but how are we not going to self-promote just a little bit? LocalBozo.com returns with our second #BrunchBash showcasing some of our favorite New York City Brunch Spots all in one place, paired with Brunch cocktails like Bloody Marys and Mimosas and delicious Colombian coffee. Indulge in unlimited eats and drinks from participants like The Wren, Socarrat Paella Bar, Poco, Chapter One, Primo 135, The Runner, Big Daddy's, sWine, Calle Dao, Devocion and more- with beers courtesy of Allagash Brewing and Alphabet City Brewing Company. Plus, an unlimited oyster bar courtesy of Eddie Oysters and a live silent auction held on site over the two and a half hours with 100% of the proceeds going to our charity partners in KEEN New York. Our October #BrunchBash was a complete sellout, don't miss your chance to revel in our festive daytime party this spring!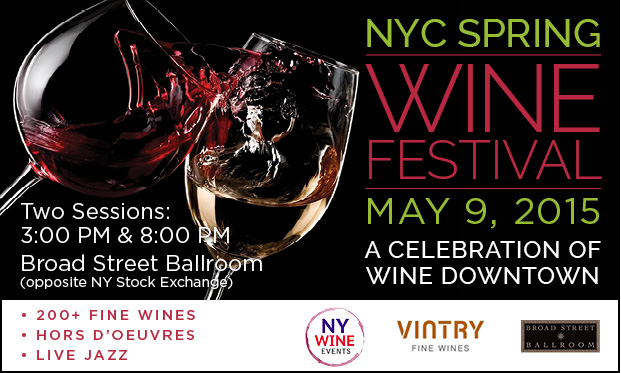 Date: Saturday, May 9th, 2015

Event: NYC Spring Wine Festival

Place: Broad Street Ballroom

Cost: $99 – General Admission

The Scoop: Once you've finished up at our #BrunchBash event, why not double up with a seasonal wine event for the senses. If you've read our recent recap on Brooklyn Crush, the same folks are hosting the 2015 Spring Wine Festival in the Financial District at the Broad Street Ballroom. Hundreds of guests will sip on 200 different wines curated by Vintry, some light cheeses and charcuterie and you'll also catch some live jazz music being performed as you grab pours in your commemorative take home glass. But make sure to pay attention to your likes and dislikes as the room sure can begin spinning in a hurry!
Date: Tuesday, May 12th, 2015

Event: Queens Taste 2015

Place: New York Hall of Science

Cost: $125 – Single Ticket; $200 – Pair of Tickets

The Scoop: The 2015 Queens Taste event emanates this year from the New York Hall of Science, where for three full hours guests will be treated to some of the finest food and drink of the borough. As always, proceeds will fund the continued programs and initiatives of the Queens Economic Development Corporation and some 800 locals are slated to be in attendance. You'll enjoy savory and sweet fare from F. Ottomanelli & Sons, Bareburger, Deluge, La Fusta, M. Wells Steakhouse, Kimchi Smoke, Thai Rock, Redwood Deli, Rudy's Bakery and many more. Grab your tickets today and support the continued success of the QEDC.

Date: Tuesday, May 12th 2015

Event: A Taste of HOPE: 30th Anniversary

Place: Prince George Ballroom

Cost: $175 – Event Ticket

The Scoop: The HOPE Program's annual Gala 'A Taste of HOPE' returns in 2015 in perhaps its biggest extravaganza yet. The posh Prince George Ballroom is the setting where the Wythe Hotel, Jimmy's No. 43, Neuman's Kitchen, Shake Shack, Four & Twenty Blackbirds, Financier, Chickpea and Tito's Handmade Vodka will all be serving their delectable dishes to the delight of a few hundred philanthropic folks. As you've read in these pages, the organization seeks to help impoverished New Yorkers with improving their skills through training, jobs, mentoring and helping their careers progress. With the biggest event in their year, 'Taste's' impact is perennially remarkable.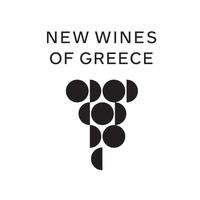 Date: Wednesday, May 13th 2015

Event: Taste of Greece: Brilliant Wines, Inspiring Food, Timeless Culture

Place: City Winery

Cost: $75 – General Admission; $125 – VIP

The Scoop: Whether you're an expert or a novice, one thing is for certain: wine can be pretty damn good. And while we've had plenty of different styles, Greek wine is often foreign to us. Good thing we've got Wednesday May 13th free. City Winery plays host to a wine celebration where more than fifty of the country's most popular winemakers are gathering to showcase all they've got to offer in an evening session called "Taste of Greece." Aside from some absolutely exceptional wines you'll find dishes to taste from Kefi, Amali, Thalassa, Nerai and more- along with live music from an authentic band from Athens.

Date: Saturday, May 16th 2015

Event: Taste of Tribeca

Place: 334 Greenwich Street

Cost: $45 – Advance Tickets

The Scoop: Names like American Cut, Bouley, Distilled NY, Locanda Verde, Little Park, The Palm, Ward III and Marc Forgione read like some of the finest restaurants our city has to offer. They'll all be participating in the 2015 Taste of Tribeca, an outdoor pay as you go food tasting experience that's more of a neighborhood celebration and block party than a festival of eats. $45 gets you six tastings from any restaurants and the day's proceeds will benefit PS 150 and PS 234 to support local arts in our schools. The dishes being served are phenomenal and there's a good chance you won't ever make it out to some of these exceptionally popular restaurants. Don't miss out on this reasonably priced opportunity to do some good.
Date: Saturday, May 16th – Sunday, May 17th 2015

Event: The Great Big Bacon Picnic

Place: The Old Pfizer Factory

Cost: $249 – VIP, $149 – Early Entry, $99 – General Admission

The Scoop: What's there to do for two days in Williamsburg? Hop on over to The Old Pfizer Factory of course. It's The Great Big Bacon Picnic, an extravaganza of eats featuring more than 100 chefs and restaurants- some known, some unknown. Try out Hill Country BBQ, Nick and Toni's Restaurant, Le Rivage, The East Pole, Pig Guy NYC, Spritzenhaus 33, Umami Burger, Landhaus, Benchmark, Little Prince amongst many others. You'll also slug down brews from Pilsner Urquell, Coney Island Brewing Co. and spirits from Widow Jane, Van Brunt Stillhouse, Kings County Distillery and others. A brass band. A space that's indoors and outdoors. And more pig and booze than you can imagine over three action packed sessions.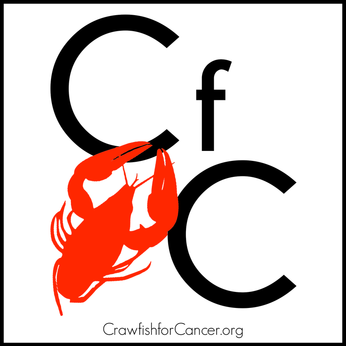 Date: Saturday, May 16th, 2015

Event: Crawfish for Cancer's 7th Annual NYC Crawfish Boil

Place: Boat Basin Cafe

Cost: $95 – General Admission

The Scoop: For the 7th banner year, the folks at Crawfishforcancer.org are hosting a masssively ornate Crawfish Boil featuring outdoor eating and drinking for their cause. Year after year, "Crawfish for Cancer" is a perennially sold out event that takes over the waterfront Boat Basin Cafe. Get your fill of a feast of hundreds upon hundreds of pounds of piping hot crawfish, fresh hunks of potatoes, seasoned corn on the cob, bottomless beers, wines and signature crafted cocktails. It's a wonderful reason to step out for an afternoon to support cancer research at one of Manhattan's most truly unique venues.
Date: Tuesday, May 19th, 2015

Event: Taste of Sunnyside 2015

Place: Queens Boulevard at 45th Street

Cost: $60 – VIP; $35 – General Admission

The Scoop: The weather is warm so let's indulge in some of Queens' best restaurants in an outdoor neighborhood setting. The 2015 'Taste of Sunnyside' returns to an outdoor nook under Queens Boulevard where hundreds of hungry eaters will jump on dishes from a few dozen local restaurant participants. Los Verdes, Salt and Fat, Claret Wine Bar, PJ Horgan's, Copper Kettle and of course, White Castle (!!) are all along for the ride- joining Queens Brewery and SingleCut Beersmiths as some of the evening's drink purveyors. It's sure to be a celebration of the borough's best- and it's reasonably priced for anyone to attend.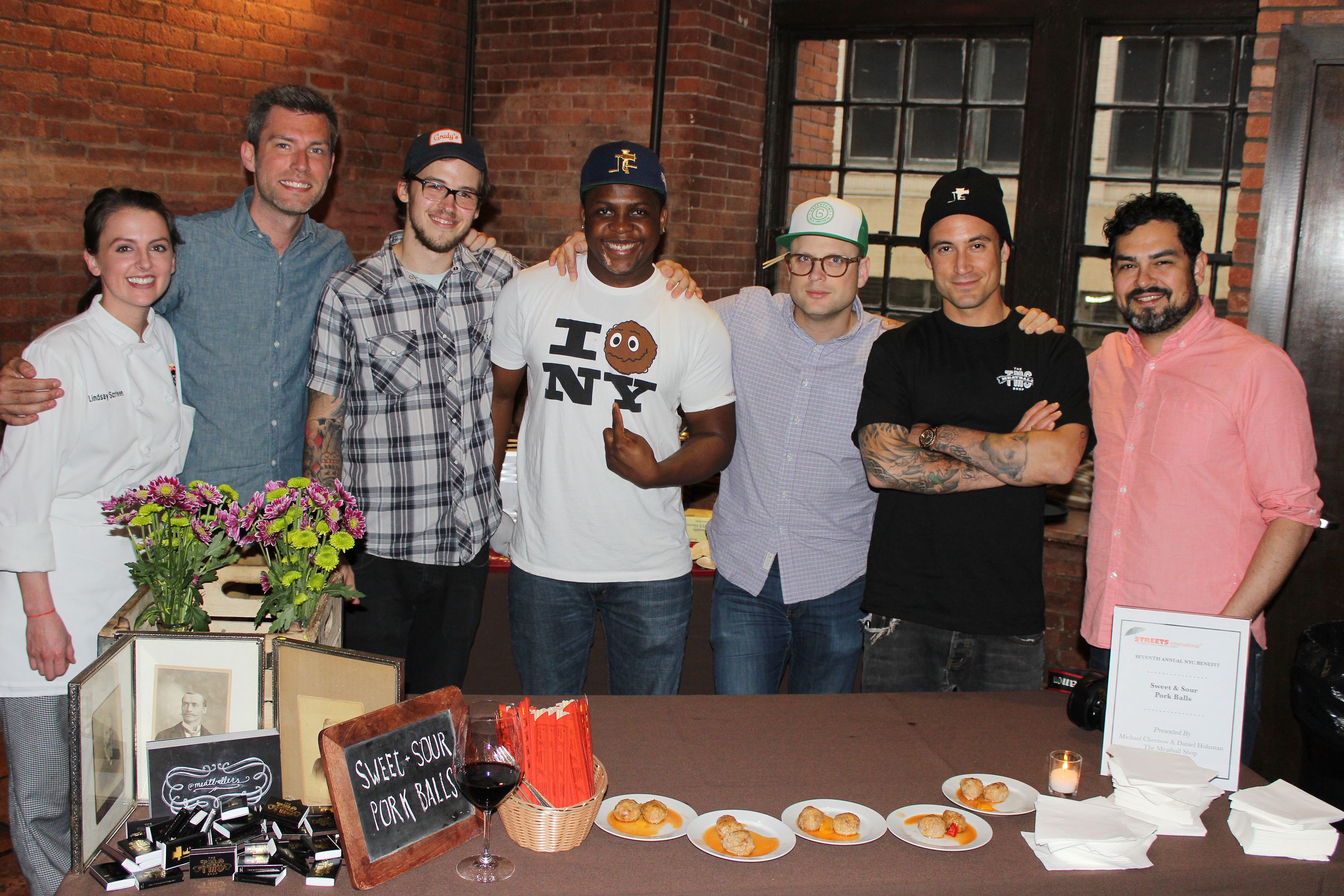 Date: Tuesday, May 19th, 2015

Event: STREETS International's 2015 'STREETS Eats'

Place: Astor Center

Cost: $150 – Guest Ticket

The Scoop: Readers of this site will surely remember the name STREETS International, the socially conscious group that seeks to develop programs for disadvantaged children in Southeast Asia and around the world by training them comprehensively in the culinary world. The 8th Annual "STREETS Eats" event returns to the Astor Center in 2015 with a live silent auction, hand crafted cocktails and an incredible list of local and notable chefs and restaurants. Alder, Pig & Khao, The Meatball Shop, Tuome, Cafe Boulud and Ai Fiori are just a handful of participating spots cooking up a storm at this year's outstanding fundraiser for a truly worthwhile cause.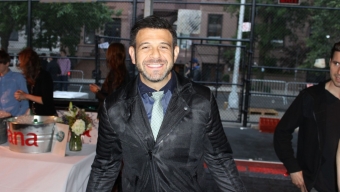 Date: Wednesday, May 27th – Saturday, May 30th, 2015

Event: New Taste of the Upper West Side

Place: Varies

Cost: Varies

The Scoop: For the 8th year in a row, the Columbus Avenue Business Improvement District is slated to host 'New Taste of the Upper West Side,' three different evenings of the neighborhood's finest dishes and drinks to fundraise for the organization's improvement initiatives. Wednesday evening's 'Soiree in the Park' goes down in Theodore Roosevelt Park where $150 gets you dishes from Calle Ocho, Sarabeth's, Luke's Lobster and others, live music and champagne. The entire evening benefits the park itself, which surrounds the beautiful American Museum of Natural History. Friday night's 'Comfort Classics' has become a perennial favorite for us. A $105 ticket grants you access to a massive tent with forty restaurants like 5 Napkin Burger, Genuine Roadside, Jacob's Pickles, Pappardella, Momofuku Milk Bar, beers, wines and spirits- and of course, Man vs. Food host Adam Richman to emcee it all. Finally, Saturday's 'Best of the West' ($135) hosted by chefs and Food Network personalities Marc Murphy and Anne Burrell as well as NBC4′s Lauren Scala will feature Boulud Sud, Alice's Tea Cup, Dovetail, Ed's Chowder House, Ocean Grill, The Smith, Tavern on the Green and a ton more! It's a banner weekend for the UWS and it's one that shouldn't be missed for any food-seeking party enthusiasts.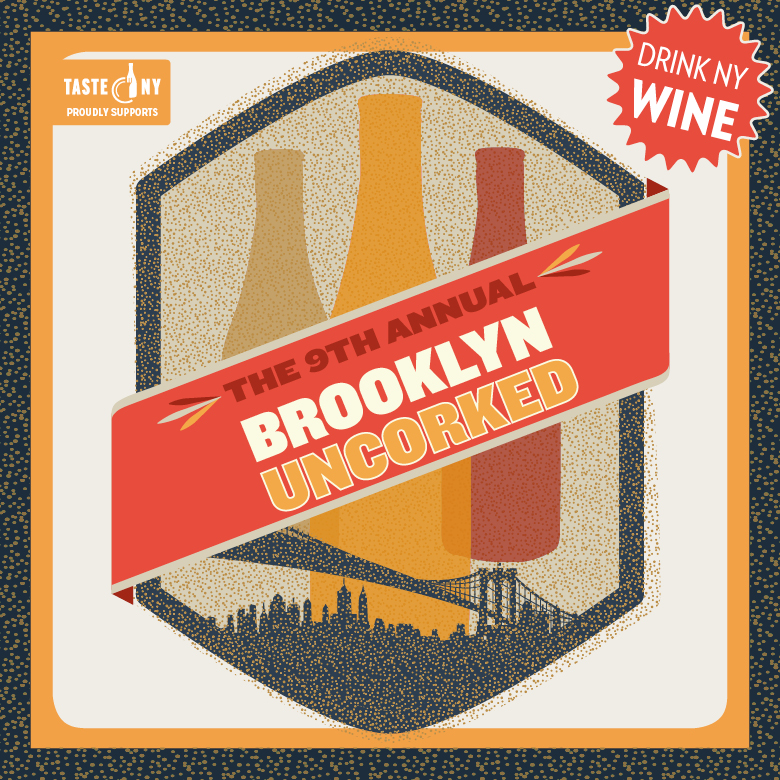 Date: Thursday, May 28th, 2015

Event: Edible's 'Brooklyn Uncorked 2015′

Place: 26Bridge

Cost: $70 – General Admission

The Scoop: Sometimes it's the local stuff that deserves to be celebrated. With that in mind, it's the 9th annual 'Brooklyn Uncorked' which emanates from 26Local for the first time ever. Wineries like McCall Wines, Finger Lakes Wine Alliance, Wolffer Estate Vineyard, Bedell Cellars and Bridge Lane Wine will be poured alongside eats from BAMcafe, Dekalb Restaurant, Palo Santo, EMILY, Runner & Stone, Gramercy Tavern and others. Edible does events just right- ensuring that you won't leave hungry and most likely- you won't leave sober either.
Date: Sunday, May 31st, 2015

Event: Bloodys & BBQ: A Curated Bloody Mary Brunch

Place: Beast of Bourbon

Cost: $40

The Scoop: You may have heard about our affinity for brunch. Fortunately, The Bloody Mary Liberation Party returns once again this spring with four incredible Bloody Mary varieties and a full BBQ meal from Beast of Bourbon during the Bloody Mary Brunch on May 31st. Cocktails from McClure's Pickles, Black Swan Pub, The Bloody Mary Liberation Party and Beast of Bourbon will be poured for the capacity crowd of just 100 guests. It should be a tasty and filling three hour afternoon featuring some of Brooklyn's finest concoctions!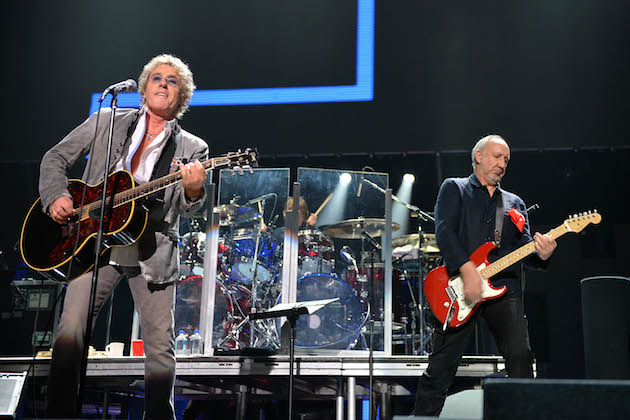 Date: Friday, May 1st -Â Sunday, May 31st, 2015

Event: Concerts Concerts Everywhere

Place: Varies

Cost: Varies
The Scoop: Check out our new and notable concert listings for the month and make sure to secure your tickets before it's too late.
Friday, May 1st
…And You Will Know Us By the Trail of Dead, Music Hall of Williamsburg
Blur, Music Hall of Williamsburg
Eric Clapton's 70th Birthday Celebration, Madison Square Garden
Vamps, Best Buy Theater
Saturday, May 2nd
Fishbone, Brooklyn Bowl
Eric Church, Prudential Center
Sunday, May 3rd
Eric Clapton's 70th Anniversary Celebration, Madison Square Garden
Hiatus Kaiyote, Gramercy Theatre
Monday, May 4th
Mika, Webster Hall
Tuesday, May 5th
Hiatus Kaiyote, Gramercy Theatre
Chet Faker, Terminal 5
Butch Walker, The Concert Hall
Ciara, Best Buy Theater
Lenny Kravitz, Webster Hall
Wednesday, May 6th
David Allan Coe, BB Kings
Paramore, Beacon Theatre
Nightwish, Hammerstein Ballroom
Thursday, May 7th
The Maine, Best Buy Theater
An Evening w/Noel Gallagher's High Flying Birds, Webster Hall
Of Monsters and Men, Hammerstein Ballroom
Slash f. Myles Kennedy & The Conspirators, Terminal 5
Monday, May 11th
Azealia Banks, Irving Plaza
Tremonti, Highline Ballroom
Surfer Blood, Music Hall of Williamsburg
Passion Pit, Kings Theatre
Tuesday, May 12th
Yelawolf, Brooklyn Bowl
Wednesday, May 13th
Faith No More, Webster Hall
Of Mice and Men, Best Buy Theater
Kaiser Chiefs, Irving Plaza
Tennis, Music Hall of Williamsburg
Jane's Addiction, Brooklyn Bowl
Thursday, May 14th
Santigold, Music Hall of Williamsburg
Faith No More, Webster Hall
Friday, May 15th
Rival Sons, Irving Plaza
Matt & Kim, Terminal 5
Crosby, Stills & Nash, Kings Theatre
Saturday, May 16th
Tennis, Mercury Lounge
Tuesday, May 19th
Nico & Vinz, Irving Plaza
Mastodon & Clutch, Central Park SummerStage
Wednesday, May 20th
TV On the Radio, Kings Theatre
Thursday, May 21st
The B-52′s, Irving Plaza
SiriusXM Presents TV On the Radio, Terminal 5
Friday, May 22nd
Haste the Day, Irving Plaza
Saturday, May 23rd
All Time Low, JBL Live at Pier 97
Electric Daisy Carnival, MetLife Stadium
Sunday, May 24th
Electric Daisy Carnival, MetLife Stadium
Tuesday, May 26th
Pixies, Beacon Theatre
The Who, Barclays Center
Wednesday, May 27th
Pixies, Beacon Theatre
Thursday, May 28th
Pixies, Kings Theatre
Ed Sheeran, Forest Hills Stadium
Billy Joel, Madison Square Garden
Friday, May 29th
Ed Sheeran, Forest Hills Stadium
lady Antebellum, Nikon at Jones Beach Theater
Saturday, May 30th
Sepultura, Marlin Room at Webster Hall
Ed Sheeran, Prudential Center
The Who, Forest Hills Stadium
Sunday, May 31st
They Might Be Giants, Music Hall of Williamsburg
 - Jane Van Arsdale
Related Articles
Share
About Author
(0) Readers Comments