Halloween.  Thanksgiving.  They're all gone now.  Next up it's super-sized trees, blue and gold stars and the frantic race to make plans for New Year's Eve.  Time sure does continue to fly in New York City.  Follow our lead and take a step back this month.  Appreciate what you've been given, what you've earned, and where life has left you.  Appreciate the holidays, the friends, the moments.  After all, we only have a few days left in 2014.

December 2014 Events in New York City: Where You Need to Be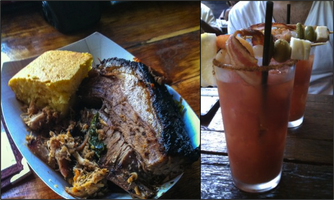 Date: Saturday, December 6th 2014

Event: The Bloody Mary Liberation Party

Place: Beast of Bourbon

Cost: $30

The Scoop: Just $30 gets you a one day only prix-fixed smorgasbord of tasty 'cue and booze. It's a full-on BBQ and Bloody Mary Brunch at Brooklyn's Beast of Bourbon. You'll get to taste three different Bloodys from Brooklyn hot spots along with some smoked pulled chicken, pork ribs, brisket, beans dessert and more. The fun and festive affair offers more than a glimpse of some of Brooklyn's most finger licking barbecue paired with Brunch's very best cocktail.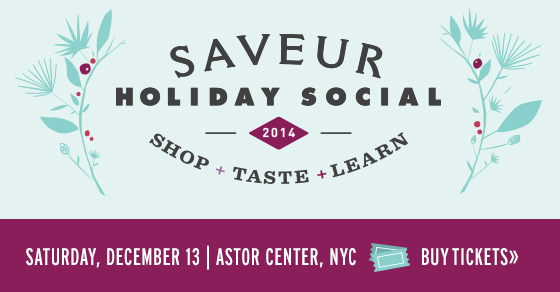 Date: Saturday, December 13th 2014

Event: Saveur Holiday Social

Place: Astor Center

Cost: $110

The Scoop: Join the likes of Brad Farmerie, George Mendes, Craig Koketsu, Hugh Acheson for a day of cooking demos, eating and shopping at Saveur's Holiday Social 2014. The day is broken out into three two hour sessions all day long inside the Astor Center. Farm to table fare and endless drinks from Stella Artois, Highland Park Scotch Whisky and Grgich Hills Estate Wine will be doled out while Chef Leah Cohen (Pig & Khao), Lesley Benard (Ristorante Morini) and Cesare Casella (Salumeria Rosa) work on some cooking demonstrations for the live crowd. And shops like Shearwater Coffee, Brooklyn Slate and American Spoon are sure to provide some outstanding last minute gifts for the food lover on your holiday list.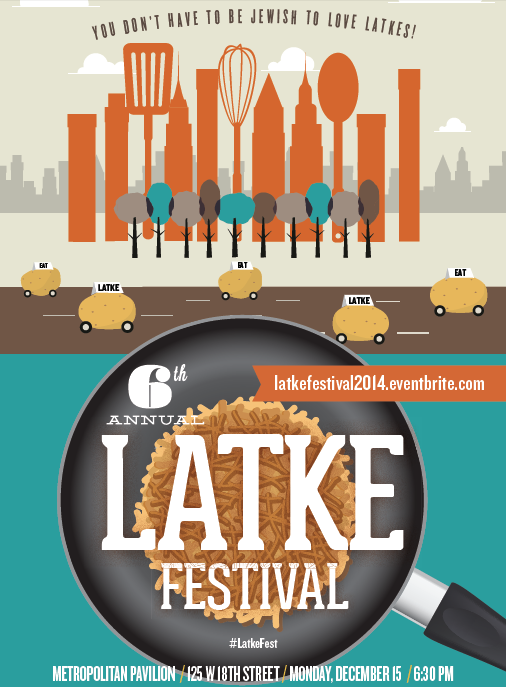 Date: Monday, December 15th 2014

Event: 6th Annual Latke Festival

Place: Metropolitan Pavilion

Cost: VIP – $100; General Admission – $60

The Scoop: You'll probably need to change clothes after a day inside the 6th Annual Latke Festival. Restaurants like Delicatessen, Joseph Leonard, Ben's Deli, Jimmy's No. 43, Mokbar, Toloache, Veselka and many more will be whipping up some piping hot delicacies just in time for Chanukah to start. You'll enjoy an unlimited array of eats and the proceeds from the 90 minute affair will benefit The Sylvia Center- a not for profit group focused on teaching children to cook and eat well. Whether you eat them plain or ply them with apple sauce, there are a ton of different styles and chefs coming our for the great cause. Don't miss out on what's bound to be the biggest festival yet.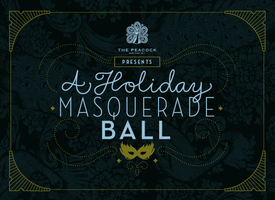 Date: Friday, December 19th 2014

Event: A Holiday Masquerade Ball

Place: The Peacock

Cost: $185

The Scoop:  Six hours of premium open bar. Participants like The Shakespeare, The Peacock and Raines Law Room. A Black Tie only affair. It's A Holiday Masquerade Ball and if your New Year's plans are low key, spend a fun night out in style at east side haunt The Peacock. VIP tickets are sold out, but no need to miss out on an exciting exclusive evening replete with booze, holiday festivities and a slew of surprises.

Date: Wednesday, December 31st, 2014

Event: New Year's Eve NYC

Place: Varies

Cost: Varies

The Scoop: However you're deciding to spend you remaining hours in 2014, be it with a Midnight Run, a late night concert, or some ridiculous open bar deal, make sure to spend the night with the people you care about and appreciate the fact that we live in the greatest city in the entire world.
Date: Monday, December 1st – Wednesday, December 31st 2014

Event: Concerts Concerts Everywhere

Place: Varies

Cost: Varies
The Scoop: Check out our new concert listings for the month of December and make sure to secure your tickets before it's too late.
Tuesday, December 2nd
Say Anything & Saves The Day, Irving Plaza
The Head and the Heart, Hammerstein Ballroom
Bob Dylan, Beacon Theatre
Skinny Puppy, Best Buy Theater
Wednesday, December 3rd
Say Anything & Saves The Day, Irving Plaza
Thursday, December 4th
The 1975 & CRUISR, Terminal 5
Friday, December 5th
The 1975 & CRUISR, Terminal 5
James Taylor, Madison Square Garden
The 33rd Annual John Lennon Tribute, Symphony Space
Saturday, December 6th
Freestyle Extravaganza, NJ Performing Arts Center
Cyndi Lauper & Friends: Home for the Holidays, Beacon Theatre
Slipnot & Korn, IZOD Center
Lucius, Terminal 5
Monday, December 8th
Holiday Cheer for WFUV w. Conor Oberst, Natalie Merchant, Beacon Theatre
Smashing Pumpkins, Webster Hall
Tuesday, December 9th
HIM, Webster Hall
Common, Irving Plaza
French Montana, Best Buy Theater
Wednesday, December 10th
Pop Evil, Gramercy Theatre
Fresh 102.7 Holiday Jam f. Train & Daughtry, Beacon Theatre
Trombone Shorty, Terminal 5
Thursday, December 11th
Medeski, Scofield, Martin & Wood, Terminal 5
Trey Anastasio Band, Beacon Theatre
Friday, December 12th
American Hi-Fi, Mercury Lounge
Animal Collective & Anders Osborne, Brooklyn Bowl
Trey Anastasio Band, Beacon Theatre
z100 Jingle Ball f. Taylor Swift, Ariana Grande, Madison Square Garden
Sunday, December 14th
Justin Timberlake, Barclays Center
Monday, December 15th
Chiodos, Irving Plaza
Mariah Carey, Beacon Theatre
Tuesday, December 16th
Mariah Carey, Beacon Theatre
Yelawolf, Gramercy Theatre
Wednesday, December 17th
Andrea Bocelli, Madison Square Garden
Thursday, December 18th
Mariah Carey, Beacon Theatre
Billy Joel, Madison Square Garden
Opeth & In Flames, Terminal 5
Friday, December 19th
Bob Seger & The Silver Bullet Band, Madison Square Garden
Run DMC & LL Cool J, Barclays Center
Saturday, December 20th
Mariah Carey, Beacon Theatre
Sunday, December 21st
Mariah Carey, Beacon Theatre
Tyler, The Creator, Terminal 5
Sunday, December 28th
Fishbone, Gramercy Theatre
Television, Irving Plaza
Monday, December 29th
Armin Van Buuren, Pier 94
Disco Biscuits, Best Buy Theater
Steel Panther, Gramercy Theatre
Tuesday, December 30th
The Disco Biscuits, Best Buy Theater
Erasure, Terminal 5
The Hold Steady, Music Hall of Williamsburg
Gov't Mule, Beacon Theatre
Wednesday, December 31st
The Disco Biscuits, Best Buy Theater
Holy Ghost!, Irving Plaza
Gov't Mule w/ Myles Kennedy, Beacon Theatre
Disclosure, Pier 94
Elton John, Barclays Center
Skrillex, Madison Square Garden
The Hold Steady, Music Hall of Williamsburg
Erasure, Terminal 5
 - Jane Van Arsdale
Related Articles
Share
About Author
(0) Readers Comments