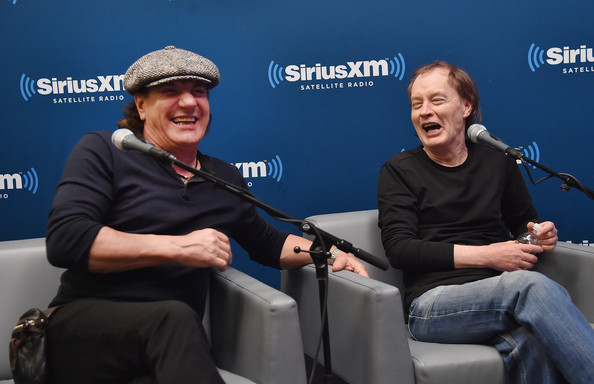 (Photo Credit: Mike Coppola)
You'd be hard pressed to find a more down to earth pair of musicians that have accomplished as much as the members of AC/DC. Having sold more than 200 million albums amid countless sold out stadium shows around the globe, two of the band's most iconic figures humbly graced a small gathering of contest-winners at the SiriusXM studios in midtown on Monday night as part of the Satellite Radio outlet's Town Hall series. For ninety minutes, fans were treated to an interactive Q&A and a special preview of AC/DC's upcoming fifteenth studio album "Rock or Bust," slated for release on December 2nd.
Acclaimed producer Brendan O'Brien (Bruce Springsteen, Pearl Jam) would moderate the candid discussion where pre-selected fan questions would steer the dialogue. Roughly twenty attendees would join O'Brien, frontman Brian Johnson and guitarist Angus Young live inside of a diminutive studio space, but the conversation would stream over the SiriusXM airwaves to millions of listeners all over the world. The band has made considerable news lately with rhythm guitarist and founding member Malcolm Young forced into retirement as a result of deteriorating health conditions along with drummer Phil Rudd's recent arrest under a sea of strange circumstances.  But set aside, AC/DC remains poised to push forward with their first new album since 2008. And fortunately, with tracks like "Play Ball," "Rock or Bust" and "Emission Control" being played before the small audience- "Rock or Bust" definitively holds true to the band's signature sound. Coupling Young's infectious guitar licks with Johnson's raspy high-pitched vocals has methodically proven successful for forty years and much of that continues on their new release which surprisingly clocks in at under 35 minutes.
The evening itself wasn't so much a shill for the new record as it was a chance for a few dozen lucky fans to interact with their idols and predictably, the evening featured a multitude of interesting stories from AC/DC's days in the limelight.  Spirits were remarkably high despite the whirlwind of a press tour that both Johnson and Young had been encountering during the week- an effort to push the new record and quell some of the buzz on the rumor mill.  Much of the evening was centered on the group's storied past and with particular satisfaction the small-framed Young recalled that initially it was his sister's idea for him to don his iconic 'school-boy' wardrobe on stage, a concept at which he initially scoffed but has since become a global trademark for the band. He also recounted the first time that Malcolm had played him the riff he'd written for "Back in Black," which Angus had to convince his brother not to scrap.  The rest of  course is history. After repeatedly taking some good-natured jabs at fellow guitar icon Jimmy Page, the fans, many of whom were in awe of the musicians before them, nervously pressed the band for soundbites with topics ranging from Johnson joining the band following the untimely death of original AC/DC singer Bon Scott to the current lineup which features Young's nephew Stevie taking over for Malcolm on rhythm guitar. Each answer seemed to be met with a ho-him 'it is what it is approach' for the bandmates, who come off completely focused on moving forward regardless of circumstance in deference to Malcolm- it's what he certainly would have wanted.
Through the depths of heartbreak to the highest pinnacles of success, AC/DC has remained unquestionably steady-handed, perhaps best evidenced by the band's commentary on their lasting legacy. "We want to be remembered as just a good rock and roll band," said Johnson, a legendary frontman that clearly underminds the band's place in the pantheon of rock music history. If the three songs that we sampled from their latest album is any indication, the eleven tracks written for "Rock or Bust" will undoubtedly continue to fuel one of the legendary rock bands that remain connected to both rock's glory days in the 70′s and 80′s and the fans of today's genre, which has been repeatedly left for dead. With a full slate of international tour dates set to come in 2015, AC/DC is poised to show that even at an advanced age, they continue to evolve for a new breed of rock fans and enhance their unparalleled legacy by further carrying rock music's torch.
- Jane Van Arsdale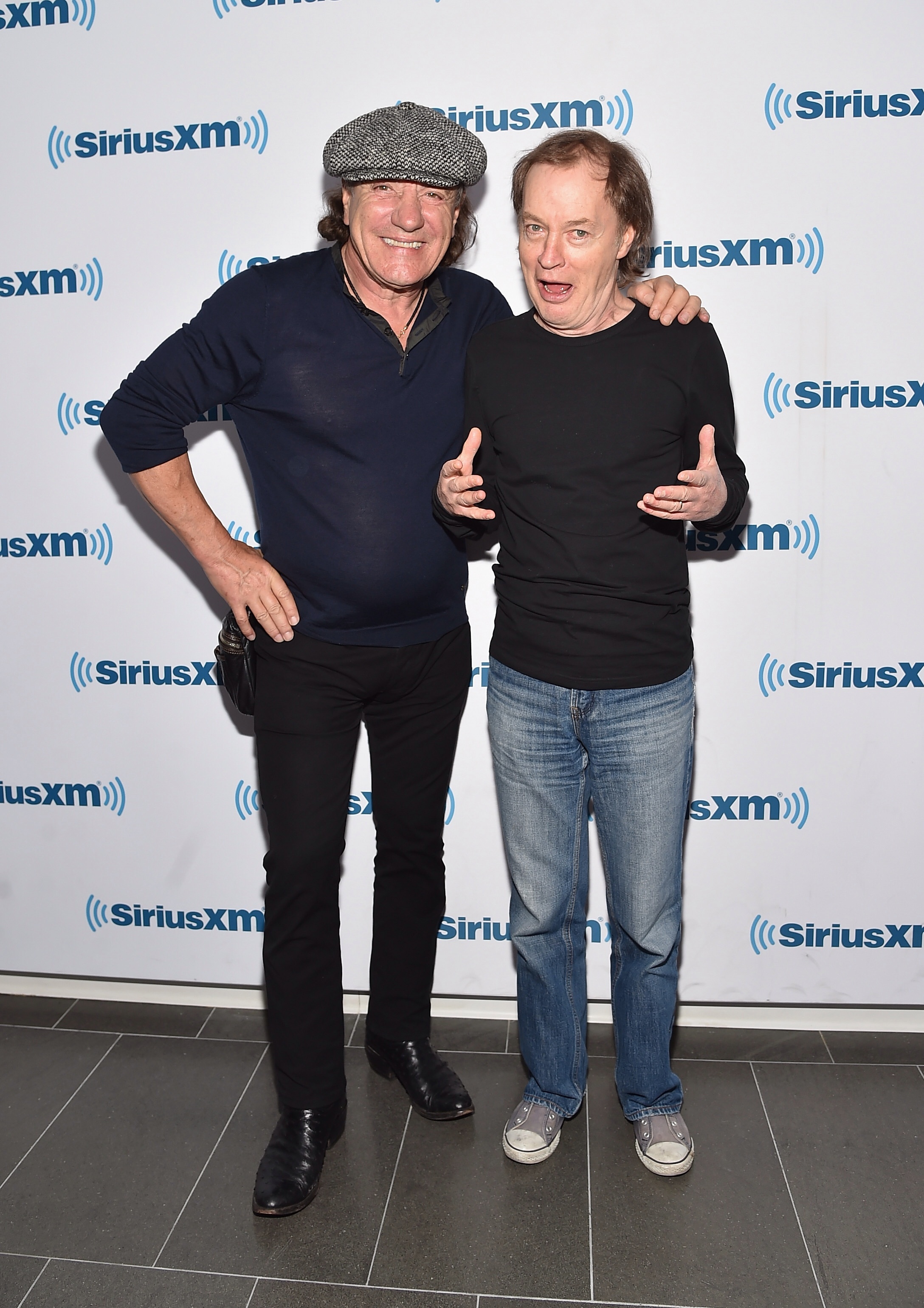 Related Articles
Share
About Author
(0) Readers Comments