One of the main event mainstays of the professional wrestling game over the past two decades has been Glenn Jacobs, better known to fans of World Wrestling Entertainment (WWE) as the demonic Kane- the sadistic storyline half-brother of iconic character The Undertaker. It feels like just yesterday the red menace walked through 'hellfire and brimstone' making his terrorizing presence felt through a multitude of explosions and pyrotechnics, wreaking havoc as his character debuted. But in reality, Kane has astonishingly been in front of our very eyes for more than 17 years.
Over that time, he's shared ring time with some of the wrestling business's biggest names- "Stone Cold" Steve Austin, The Rock, Triple H, John Cena, Mick Foley, Bill Goldberg, Shawn Michaels- and for a short while, was even crowned WWE Champion. But despite a storied in-ring career, this month marks Jacobs' return to the big screen, reprising a role he first tackled with 2006′s slasher film "See No Evil." In "See No Evil 2," Jacobs returns as Jacob Goodnight, a vicious brute thought to have been left for dead who works at a cold-blooded and unstoppable pace until all of those around him have been killed.
Despite the passing of eight years between films, the sequel resumes where the original film leaves off as Goodnight and his victims are each brought into a local morgue, presumably for embalming. There, the night staff led by scream queen Danielle Harris (Amy) receives each body and immediately gets to work. But the work late into the morning forces Amy to cancel her birthday plans at the last minute and as a result, a group of her pals opt to surprise her instead- hosting a makeshift party right at the morgue. As they'll soon find however, Goodnight is still very much alive. And from there, Jacobs begins doing what he does best: tormenting and terrorizing his victims.
Although "See No Evil 2″ hardly reinvents the horror genre, it's a captivating and gore-filled slasher film that is never too gruesome to look away from the screen. The story, while far-fetched, manages to keep your attention for all 90 minutes as (in traditional horror fashion) the viewer will find many of the characters' motives hard to fathom as they attempt to avoid being trapped by this monster. But it's that suspension of disbelief that makes these kinds of films so much fun- and it's that same concept that makes being a fan of the WWE product so understandable. Glenn "Kane" Jacobs has the ability to make you get lost in a character and he certainly comes through in that regard in "See No Evil 2."
LocalBozo.com sat down with Glenn "Kane" Jacobs for an exclusive interview. Listen to the above or check out our transcribed text below as we discuss how he learned that a sequel was being made, the differences in filming "See No Evil 2," the WWE releasing a rated R film in their typically PG world, shooting the entire film in just 15 days and much more. And wrestling fans- we chat about Jacobs' nearly twenty years in the WWE, the challenge of getting up for live events in smaller towns, his favorite memories and moments that perhaps don't have the lasting power that they deserve, what he loves to watch on the WWE Network and his memories of working in the New York area. For close to fifteen minutes, we pick the brain of one of the brightest professional wrestlers of our era- one with unparalleled longevity and one that capably lends his character to the big screen.
"See No Evil 2″ starring Glenn "Kane" Jacobs and directed by The Soska Twins ("American Mary") is rated R, has a runtime of 90 minutes and is available now on DVD and Blu Ray and Video on Demand everywhere.
- Dave Gendelson
The interview has been transcribed for your reading pleasure below.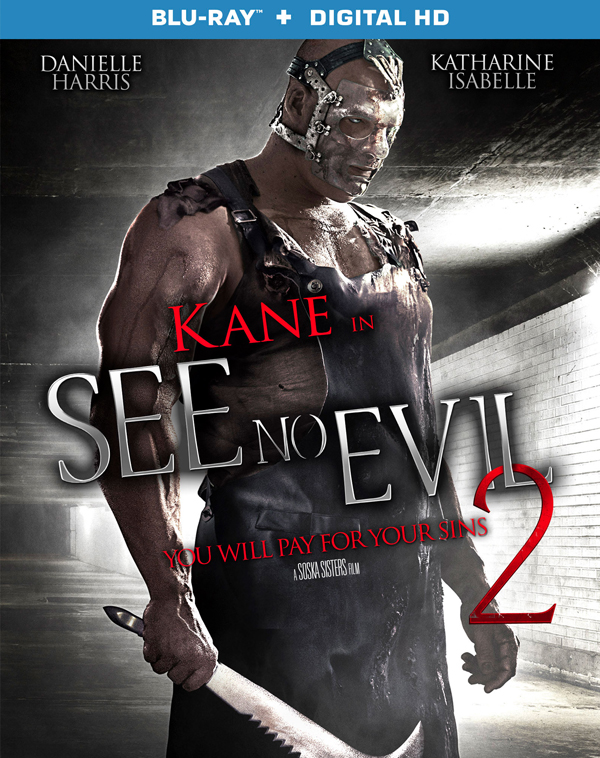 LocalBozo.com:  It's been eight years since you initially starred in the gore-filled "See No Evil" as the menacing Jacob Goodnight, probably the most well received film that WWE has put out to date.  When did you initially hear about talks for a sequel?
Glenn "Kane" Jacobs:  It would have been right after Summerslam of last year (August 2013) actually- or maybe right before.  The ironic thing is that I was going to take about six weeks off or so, and then I get a call  – "they're going to do a sequel," which was surprising to me, you know, because it had been so long after the first– after two years, "we're probably not going to do a sequel."  So that was a surprise, that they were going to carry through with it.  But then, I was like "well, this is going to be cool," and then I saw that [directors] the Soska Twins had signed on to do the movie and frankly I didn't know very much about them so I had to do some research.  And I was like "okay, this sounds pretty cool," and they gave me a copy of "American Mary," which is a great movie actually- and I was like, "well, if 'See No Evil 2'" is anything like "American Mary," it should be a winner.  So I really started to look forward to doing it.
LB:  Your character on television is one that certainly seems to lend itself to this role.  Based on your initial turn in the original film, is the sequel something you had been hoping to tackle for quite awhile but had given up hope on because it took so long?
GKJ:  Pretty much, yeah. Like I said after about two years, I figured there wasn't going to be a sequel.  But I think what happened was the film division at WWE was going through a lot of changes after "See No Evil" and we had just different personnel, different visions- that sort of thing.  And then a couple of years ago, they hired Michael Luisi, who is a Hollywood veteran, as the head of WWE Films and Michael has a very specific vision for the film division.  It's to make genre movies, it's to put our guys- WWE Superstars- in roles in which they can succeed, which means that we may not always be the lead in the movie.  For example, in [2013's] "The Call," we had Halle Berry as the lead but nevertheless we had guys play an important part in the movie.  And then with "See No Evil 2," and it was shot in 15 days, so what he's trying to do is make profitable movies but yet have quality movies- and make them as much as possible, movies that are going to succeed.
LB:  In WWE's PG world, it's a bit surprising that the company is releasing a horror movie that's rated R- which is certainly going to appease fans just begging for a return to a product that caters more toward adults.  How fulfilling was making the film for you personally knowing that you'd be able to go all out with a script and with effects that wouldn't skimp on the slasher side of a true horror film?
GKJ:  What was neat about "See No Evil 2″ is- of course it is a horror movie, but there's also a lot of other elements in it.  It's not just a slasher flick.  It has a good plot.  It has very good characters.  Also, in "See No Evil 2″ we get to explore the life of Jacob Goodnight a lot more.  We see the influence that his mom has had on him and get into that further.  So it's really a  throwback to the old-fashioned 80′s style slasher flicks.
LB:  The film is now officially available everywhere- both on Video On Demand as well as on DVD and Blu Ray (10/21).  Though it's been eight calendar years since it's release, the film actually picks up a day after the original and your character terrorizes a group of friends at a city morgue.  How much of making this film came easier to you because of your work in the original and what were some of the differences you encountered this time around?
GKJ: First of all, we shot it a lot faster.  It was a fifteen day shoot as opposed to the first movie which was done over two months.  So it was much more intense and much more in an environment of urgency and getting things done as quickly as possible.  The entire movie industry has changed, I mean the technology is now different.  The first "See No Evil" was shot on film.  This one was shot digitally.  I think that helps the process move faster as well.  You know, also this was all shot- the first "See No Evil" was shot on a sound stage- this is shot in an old mental hospital which, there's lots of stories about that.  This is Riverview Hospital outside of Vancouver and it's been used for all sorts of stuff- "The X-Files," "Falling Skies"- all sorts of television programs and movies have been shot there.  I think my experience with the first movie prepared me for the sort of 'hurry up and wait' atmosphere of movies, you know?  Movies are somewhat like football in that you have ten seconds of frenzied activity and then a minute of standing around; except in movies it's a little longer.  You have five minutes or two or three minutes of frenzied activity and then fifteen minutes of standing around.  Or in some cases getting ready and then sitting all day not doing anything and then a few minutes of frenzied activity and that's it.  So I guess I was a little more prepared for the business aspect of movie making.
LB:  The Kane character is one that's actually celebrating its 17th anniversary in WWE this month- but you've actually been with the company for closer to twenty years.  First off, with two decades in the wrestling business, how's your body feeling on a day to day basis and are you still enjoying the grind?
GKJ:  Yeah I still enjoy it.  The hardest part about our job is the travel.  People see what we do in the ring and of course, that is physical and it is challenging.  But I always find that it's the travel which gets to me more than anything.  But I've been fortunate that I don't have any really terrible injuries so in that respect I'm doing very well.  And I also try to keep myself in as good of shape as I can.  I work out pretty much every day and I'm still feeling good after all these years.
LB:Â  After so many years in the wrestling business, does it become a challenge for you to get up for some of the non-televised live events in smaller towns, considering the fact that you've performed in front of tens of thousands of fans in arenas an even in stadiums on other nights?
GKJ:  Sure, it is different, of course.  But sometimes it's even more fun to be in front of the smaller audiences because you really do get that personal interaction.  It becomes much more intimate.  You can have more fun- you can do more stuff that you can't do in a bigger venue.  It's different, but I wouldn't say that it's a challenge to get up for the smaller towns or anything like that.
LB:Â  Looking back on your career, what's perhaps your favorite match or favorite moment that you don't think gets the credit or has had the lasting power that it probably deserves?
GKJ:  I'm not really sure.  My favorite moment was beating "Stone Cold" Steve Austin for the WWE Championship and the thing about that is- yeah, I only held it for a day but nevertheless, the next night on [USA's "Monday Night] Raw," the match between Austin and I did the highest rating that "Raw" had drawn to that point.  That felt like one of the launching points for the 'Attitude Era.'  That was one of the points to where things shot up from there.  And the fact that, you know, there I am in the ring with arguably the guy that would go on to become the most popular wrestler in WWE history and I'm part of all that- so that was a really big moment for me.  There's been a lot of other stuff of course, but that's my favorite moment.  It would be that one.
LB:  As per usual, the roster has a full schedule coming up- Sunday, October 26th is the 'Hell in a Cell' event from the American Airlines Arena in Dallas, but locally, New Yorkers can catch the WWE Live Holiday Tour returning to Madison Square Garden on Friday, December 26th.  We're based out of New York City- Glenn, can you reflect a bit about what the New York Market has been like for a southern-bred guy like yourself over the years?
GKJ:  Well Madison Square Garden is the most famous arena in the world and definitely the high point for us is to go to the Garden.  It's unlike any other show that we do.  And then of course to have had Wrestlemania in New York/New Jersey at [MetLife] Stadium was just awesome.  Everything that surrounds that particular show, I mean, the entire world is watching you because it's coming from New York.  And then of course also Wrestlemania XX which was the first Wrestlemania in which I was unmasked and The Undertaker comes back- that was a big deal.  And the night before that, we had the Hall of Fame ceremony in which I inducted Pete Rose into the Hall of Fame.  There's just been all sorts of stuff that's gone on in the New York area and even after all these years, New York is the home of WWE and it's still the most important market that we go to.
LB:  We've heard a constant stream of promotion over the last six months for the WWE Network.  As a current member of the roster, what do you find yourself going back to watch on the Network most often?
GKJ:  The WWE Network is great because I get to watch the stuff from when I was growing up- the stuff that I remember.  Not only WWE, in fact, awhile back I watched a show from Madison Square Garden and the main event was Hulk Hogan versus 'Big' John Studd at the Garden.  And then- just all the other stuff that's on the Network too- the old stuff from WCW and the NWA before that, the first Starrcade, and then- World Class Championship Wrestling with the Von Erichs and seeing The Freebirds and the Von Erichs go at it.  It's just great and that's what I watch, you know?  Because I've lived through so much of the other stuff, I've been a part of so much of the other stuff, I'm really intrigued by the previous generations to myself.  To me, that's the best part of the WWE Network is going back and watching the Vault and watching the archives of all the stuff from the early 80′s and that time period.
LB:  Glenn, can't thank you enough for your time today.  Is there anything else you'd like to leave for the readers of LocalBozo.com?
GKJ:  Just thanks so much for the interview.  As you said, "See No Evil 2″ is coming out and we're looking forward to seeing the reception that it gets and I'd just like to say 'Hey' to all the WWE fans and thank them for all the support through the years.
Related Articles
Share
About Author
(13) Readers Comments