Pretty soon Halloween will be a distant memory.  The pumpkin beers will disappear for the year.  And what do you know, all the talk will shift toward Christmas gifts and holiday plans.  But let's not forget about sweet November- where the temperature dips and stuffing is aplenty.  There's a ton of goings on in New York City in November aside tree lightings and Rockette performances.  Fill your plate up with a variety of these events this month- even if you don't have the desire to get up at 4am to check out a certain parade.

November 2014 Events in New York City: Where You Need to Be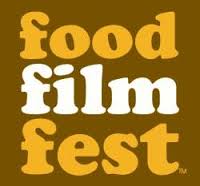 Date: Wednesday, October 29th – Saturday, November 1st 2014

Event: Food Film Fest 2014

Place: Varies

Cost: Varies

The Scoop: The very best in film and food converge at the annual Food Film Fest and 2014′s is no different with five exciting events.  Whether enjoying 'Cocina Peruana' with some Peruvian food, 'Just Add Sriracha' with a series of short films and a VIP Pre-Party, Halloween night's Food Porn Party featuring meat, rice and cheese balls and bites from Brad Farmerie, a Craft Beer Bash with Baltimore beers paired with salty and sweet treats from New York or Saturday night's The Night Aquatic finale- with all you can eat oysters, sea urchin, crabs and a shrimp boil to boot.  There's something for cinephiles and foodies alike all in one place at this year's Festival.

Date: Friday, October 31st – Saturday, November 1st 2014

Event: NYC Craft Beer Festival: Autumn Harvest

Place: Lexington Avenue Armory

Cost: VIP – $75; General Admission – $55

The Scoop: Not all craft beer festivals are created equal.  It seems that every season, there's a new brew fest by the folks at NYC Craft Beer Fest that we're excited for- but nothing amps us up like fall beers.  The Autumn Harvest will feature 150 of them over three wild two and a half hour sessions.  Names like Allagash, Greenport Harbor, Heavy Seas, Left Hand, Abita, Rogue, Sixpoint, Southern Tier, Smuttynose, Flying Dog, Troegs, Sierra Nevada, Founders, Red Hook, Grimm, Widmer Brothers, Bell's, Great South Bay, Lagunitas, Weyerbacher, Alphabet City Brewing Company, Kona Brewing Co., Lion….how much convincing do you need?  These events are always packed and always a great time.  Find out now for yourself!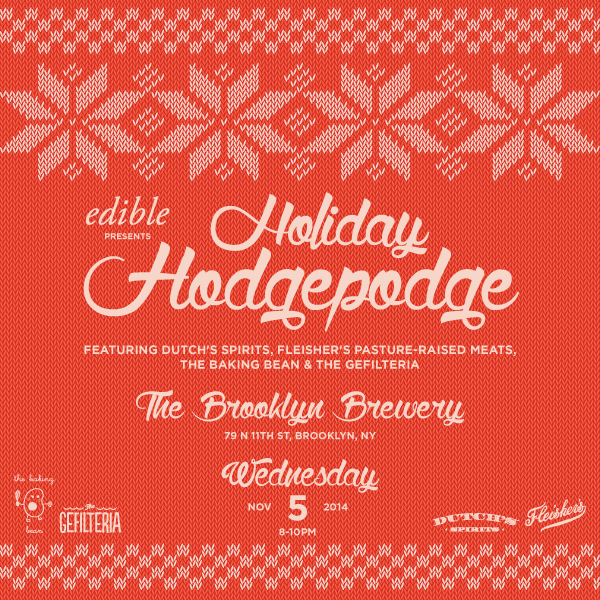 Date: Wednesday, November 5th 2014

Event: Edible Holiday Hodgepodge

Place: Brooklyn Brewery

Cost: $5

The Scoop: Just $5 gets you out of the house for a night with a seasonal visit to Williamsburg's Brooklyn Brewery.  Edible's "Holiday Hodgepodge" is a two hour affair where a panel from the likes of The Baking Bean, The Gefilteria, Fleisher's Pasture-Rasied Meats and Dutch's Spirits will take turns presenting food and drink samples to the audience and giving holiday related ideas from bright local minds.  You'll enjoy some craft brew pours alongside some sweet and savory bites as the countdown to Thanksgiving begins.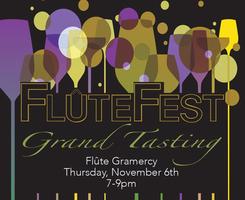 Date: Thursday, November 6th 2014

Event: FluteFest 2014

Place: Flute Gramercy

Cost: $75

The Scoop:  Flute Gramercy's annual tasting of all things bubbly returns with 2014′s "FluteFest."  More than twenty distinctive wines will be on hand for the two hour pouring extravaganza paired with passed around hors d'oeuvres and a live DJ working the mix.  You'll have the opportunity to flood the producers with questions from the likes of Pol Roger, Piper-Heidsieck, GH Mumm, Ayala, Bollinger and more.  Don't miss this chance to taste some of the world's finest bubbly without having to leave the City's best champagne bar.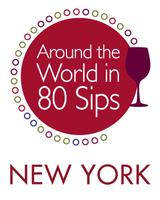 Date: Friday, November 7th 2014

Event: Around the World in 80 Sips

Place: Espace

Cost: VIP – $145, General Admission – $75

The Scoop: The Sherry-Lehmann sponsored Bottlenotes presented "Around the World in 80 Sips" comes but once a year and in 2014, the 6th Annual event returns to Espace for its most grandiose evening yet.  With a portfolio being presented from France, Portugal, Italy, New Zealand, and of course the United States, guests will sip and swirl some truly distinctive wines, enjoy some light eats and chocolate pairings, and get a commemorative booklet to take home for good measure.  More than 600 guests flocked to the lavish west side space in 2013 where hundreds of different wine bottles were emptied for thirsty drinkers.  2014′s evening should be no different and no less fun.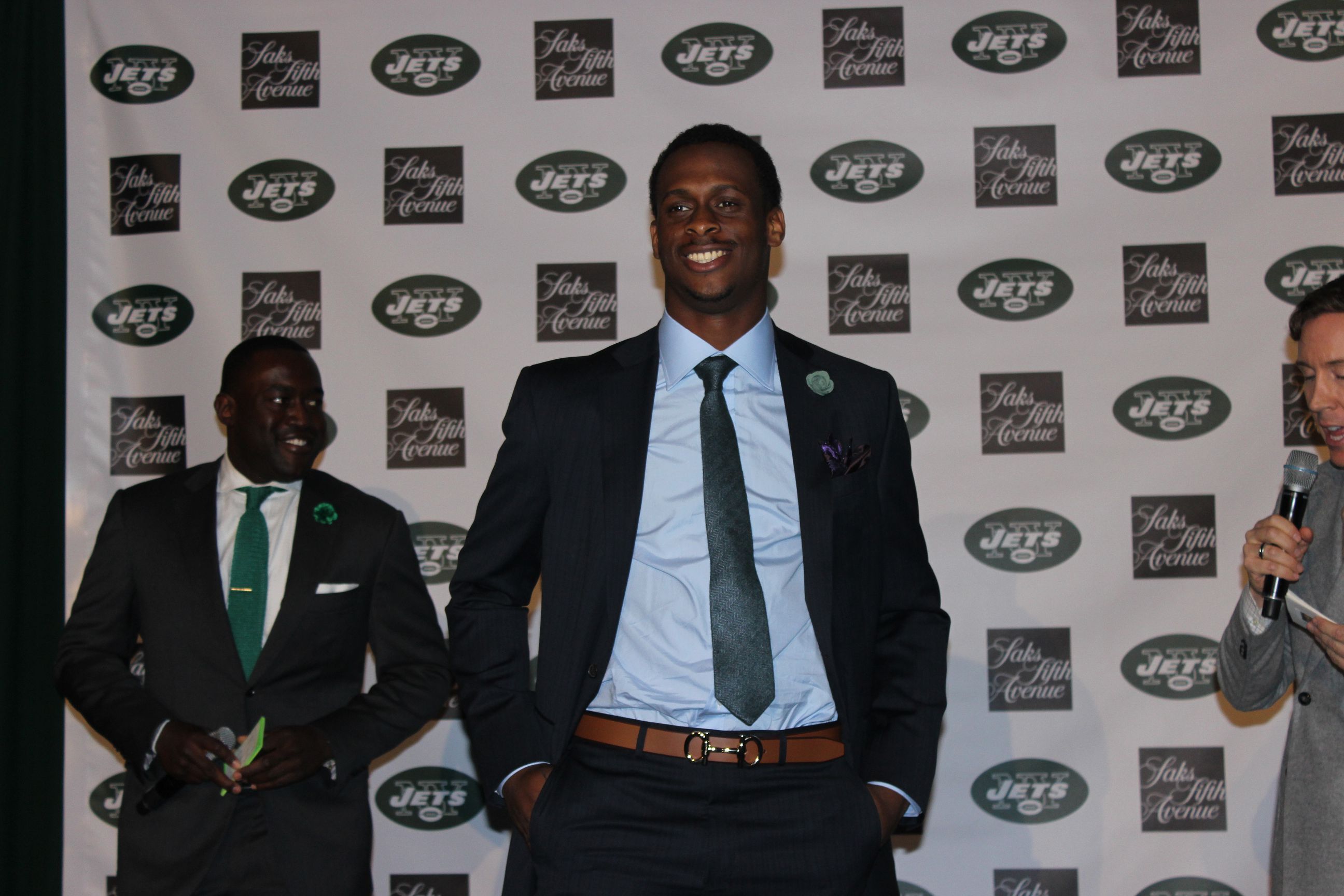 Date:  Monday, November 10th 2014

Event:  Taste of the Jets 2014

Place: 4 World Trade Center

Cost: $375

The Scoop: Even our own Jordan Rubenstein knows that the New York Jets are 1-7.  As disappointing as Gang Green has been in 2014, if we had the chance to encounter a real life member of the team, we'd likely be left awestruck.  Enter the 2014 "Taste of the Jets" where each of the team's notable players will don some chic suits for a makeshift fashion show coupled with a food tasting event featuring some of New York City's best chefs.  Saks Fifth Avenue will be dressing the players while you hob nob with the likes of Eric Decker, Geno Smith, Chris Johnson, Sheldon Richardson and more- hosted by Nick Mangold and Muhammad Wilkerson.  It's as close as you can get to the Jets without getting on the field at MetLife Stadium.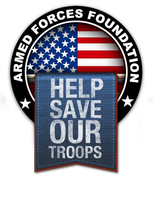 Date: Wednesday, November 12th 2014

Event: Armed Forces Foundation in NYC

Place:  Metropolitan Pavilion

Cost: $250

The Scoop: With an unparalleled collection of chefs and personalities, November 12th marks a very special celebration of Veterans Day.  The Armed Forces Foundation will host a fundraiser that welcomes Josh Capon, Anne Burrell, Adam Richman, Pat LaFrieda, Alex Guarnaschelli and others for a food and drink tasting with a purpose.  The evening will also screen "That Which I Love Destroys Me," a highly acclaimed documentary that chronicles the post-war effects for several soldiers and the PTSD epidemic, which goes largely under-reported considering the disorder's debilitating consequences.  For a nominal contribution, you'll have the opportunity to taste some exceptional fare and philanthropically say 'thank you' to the men and women that have bravely served our country during one incredible evening.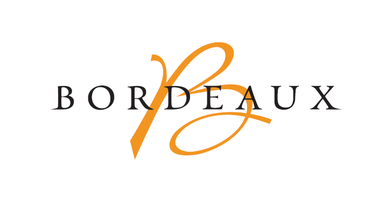 Date: Thursday, November 13th 2014

Event: Bordeaux Under One Roof

Place: Industria Superstudios

Cost: $50

The Scoop: For three delicious hours, you'll sip on more than 150 delicious wines from Bordeaux at the 4th annual "Bordeaux Under One Roof."  Priced at just $50, the entirely tasteful evening will serve to show off some of the exceptional buys of the region paired with an array of light eats to pair with each pouring.  And with 100% of the proceeds serving to benefit City Harvest, the evening's charitable focus will certainly add another layer to an already exciting evening.  You'll have the opportunity to chat with some American importers, taste a slew of distinctive wines and meet some likeminded New York City folks, all enjoying the classy fall event.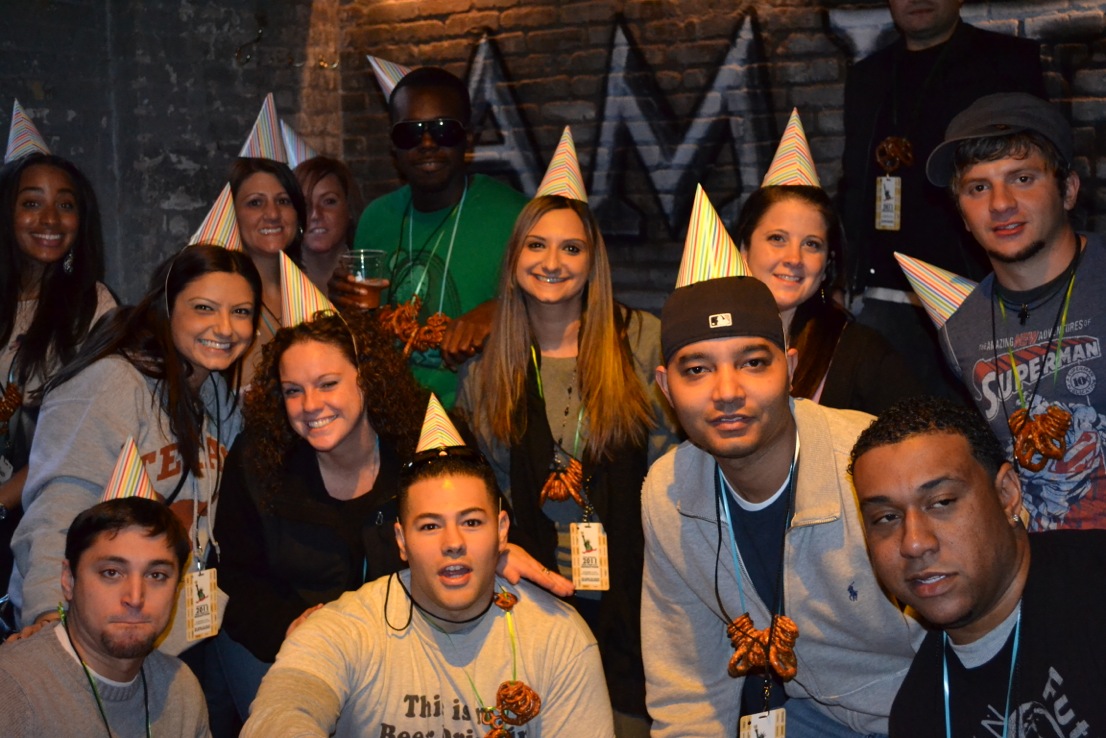 Date: Saturday, November 15th 2014

Event: NYC Beerathon 2014

Place: Varies

Cost: $85

The Scoop: The New York City Marathon will come and go by the middle of the month, but the NYC Beerathon is among the most anticipated events of the fall season for beer lovers.  The annual Beerathon constructs a choose your own adventure style bar crawl that grants you a beer at more than two dozen New York City bars where your laminate will get clipped with each pour.  Whichever bar you hit in whatever order you choose, you're likely to find dozens of other guests doing the same.  Best of all?  A portion of the proceeds get donated to a charitable organization- and while our description may be a bit vague- stay tuned to the Beerathon's website as the details unfold.  Or if you want to look at our initial experience, check out how much fun we had back in 2011.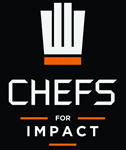 Date: Thursday, November 20th 2014

Event: Chefs for Impact 2014

Place: Studio 450

Cost: $225

The Scoop: In an evening to benefit non-profit organization Impact Network which brings e-learning platforms into Africa, Chefs for Impact return with an exciting food extravaganza in 2014.  With picturesque city views from Studio 450, hundreds of guests will enjoy a cocktail reception, a full dinner, music and more all from the likes of Colonie, Kingswood, Madiba and many more.  A live auction and silent auction will also help to wrangle a few extra bills from your wallet but worry not, the cause is a notable one and 10 e-Schools in Zambia will be the affair's prime beneficiary.
Date: Thursday, November 20th 2014

Event: Inuman at Pulutan 2014

Place: The Altman Building

Cost: VIP – $65; General Admission – $55

The Scoop: Some of the City's most unique fare comes from Filipino restaurants.  In celebration of the food, drinks and culture of the Philippines, The Kuma Inn, Ugly Kitchen, Jeepney and Lumpia Shack are just a few of the restaurants preparing food at the third annual "Inuman at Pulutan."  The historic setting of The Altman Building will house three hours of festivities as the guests in the house will select their favorite dish and the best part of the event- a trip for 2 to the Philippines will be raffled off on site!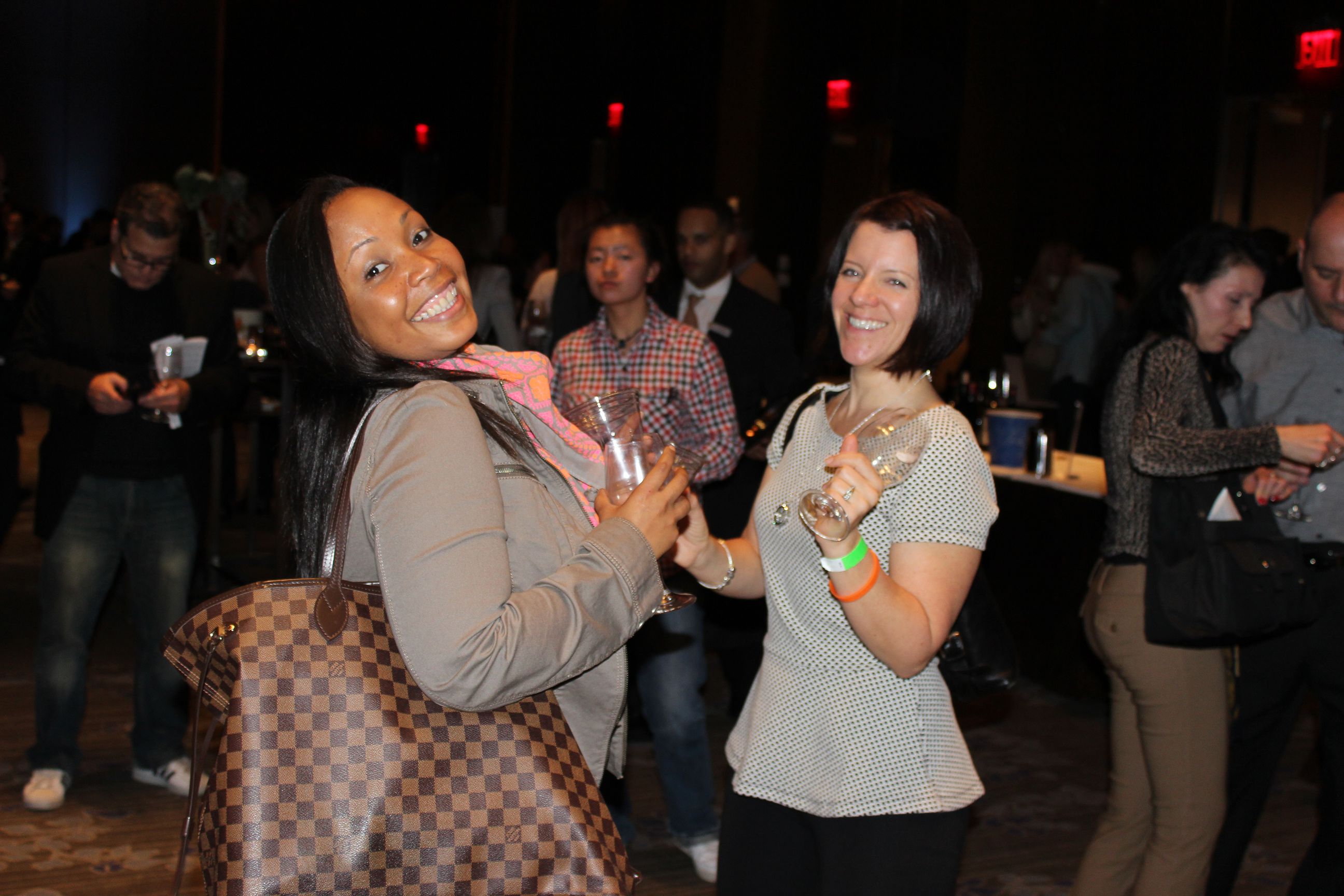 Date: Saturday, November 22nd 2014

Event: NYC Autumn Wine Festival

Place: Broad Street Ballroom

Cost: $99
The Scoop: Two different three hour sessions will highlight the now annual NYC Autumn Wine Festival which emanates this year from the chic Broad Street Ballroom in the Financial District.  Just $99 gets you more than 200 different wines from around the world all curated by Vintry Fine Wines alongside a selection of specially crafted bites to pair with the many varietals being poured.  Plus, you'll have the opportunity to add in a wine class on site to enhance your experience (addl. $25) AND a program guide to sift through as live music serenades the posh ballroom setting built back in the late 1920′s.  Whether you visit the afternoon session or the evening session, the value here is simply unbeatable considering the array of delicious wines you'll sip upon.
Date: Saturday, November 1st – Sunday, November 30th 2014

Event: Concerts Concerts Everywhere

Place: Varies

Cost: Varies
The Scoop: Check out our new concert listings for the month of November and make sure to secure your tickets before it's too late.
Saturday, November 1st
Foxy Shazam, Webster Hall
Samhain, Best Buy Theater
Sunday, November 2nd
Yellowcard, Best Buy Theater
Monday, November 3rd
Noise Tour f. Issues, Irving Plaza
Lucero, Bowery Ballroom
Tuesday, November 4th
Lucero, Bowery Ballroom
O-Town, Irving Plaza
Nick Jonas, Gramercy Theatre
Wednesday, November 5th
A Night with Chrissy Hynde, Beacon Theatre
Dirty Heads, Best Buy Theater
Hozier, Irving Plaza
Jenny Lewis, Terminal 5
Lucero, Bowery Ballroom
Melissa Etheridge, Town Hall
An Evening with Pete Yorn, Gramercy Theatre
Kimbra, Bowery Ballroom
Thursday, November 6th
Hozier, Irving Plaza
Shaggy, Webster Hall
Friday, November 7th
American Authors, Best Buy Theater
Usher, Madison Square Garden
Saturday, November 8th
The Pretty Reckless, Best Buy Theater
Sunday, November 9th
Eric Johnson, Webster Hall
Tuesday, November 11th
Joey Bada$$, Irving Plaza
Breathe Carolina, Webster Hall
Wednesday, November 12th
Clap Your Hands Say Yeah, Brooklyn Bowl
Andrew McMahon, Irving Plaza
Fitz & The Tantrums, Terminal 5
Ray LaMontagne, Beacon Theatre
Thursday, November 13th
Anberlin, Irving Plaza
Dale Earnhardt JR JR, Music Hall of Williamsburg
Ray LaMontagne, Beacon Theatre
VH1 You Oughta Know Live, Hammerstein Ballroom
Friday, November 14th
Chris Young, Best Buy Theater
Animal Collective, Brooklyn Bowl
Lake Street Drive, Terminal 5
Ray LaMontagne, Beacon Theatre
Saturday, November 15th
Blue October, Webster Hall
Dale Earnhardt JR JR, Bowery Ballroom
Lake Street Drive, Terminal 5
Emblem3, The Paramount
Ryan Adams, Carnegie Hall
Sunday, November 16th
Alt-J, Beacon Theatre
Anberlin, Irving Plaza
The Ataris, The Studio at Webster Hall
Wiz Khalifa, Webster Hall
Monday, November 17th
Wiz Khalifa, Webster Hall
Anberlin, Gramercy Theatre
Rachel Yamagata, Bowery Ballroom
The New Pornographers, Hammerstein Ballroom
Tuesday, November 18th
Musicians On Call f. Jessy J & Nick Jonas
Rachel Yamagata, Music Hall of Williamsburg
TV On the Radio, Apollo Theater
Thursday, November 20th
Ace Frehley, The Paramount
Friday, November 21st
TV On the Radio, Music Hall of Williamsburg
Saturday, November 22nd
We Were Promised Jetpacks, Webster Hall
TV On the Radio, Music Hall of Williamsburg
St. Lucia, Terminal 5
Sister Hazel, BB King's
Ryan Adams, Manhattan Center
Sunday, November 23rd
Black Veil Brides, Best Buy Theater
Ryan Adams, Manhattan Center
Monday, November 24th
B.o.B., Irving Plaza
Interpol, Terminal 5
Ace Frehley, BB King's
Tuesday, November 25th
Billy Joel, Madison Square Garden
Interpol, Terminal 5
Julian Casablancas, Hammerstein Ballroom
Robert Randolph, Brooklyn Bowl
Wednesday, November 26th
Interpol, Terminal 5
Method Man & Redman, Best Buy Theater
Robert Randolph, Brooklyn Bowl
Friday, November 28th
Bob Dylan, Beacon Theatre
Dark Star Orchestra, Best Buy Theater
Death From Above 1979, Terminal 5
Hoodie Allen, The Theater at Madison Square Garden
Living Colour, Irving Plaza
O.A.R., Manhattan Center
The Pimps of Joytime & Sister Sparrow and the Dirty Birds, Bowery Ballroom
Robert Randolph, Brooklyn Bowl
Saturday, November 29th
Bob Dylan, Beacon Theatre
Dark Star Orchestra, Best Buy Theater
O.A.R., Manhattan Center
The Pimps of Joytime & Sister Sparrow and the Dirty Birds, Bowery Ballroom
Robert Randolph, Brooklyn Bowl
Sunday, November 30th
Gwar & Corrosion of Conformity, Irving Plaza
Obituary, Best Buy Theater
- Jane Van Arsdale
Related Articles
Share
About Author
(0) Readers Comments