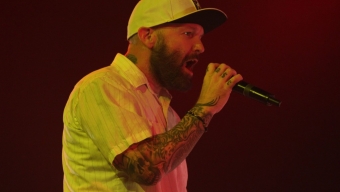 Limp Bizkit
A LocalBozo.com Concert Review
Best Buy Theater, New York, NY
October 8, 2014
The calendar may read 2014, but it surely felt like 1999 inside of the Best Buy Theater on Wednesday night – the blistering opening set by rapper Machine Gun Kelly notwithstanding. For ninety minutes I was entirely transformed- my conservative button down shirt and stylish combover were effectively replaced by bleach blonde spiked hair covered up by a backwards red baseball cap and a pair of massively baggy jeans. As much as I was in disbelief that I used to dress like this, I was equally perplexed that now 15 years later, Limp Bizkit would host a completely sold out show in the heart of New York City. And the fans to their credit, acted as if time had stood still as they went absolutely bonkers for much of the band's wild twelve song trek down memory lane.
Though the last memories of Limp Bizkit are likely to have been a result of a punchline, fans of the band and Fred Durst apologists would prefer to think back to the group's earlier days when 1997′s "Three Dollar Bill, Y'all" was as raw and aggressive a new sound as our high school ears would allow. A cover of a George Michael song by a nu metal band was just the topper. But as the band's status on MTV (remember that?) grew and with a celebrated performance at Woodstock '99, the release of 1999′s "Significant Other" took Limp Bizkit to unparalleled heights. But their emergence in the spotlight seemed to feed into controversy led by a polarizing frontman that had noticeable difficulty in dealing with these new heights of stardom in front of our very eyes.  Coupled with subsequent album releases that seemed to be more congratulatory and self-aggrandizing than an extension of the defiant hostility that brought the band to the dance in the first place, Limp Bizkit managed to disappear seemingly as quickly as they had arrived. The last decade has not been kind to the band, left relegated as a flash-in-the-pan punchline rather than an innovative rock outfit that, for a time, had the world at its feet. And this is coming from a noted Limp Bizkit apologist.
But times change and often, what was old becomes new again. And while the songs haven't necessarily changed, the band's reclusiveness has allowed for this momentary renaissance. Wednesday night's sold out show in New York City was a testament to such a sentiment. The band, albeit a bit older and a bit paunchier than perhaps we remembered, sounded great. They fueled the live crowd with every bit of the former vigor that they enjoyed in their younger years. Despite lineup changes here and there with members leaving and returning- the band performed brilliantly. Decked out in black paint and often addressing the crowd in demonic fashion, there was lead guitarist Wes Borland standing to the familiar left of the now bearded frontman Fred Durst. Drummer John Otto hasn't missed a single beat, pulverizing his wooden sticks in front of a spectacular display of lights that would rival the band's stage setup in their prime.  Even bassist Sam Rivers pounded on his four string bass in signature fashion, with the neck lit up with bright green bulbs for extra effect.
Though the group's most established tune "Nookie" was interestingly left from the setlist, the band paced through all of the other hits that you'd hope to hear. Despite its critical panning, 2000′s "Chocolate Starfish and the Hot Dog Flavored Water" did manage to sell more than twenty million albums with cuts like "Rollin,'" "Hot Dog" and "My Generation" making early appearances in the night's set, with "My Way" and "Take a Look Around" (the Mission: Impossible II theme) following suit later on. Strangely, Durst and company opted to drop hip hop songs from the early 2000′s like Ja Rule's "Party Up (Up in Here)" and 50 Cent's "In 'Da Club" rather than tackle many tracks from the early part of their catalog- but for whatever reason, the rabid crowd ate it all up during the performance.
Durst managed to even leave the stage and head to the balcony in the center of the venue. Though we anticipated a dive onto the waiting hands of concertgoers below, perhaps his age and reasonable thought took over and Durst continued to work the room from his standing position instead. "Eat You Alive" from 2003′s "Results May Vary" was a pleasant if not forgotten surprise and tracks like "Re Arranged" and the aforementioned George Michael cover "Faith" seem to have the staying power that no one would have predicted upon either song's release. No matter how silly you feel asking to be given 'something to break,' there's also no more fitting show closer than "Break Stuff," where the crowd was given the full opportunity to have that sort of unadulterated release of energy at a rock show. The utterly rebellious rock track was further fueled by a precursor tease of Rage Against The Machine's "Killing in the Name" and concluded with a cavalcade of bodies forming massive circular moshpits on the standing room floor and surfing over each other before reaching the barricade to exchange high-fives and glances with Durst and his mates. It might not have been 1999 anywhere outside of the Best Buy Theater on Wednesday night- but it sure was nice to have the venue and this band take us back in time.
- Dave Gendelson
Related Articles
Share
About Author
(0) Readers Comments