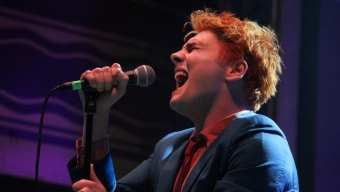 Gerard Way
A LocalBozo.com Concert Review
Webster Hall, New York, NY
October 23, 2014
Concert Review: Gerard Way at Webster Hall
I
f you needed any proof that
My Chemical Romance
fans were unsettled by the band's surprising breakup in 2013, the live crowd at
New York City's Webster Hall
on Thursday night caused enough ruckus to reinforce that sentiment. The first few rows swelled with wired fans physically shaking the ground floor below with excitement as frontman
Gerard Way
began his solo set- so much so in fact that their bum-rushing of the stage caused the steel barricade to bend. The resulting fifteen minute delay forced the band backstage after just two songs as a crying front row of young girls were ushered away from the fracas and the steel railings were removed from the standing room floor.
But fans to their credit all seemed to look out for one another and as the Webster Hall staff quickly resolved the situation, the uncertainty was washed away. Way re-emerged to a house-rocking applause and continued on with a ninety minute set that encompassed the entirety of September's "Hesitant Alien," his solo debut. Backed by a band donning white button down shirts and black ties, Way arrived in typically flamboyant fashion with a bright blue suit and a reddish-orange shirt and tie to match his colored short hair. Despite having played at Irving Plaza just three nights prior, the singer looked excited to be back in New York City as he dazzled through more than a dozen of his new songs.
Way appears to have left his My Chemical Romance days behind him, instead focusing solely on his solo material- much of which is that similar sort of melodic pop and alternative rock music that made the high pitched singer such a recognizable voice in the mid-2000′s. Though the comfort of the band's massive hits were certainly missed, Way's new material is certainly an admirable substitute and his veteran command of the stage and live vocals have never been in question. The fast paced "Bureau" and first single "Action Cat" opened the show with aforementioned fury and subsequently, the crowd quite literally couldn't handle the excitement.
Returning with tracks like "Zero Zero," new single "Millions" and the infectious "Juarez" kept the party moving along albeit in safer fashion while his penchant for glam kept all eyes in the house affixed on his every motion. While most of the tracks are relatively new even for the most avid fans, there's a certain familiarity in Way's ability to be a hitmaker which he clearly plucks from his earliest influences- the decidedly punk "How It's Going to Be," the 80′s inflected "Get the Gang Together" and "No Shows," even the Japanese exclusive release "Television All the Time," which would have fit appropriately under the MCR moniker, seemed to resonate with the crowd- a testament to Way's ability to tap into his formulaic approach to songwriting even as he approaches his late thirties.
Selfishly, would we have liked to hear "Welcome to the Black Parade" and other MCR staples? Certainly. But the charismatic frontman deserves our benefit of the doubt to make the right choices as he journeys out on a solo career with his storied past firmly behind him. Closing with a cover of Sleater-Kinney's "I Wanna Be Your Joey Ramone" was an equally fitting touch for an artist working diligently toward a renaissance. Most musicians would sell their soul for a modicum of the success that Gerard Way has enjoyed to date and by maintaining his own creative integrity, he's trying to do it all over once again.
- Jane Van Arsdale
Related Articles
Share
About Author
(0) Readers Comments