It's just before the dinner crowd is gearing up to file in when we grab a corner booth and twenty minutes of Chef Michael Ferraro's time on an early weeknight evening. His sleek Nolita restaurant Delicatessen continues to be perpetually packed for lunches, brunches and dinners despite celebrating its sixth anniversary this month. But in a time frame where most New York City restaurants tend to overstay their welcome, it appears that Chef Ferraro's restaurant is just hitting its prime- likely a result of the place's modern interior, outstanding location and a Chef with his finger on the pulse of what's tasty and what's not, rather than unnecessarily overreacting to constantly changing food trends.
In just a few weeks, Chef Ferraro will man tables during the long weekend of the New York City Food Network Wine and Food Festival at both the 'Stacked' sandwich competition and at the acclaimed 'Burger Bash,' where dozens of other chefs will attempt to out do each other as they vie for decadent supremacy for hundreds upon hundreds of guests.  Fortunately, we were given a sneak preview of Chef Ferraro's entry as we discussed his long journey to this point, what's coming next for Delicatessen, his philanthropic interests- and yes, a great deal about the upcoming New York City Food Network Wine and Food Festival.  Read our complete chat below- and try to keep your mouth from watering as you buy your tickets for these events now!  And for you wanna-be chefs out there, we've got a special autumn recipe straight from the Chef himself below our interview.
- Dave Gendelson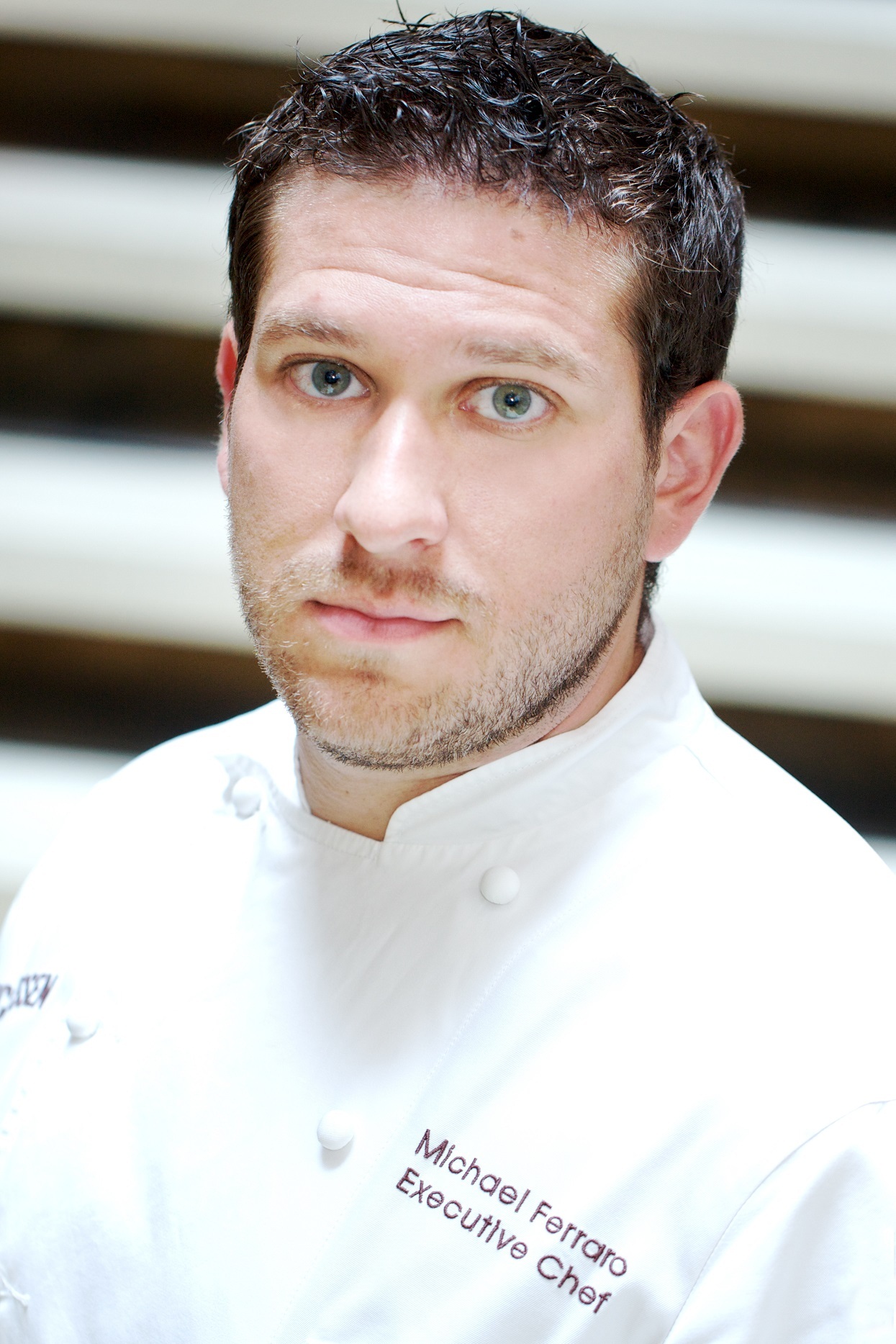 LocalBozo.com: Chef Ferraro, you got your start at the Culinary Institute of America- let's go back a little further than that. How did you initially become interested in being in the kitchen?
Chef Michael Ferraro: Well, I come from an immigrant family- both my mother and father are from Southern Italy. My dad came in the late 50′s and started cooking as soon as he came here as a teenager- had his first restaurant in the 60′s in his late teens. He had a family restaurant. I came a little bit later- by that time my dad was working for other people, running restaurants but it was like the family business where you grew up with all the Italian traditions of winemaking, sauce, pickling things. You name it, we did it- like making the sausage. So I guess growing up with that, at the time you don't appreciate it as much until a little bit later- especially with me becoming a chef, you kind of have that appreciation of where the food comes from. And food has a special meaning to it because it's so ingrained in your upbringing. So that's where my roots in cooking come from.
LB: So then you got your start in some of New York City's most famous kitchens- Mercer Kitchen, Beacon Restaurant, The Biltmore Room. So who were some of your earliest influences as a chef in and around New York City?
MF: Before CIA, I didn't have any formal refined training. I did work with my brother- we opened up a bar and grill but it was nothing on the level where– some people coming to CIA worked at hotels and all kinds of stuff where they had some kind of intro, so I had to just kind of educate myself on what was out there. When I was in culinary school, me and my roommate used to watch the Charlie Trotter Kitchen Sessions on VHS, we watched a lot of the original Iron Chef, so when I did my internship- I sent them to Eric Ripert, Daniel, Jean Georges- you know, the usuals. I knew I wanted to come to the City but it was September 11th the week before my internship so luckily I had picked to go with Waldy Malouf at Beacon and he had another restaurant in Stamford, where I'm from. So obviously no one was taking interns in the City but I was able to go to Connecticut. And then my first job out- as soon as I graduated I knew I wanted to work for one of- Ripert, Daniel or Jean Georges- so I got a Chef de Partie position with Jean Georges at Mercer Kitchen, which was like the hottest place in the City. I just kind of got thrown into the fire but that set the tone for what it takes to cook in New York- so from there I just kind of spent the next eight years skillfully thinking out what the next move was. I had some hotel experience- I was at the Four Seasons. I felt that I needed hotel experience because I think it's a really great tool to have- so I chose Five Star, Five Diamond to go with, at the time, we were in the kitchen right before Robuchon went in there. The Biltmore Room was one of these like New York Times 'Three Stars' across the board restaurants- another really busy hot place but there was some really interesting stuff. And then I was able to take on Chef de Cuisine and Executive Sous Chef roles at a pretty young age in big companies, you know? I mean I was at Patina Restaurant Group at 26 as a Chef de Cuisine running a $14 million a year restaurant. So I wanted to make sure I hit all bases of experiences because I always believed starting from a fine dining background- from there, you can kind of do anything so I made sure I knew how to run a business.
LB: So that brings us here- to Delicatessen. How did you get involved with this restaurant?
MF: Well right before Delicatessen, I had Fresh in Tribeca. That was fine dining seafood- kind of a dream job for me. Things were going wonderful, stock market crash hit and every fine dining restaurant plummeted really. Delicatessen had been open for four months. They were off to a disasterous start- just did not open well. The wrong people in place, the wrong vision of what they wanted- so they contacted an agent that I was working with and they said 'we need someone young and focused to kind of make this their own.' My deal with them was 'if I come aboard and redo this, I have to do everything my way' and they were kind of in a predicament- so I came aboard. It was the hardest year of my life that first year, turning this place around. I mean, here we are in October which is six years for me. I'm a partner and owner in the business and I think that's why this restaurant is close to me because I was brought in from the ground up. What got me was- I walked in the door and the place was stunningly beautiful, perfect location, very vibrant and I was like 'if I can do what I do and make this work, this can be amazing.' And here we are six years later and things are good.
LB: And the place is always buzzing. How does Delicatessen manage to keep up with the constantly changing food trends in New York City?
MF: I think every year when seasons change or new years come around, every outlet says what's going to be the next trend for next year. To tell you the truth, I don't really go by what else is going on. I think I create menus in a different way than some people. I sit down and think about ingredients that I'm interested in at the moment- usually, it's based around specials. We do fun specials here every day for lunch and dinner- different things, play around with a lot of different ideas- and they kind of evolve from there. So coming up with things- it's just kind of like trial and error and a thought process and when you get something where you're like 'oh this is actually really good,' then you kind of work, tweak, think it out and it usually ends up becoming something pretty great. So that's how we kind of judge what we're going to do next. I think once the trends are out there, everybody in the culinary world is already doing some sort of it by that time. Trends just develop because someone does something- whether it's a classic dish or a comfort food dish- and they make it refined and it re-enlightens people about it. And then from there it creates buzz, and then from there it's trending.
LB: Lets focus on the upcoming Food Network New York City Wine and Food Festival if we can. How important is it for a restaurant to participate in the long weekend of events?
MF: Well New York is one of the big ones so they literally hand pick every chef that's involved in it and what events they are a part of. This year, I'm doing the '[Blue Moon] Burger Bash' and I'm doing 'Stacked' ['A Sandwich Showdown'] the super sandwich competition which last year, we won. And last year, we mixed it up- I also did the Godiva event and I kind of showed our sweet side, but I did a sweet-savory dish that got really taken in well at the Festival. Then the next day, we ended up winning our event . Thankfully a restaurant called Delicatessen, although we're not one, I would hope that we would win the sandwich event. This year with the 'Burger Bash'- that one seems to have the biggest impact for the winners. It's one of the most expensive tickets, it's the hardest ticket- there's just always a lot of interest because burgers are one of those classic comfort foods that everybody craves a good version of. The lineup that is created for this event- it's just a group of amazing chefs creating a burger so of course the outcome at each table is going to be great.
LB: So what's that like for you at the 'Burger Bash' as a chef? Sure it's a friendly competition, but you obviously want to win.
MF: Well, of course. Especially that one because that's a big one. The [Food Network] New York City Wine and Food [Festival] is a big one too, you know? There are a bunch of smaller ones- I've pretty much traveled all over the world doing these types of food and wine festival competitions but this is the big budget one, raising the big dollars for charity with all of the big names involved in it. So of course- I did an interview last week and I put up a picture of the burger and even chefs were texting me like 'oh shit, that thing looks awesome.' [laughs] But I think it's a fun event because I think it's something you can really have fun with. I think a burger is something that– the truth of the matter is, the more gluttonous it is, it's usually that much better. My signature burger here is our special blend. It's almost a 70-30 mix, braised pork belly, fried egg, special cheese sauce and charred tomato- so I mean, it's a huge monsterous burger that is very decadent. So this one, I had to think of something that I can execute for thousands of people- and I usually do things and my staff ends up hating me. I did Newport Food and Wine [a few weeks back] and our dish was pretty intricate. We always get a great outcome but there's always alot involved in it. So with this one, it's called the "Oozy Juicy Lucy." A 'Juicy Lucy' is usually just with a piece of cheese in the middle [of the burger]. For this one, we made a super rich thick cheese sauce and we chilled it into little disks, put it into the center of the burger, char the burger on cast iron, base the burger- we cook it just as you would a steak; if you were to cook a steak in a cast iron, we do it the exact same way- and I make tomato-onion-bacon jam; so basically all of the condiments that I love on a burger, we turn into a jam because it's a lot easier to execute- on my favorite burger bun, which is a potato roll. It's a juicy juicy, cheesy burger.
Chef Ferraro's decadent 'Oozy Juicy Lucy,' which he'll be serving at the 2014 'Burger Bash'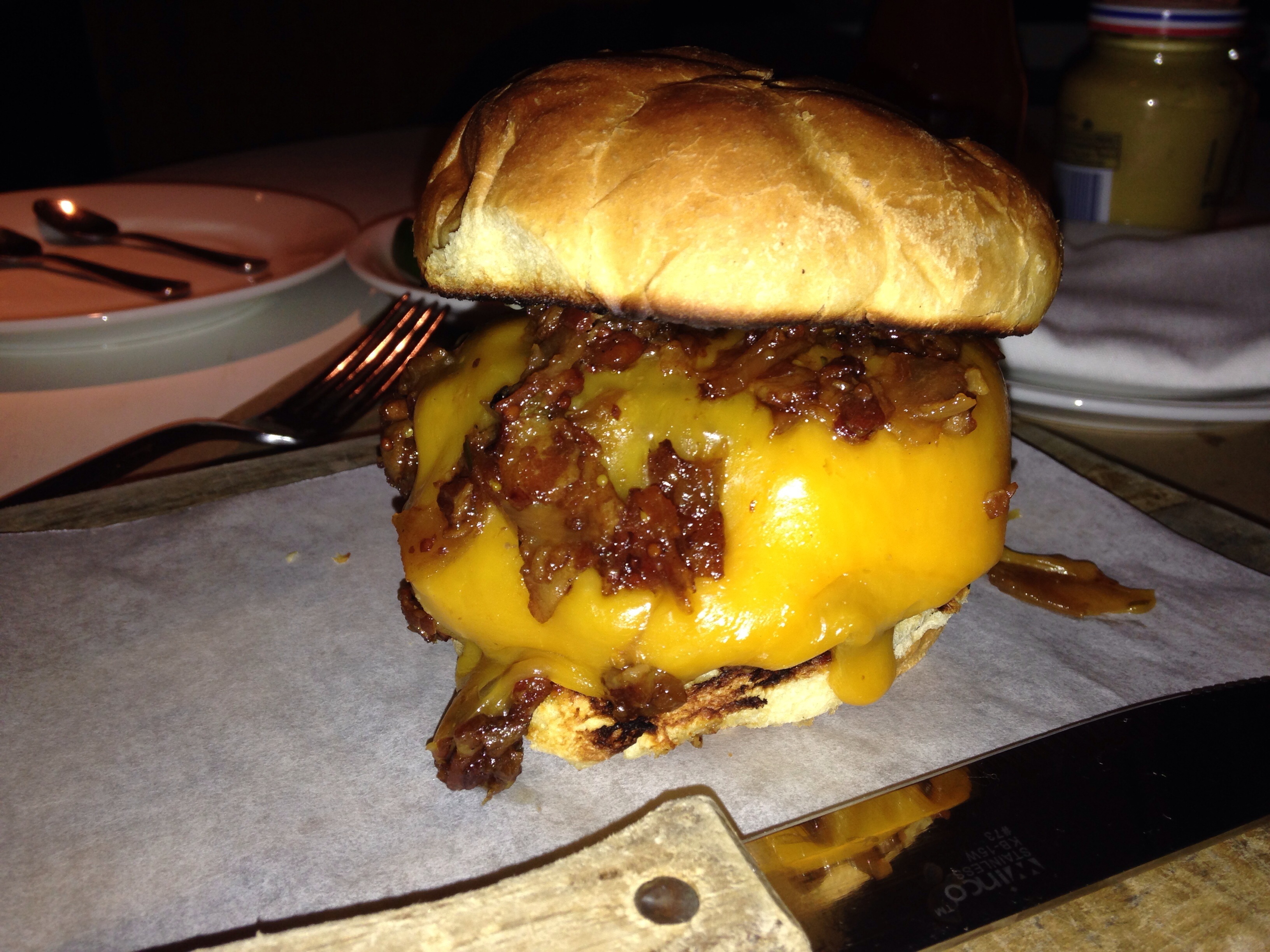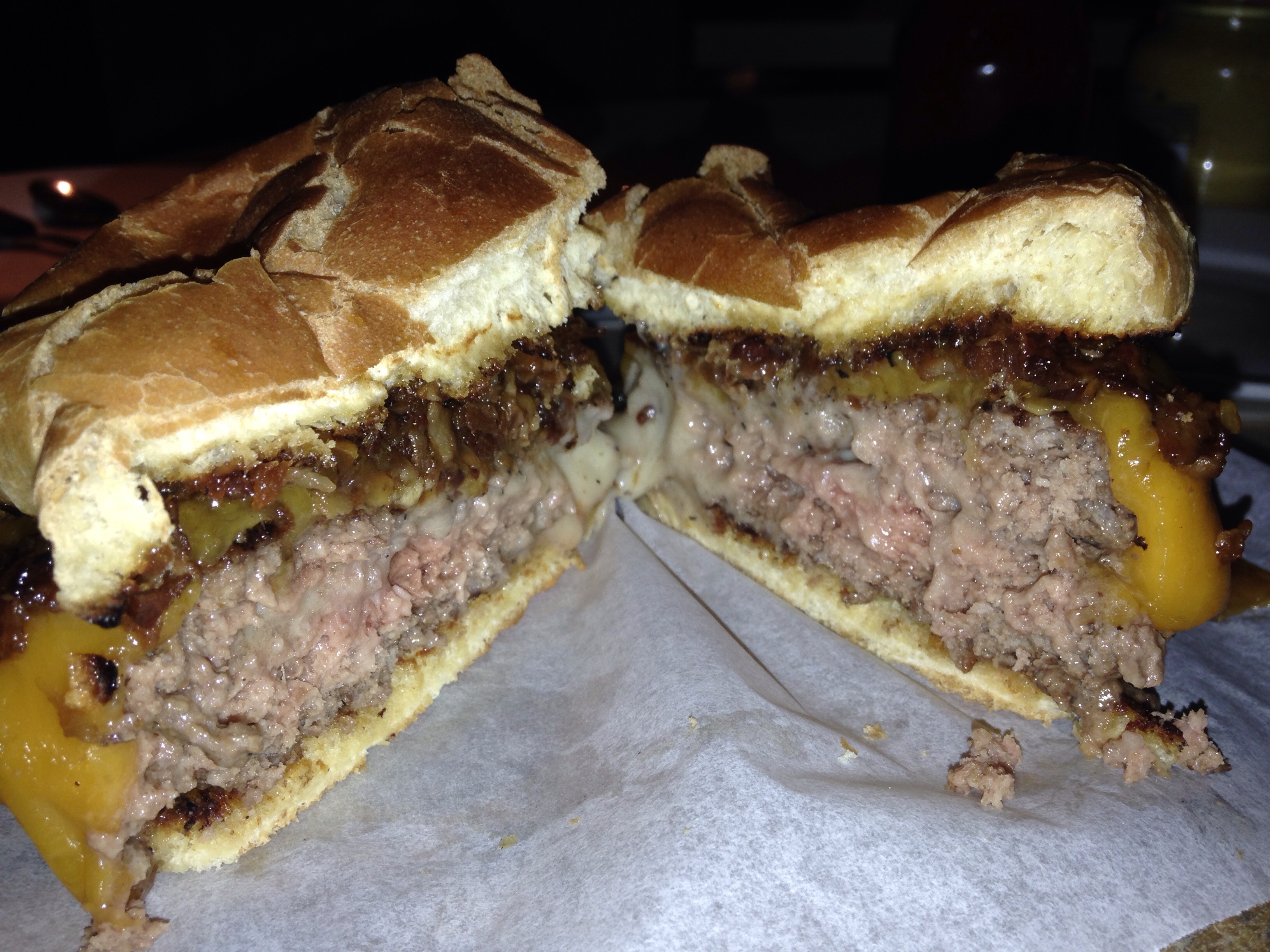 LB: No Kid Hungry and The Food Bank for New York City are the main beneficiaries for this year's Festival as always. As a restaurateur and a Chef, how important is it to give back- especially for these specific charities?
MF: You know, chefs are a tight group- tight community. Whenever one needs help, everyone's always willing to help out and that's always the case when it comes to charity. Whenever there's a charity for a good cause and I've been asked to help out, if I'm available to do it and I can, I'll do it. I'm involved with many different other ones. Every year I do 'A Taste of Hope,' which is for the American Cancer Society- any charity contests that I ever win, the money for it always goes to the Lustgarden Foundation, which is for pancreatic cancer. My mom had pancreatic cancer for almost ten years, which is unheard of and eventually lost the battle but because of all the advancements in medicine and technology and treatment, from once was an instant death sentence- she was able to live a fairly healthy life for that long. So that's something very special to me and I think each person that does these festivals has something that's very special to them and therefore the chefs always unite and become a part of these things.
LB:  Is there anything new and exciting coming to Delicatessen that we need to know about?
MF: We've got the fall menu coming up. I'm actually going to try to launch it the week before the Food Network New York City Wine and Food Festival. We always stick with maybe 40% of the staples but then maybe the other 60% of the dinner menu is a completely new change. I am looking at new spaces in New York and outside of New York for Delicatessen and for Mac Bar. The goal always for Mac Bar was to be something that was able to be franchised. You know, Mac Bar's been [right next door] for five years and business keeps getting better. The buzz is still there so obviously the next move is to expand it as much as we can. I am doing a campaign for pancreatic cancer with pharmaceutical company called Celgene, which has an oncology drug that first started out with breast cancer and then one other kind of cancer and they saw the great outcomes they were having with pancreatic cancer. So I'm pairing up with them and we're going to do a campaign to draw attention to the nutrition for cancer patients. Between myself and a nutritionist, for a lot of people dealing with treatment, nutrition is just lacking. They need alot of calories for it and even so, in treatment centers, they focus more on the drugs aspect of it instead of the nutrition aspect. You figure what would have possibly been the cause of this cancer, while you're being treated for it- you're kind of eating the same garbarge in these treatment centers so I'm really excited about that campaign. There's going to be a lot more information about it over the next month. November 17th is National Pancreatic Cancer Day so most likely, that will be the launch date of the campaign. But I'm excited to be a part of something that helps so many people. I went through it and hopefully we are continuing to work towards that cure or continuing to work to prolonging life for people and their families who are touched with this.
LB: Anything else you'd like to leave for our readers- aside from everything we just gleaned?
MF: Well, I'm doing 'Stacked' again this year. I'm doing my sandwich that I won a celebrity chef sandwich competition for- two years ago. I'm doing a 'Pan Roasted Chicken Thigh Sandwich' with cerignola olive pesto, sweet pepper aioli, burrata on a ciabatta.
LB: The one that's on the menu here?
MF: Yep.
LB: I've had it here. It's excellent.
MF: Thank you. Well, that was able to once before bring $10,000 to my charity- so I'm hoping that this year, it'll get me a win at 'Stacked.'
Chef Michael Ferraro's 'Grilled Flatbread with Local Figs, Prosciutto, Ricotta and Pesto'
Flat Bread Dough
1 cup warm water
1 teaspoon sugar
½ oz dry yeast
2 teaspoons extra virgin olive oil
Pinch of sea salt
2 ¼ cups flour
Step 1 – Pour 1 cup warm water into a medium bowl; add sugar and sprinkle with yeast. Let stand until foamy, 5 minutes.
Step 2 – Whisk oil and 1 teaspoon salt into yeast mixture. Add flour and stir until liquid is incorporated (dough will appear dry). Turn out onto a floured work surface. Knead until dough comes together in an elastic ball, 2 minutes. Transfer to an oiled medium bowl; brush lightly with oil. Cover bowl with plastic wrap; set in a warm place until dough has doubled in bulk, 45 minutes. Punch down dough and cover; let rise another 30 minutes.
Step 3 -  Turn out dough onto a lightly floured work surface. Divide into 4 equal pieces. Let rest 15 minutes before using.
Step 4 -  Preheat grill to high. Roll each dough piece to a ¼" thickness. Drizzle with
olive oil. Place dough on preheated grill until dough begins to puff char marks appear. This will take 2-3 minutes. Flip dough and repeat on opposite side.
Step 5 -  Remove flatbread. Preparation of flatbread can be done up to 1 hour ahead.
Olive Pesto
¼ cup green cerignola olives (pitted)
2 cup basil
¼ cup pine nuts
2 garlic cloves
1/4 cup extra virgin olive oil
Juice of 1 lemon
2 tablespoon parmesan
Step 1 - Toast pine nuts on a pan under medium heat for 3 minutes; shaking pan occasionally.
Step 2 -  In a blender combine olives with 1 cup basil, grated parmesan cheese, 1 garlic clove, 3 tablespoons olive oil, pine nuts and 1 tablespoon lemon juice. Blend to a semi-smooth consistency.
Step 3 -  Season with salt and pepper
Assembly of One Flatbread
1 ¼ cup figs
½ lb. thinly slice prosciutto
1 cup good quality ricotta
1 cup baby arugula
1 teaspoon aged balsamic vinegar
1 teaspoon fresh lemon juice
2 tablespoons extra virgin olive oil
1 tsp honey
Sea salt and black pepper as needed
Step 1 -  Preheat broiler to high.
Step 2 – Spread ¼ amount of pesto on flatbread.
Step 3 -  Toss figs with olive oil, sea salt, black pepper and honey.
Step 4 - Place 6-8 pieces of fig and 3 slices of prosciutto on flatbread. Dollop a ¼ cup of ricotta throughout flatbread. Drizzle 1 tablespoon of olive oil over flatbread.
Step 5 – Place flatbread under preheated broiler for 3 minutes, until figs soften and ricotta is melted.
Step 6 – Toss baby arugula with fresh lemon juice and aged balsamic vinegar. Scatter throughout flatbread, seasoning with sea salt and black pepper.
Related Articles
Share
About Author
(0) Readers Comments