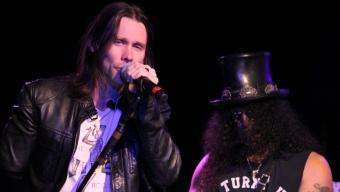 Slash featuring Myles Kennedy and The Conspirators
A SiriusXM Exclusive Subscriber Event
A LocalBozo.com Concert Review
Santos Party House, New York, NY
September 15, 2014
Concert Review: Slash f. Myles Kennedy at Santos Party House
Just a few hundred lucky fans crammed into Santos Party House on Monday night where the diminutive Lower East Side venue would host a rock show exclusively for SiriusXM listeners. Broadcast live on the satellite radio outlet's "Octane" channel, New York City would welcome Slash featuring Myles Kennedy and The Conspirators back to town on the eve of their newest album release, "World on Fire" (out today, 9/16). For nearly two hours, the five piece band allowed us to relive much of Slash's legendary catalog from Guns 'N Roses to Velvet Revolver to the newly minted material resulting from his partnership with Kennedy, both of whom continue to bring out the very best in one another.
When we last saw Slash and Myles Kennedy share a New York City stage, it was back in the spring of 2012 in celebration of the group's initial release, "Apocalyptic Love," and a sold out show at Irving Plaza seemed as intimate as it might get for fans of the band. With Santos Party House at about half that size, the crowd on this night was able to get even closer, evidenced by a cavalcade of cellphones being held up overhead for most of the performance. With anticipation running high, the haunting sound of carnival music brought out each musician to center stage promptly at 8pm, where Slash and his mates absolutely tore into "You're a Lie" and the anthemic Guns N Roses' classic "Nightrain" to open the show with particular vigor.
Slash would appear first, donning his trademark leather top hat and a black sleeveless t-shirt that read "I Turnt Up Like This," perhaps a harbinger of things to come. His sunglasses would remain steadily in place through the entirety of the raucous rock concert, despite his lightning fast fingers meticulously plucking his six strings with mind-bending solo after mind-bending solo. Despite nearing his 50th birthday, the iconic rock guitarist hasn't lost even a step in his wizard-like axemanship outplaying and outworking players some three decades younger. Meanwhile, fans that are seeing Kennedy for the first time are perpetually blown away by his own vocal talents which are in a word- unparalleled. He's every bit of the voice owned by Slash's formerly troublesome compadres and then some, coupled with a humbled stage presence that makes you feel like even he himself is in awe of his own abilities. But paired up, Slash and Myles Kennedy's talents intertwine in a fashion that you can't help but marvel at- and each show feels like you're witnessing something special.
To their credit, backing band The Conspirators admirably inject some energy into each show- especially on this night when the crowd seemed a bit passive in spite of the incredible set being performed in front of them. Bass player Todd Kerns was more than capable in taking over vocal duties from Kennedy on back-to-back tracks "Doctor Alibi" and surprising GNR cover "You're Crazy" to the crowd's delight. But the band seemed to work most cohesively with Kennedy leading the way. Covers of "You Could Be Mine" and an outstanding version of "Rocket Queen" were exceptional, with Slash's frenetically fingered solo during the song's extended breakdown and subsequent build-up to the closing chorus being perhaps the show's finest moment.
Slash and company unleashed three brand new songs on the crowd with "Stone Blind," "30 Years to Life," and finally "Bent to Fly" which was being performed for the very first time in front of an audience. Though show staples like "Sweet Child O' Mine" and Velvet Revolver's "Slither" drew the night closer to its conclusion, Kennedy was at his absolute finest when performing original tunes like "Back From Cali" and "Starlight," which despite being released on Slash's 2010 self-titled album, might still be the finest track that the pair have penned to date. As the final and familiar kickdrum pounded "Paradise City" to a close, the intimate setting was never lost on us as we had witnessed two of rock music's most proficient musicians in a most memorable and exclusive New York City performance. Fortunately, the show streaming on SiriusXM "Octane" would allow us to relive the entire evening during each outstanding replay.
- Dave Gendelson
Related Articles
Share
About Author
(0) Readers Comments