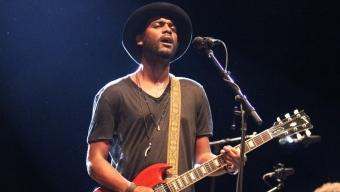 Gary Clark Jr.
A LocalBozo.com Concert Review
SummerStage – Central Park, New York, NY
September 8, 2014
Concert Review: Gary Clark Jr. at SummerStage
Who is cooler than that guy? It was a sentiment that would be difficult to argue with as a few thousand New Yorkers flocked to Central Park's Rumsey Playfield for one of the SummerStage's remaining shows of the season on Monday night. The crisp cool evening was only made cooler by the arrival of Austin's Gary Clark, Jr., who absolutely owned the stage for the entirety of his stirring, almost two hour performance.
Just a few short weeks prior to the release of his first ever full length live album ("Gary Clark Jr. Live" drops 9/23), New York City was just the latest stop on the guitarist's recent string of headlining dates following a successful opening jaunt with Kings of Leon in the spring. On this night though, Clark seemed rejuvenated by the City's frenetic energy and his performance revealed that he was in good spirits as soon as his feet touched the hallowed grounds of a Central Park stage.
Though Clark's talents as a guitar virtuoso certain precede him, his persona as a rock music fashion-plate is equally as notable. Backed by the three incredibly talented touring musicians, the frontman unceremoniously emerged from backstage amid little pomp and circumstance and a fully lit stage, casually picking up his axe as if he were playing in a garage rather than in front of a few thousand rabid (and boozed up fans). It's that sort of relaxed confidence that make rock stars the envy of so many- and Clark certainly played the part on this night with his trademark black fedora and matching gray blazer laying in the background behind his colorful array of different guitars.
The show itself was, as you'd expect, outstanding. Clark's ability to couple a young, modernized approach to harnessing the old soul of traditional southern blues is nothing short of inspiring- especially considering his masterful guitar work is aesthetically unparalleled. Often, the thirteen song set would invariably change from fast paced rock to slower soul-searching love songs, but the howling of his guitar solos kept the audience captivated throughout regardless of their speed. And when he wasn't busy wailing away on his six strings and handling lead vocals, he'd be gazing out at the crowd and loudly hooting in genuine excitement- so loud in fact that his microphone would pick up most of the sounds, despite standing a few feet behind them.
From his rousing cover of Robert Petway's "Catfish Blues" which opened the show by showing off Clark's spirited southern roots to familiar tracks like "Ain't Messin' Round" and the excellent "Don't Owe You A Thang," the singer's charismatic swagger had the entire crowd swooning with each and every twang of his instrument. Though "When My Train Pulls In" proved to be the highlight of the show for us, "Numb" as the closer of Clark's main set was a perfectly sultry choice to conclude with. The arrival of G. Love to the stage was a much welcomed surprise as his harmonica stylings added layers of sound to Clark's masterful guitar-playing on two tracks. But it was the introduction of 11 year old Brandon Niederauer who brilliantly handled solo duties during show closer "Bright Lights" that actually overshadowed everything else. Mouths agape and marveling in awe as Gary Clark, Jr. shared the spotlight with the young boy, thousands watched closely as the singer closed out an utterly memorable experience for those of us fortunate enough to bare witness to his musical greatness.
- Jane Van Arsdale
Related Articles
Share
About Author
(0) Readers Comments