Kin Shop
A LocalBozo.com Restaurant Review
469 Sixth Avenue near 11th Street, West Village
212-675-4295
Getting There: 1,2,3,F,M to 14th Street
http://www.kinshopnyc.com/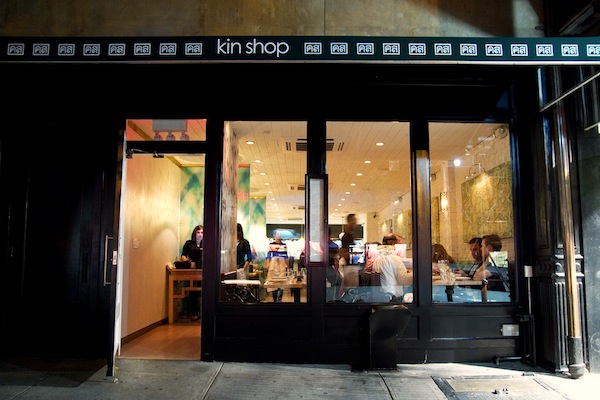 I think it's time that we put the whole 'winner of Top Chef Season One' disclaimer behind us at this point. After all, we're going on a decade since the former alumnus of West Babylon High School, Harold Dieterle, successfully energized Bravo's food-friendly franchise, launching himself into the lexicon of the great New York City chefs- a distinction which sister restaurants Perilla and more recent opening The Marrow, have only continued to uphold. For a glimpse at the chef's culturally diverse style though, we looked no further than his modernized tribute to Thai at the West Village's Kin Shop, a neighborhood lynchpin that's been roundly lauded by critics and diners alike.
"Fried Pork & Crispy Oyster Salad" ($14)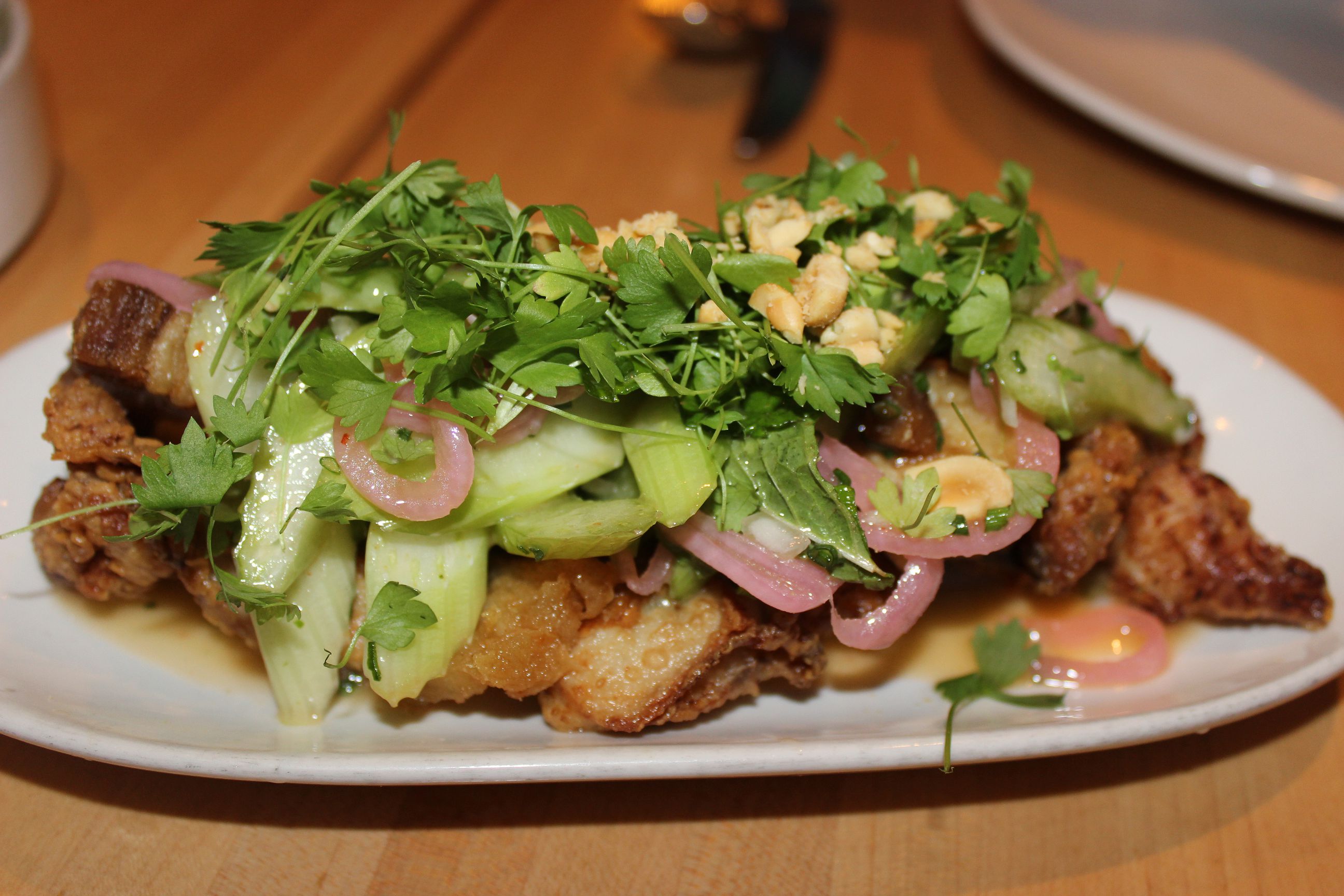 The restaurant's clean white space is a bit overshadowed by the open kitchen in back where bustling line cooks and servers are working to push out a satisfying dining experience. Backed with white brick walls and lightly colored wooden floor planks, Kin Shop is bound to be mistaken for a place serving farm-to-table fare amid this rustic style setting. Shaded blue banquettes line the wall opposite the sleek bar area which is outfitted with just a handful of seats- but you'll want to grab a table in the main space in order to house each course of wonderfully plated food in front of you.
"Wok-Charred Octopus" ($16)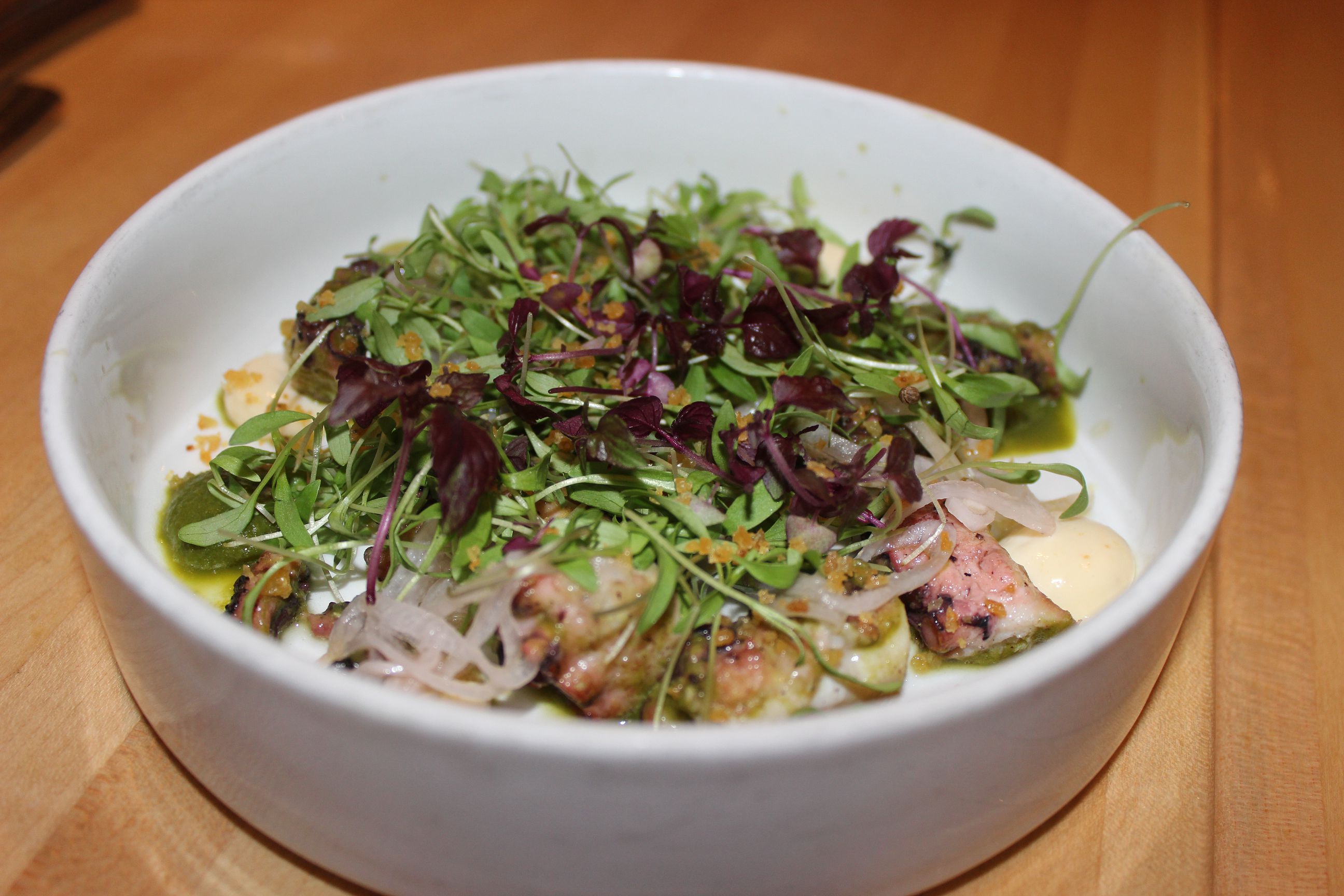 Maybe it's an over-saturation of the cuisine in New York City or perhaps it's the blending of so many styles (Chinese, Japanese, Vietnamese and Thai) at a preponderance of mediocre restaurants- but despite enjoying the fare, I can't say that I've ever been overwhelmingly wowed by Thai. Where Dieterle and his team excel however is the positively authentic preparation of each dish- from curry sauces concocted in house to the hints of mint and coconut here or there that transform an ordinary dish into a terrific one. Dieterle's adherence to focusing on the little things certainly wasn't lost on our party, a small group that unabashedly sopped up thick creamy liquids seemingly by the spoonful, despite not having ordered a soup dish.
The "Fried Pork & Crispy Oyster Salad" ($14) is, on paper, a rudimentary a starter dish. Deep fry an oyster and slice some thick hunks of fatty pork belly, throw the two out-of-place elements atop some greens and serve. But the tangy coating of chili-lime vinaigrette nicely dresses up the savory proteins, topped with crunchy peanuts, fresh celery and pickled red onion. The "Wok-Charred Octopus" ($16) was less to write home about, despite the kick of its Thai chili-yuzu sauce. The flavorful shallots and aioli worked well together alongside the blackened purple tentacles, but overall the dish was nothing memorable in comparison to its predecessor.
"Massaman: Braised Goat" ($22) & "Red: Roasted Duck Breast" ($29)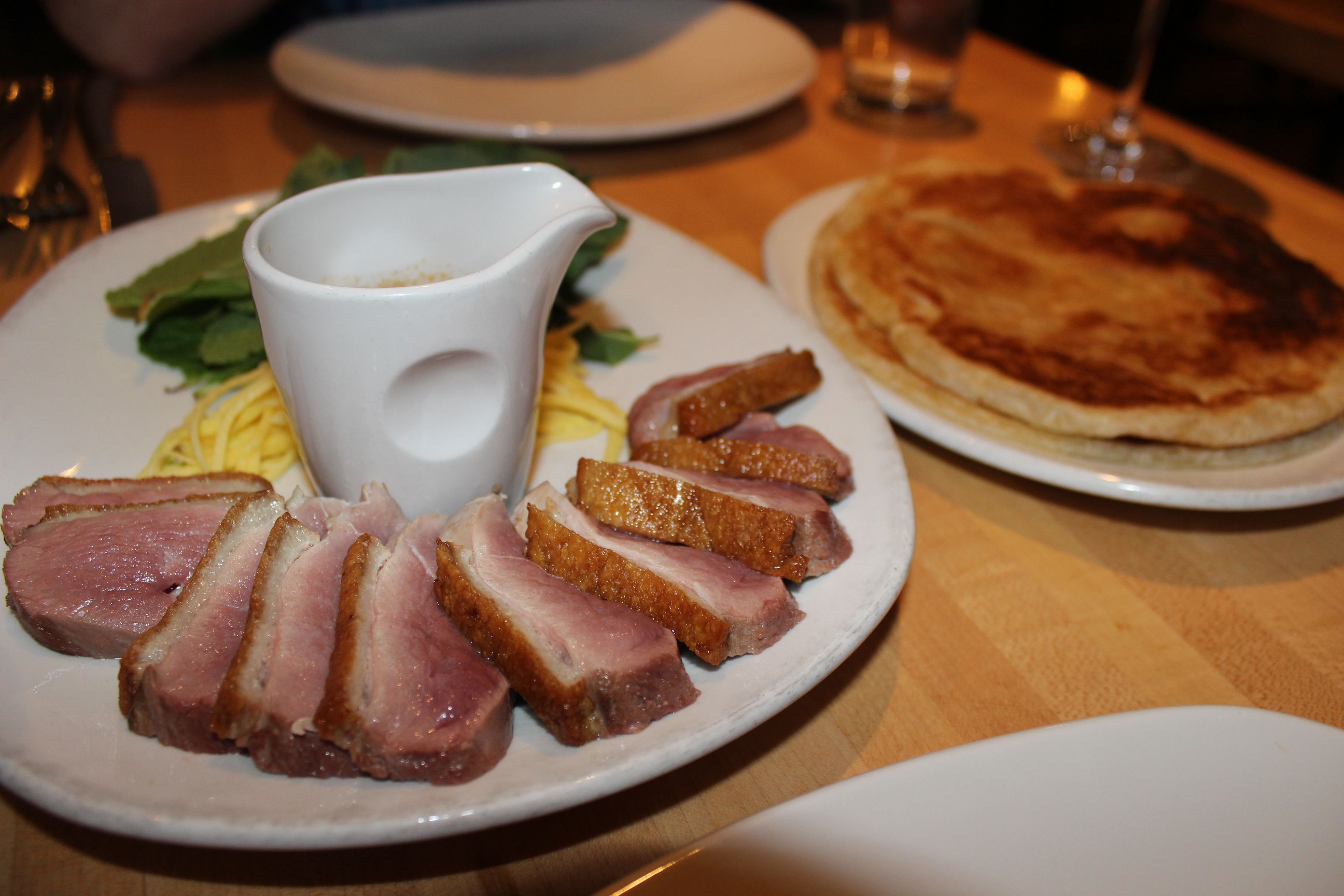 Any veteran diner at Kin Shop will go hog-wild over the place's "Massaman," where the "Braised Goat" ($22) dish surrounds a meaty neck with shaves of toasted coconut and fried shallots alongside a handful of purple yam cubes in a delightfully pungent creamed curry. Each succulent morsel was plucked from the sauce-doused bone and was exceptionally tender through and through, pleasantly exceeding all aforementioned expectations. The "Red: Roasted Duck Breast" at $29 is among the menu's priciest options and with good reason once the generous portion is served table side. The medium-rare prepared breast is perfectly seared, sliced pink and thickly-fatted, served beside a fluffy and crispy roti for rolling. The subtle red curry acts more like a complimentary au-jus to enhance the dish's flavor than an attention-grabbing taste component and the duck, while not as flavorfully prepared as the goat, perhaps best showcases the chef's ability to harness such a variety of differing ingredients admirably. Though the "Short Rib Khao Soi" ($26) was just a notch below the previous two courses, the soup-like consistency of its broth coupled with the soft mix of thick noodles worked sufficiently to add a different textural component to our meal, despite its slight inferiority. Unfortunately, the drenched and tender meat is drowned by the delicious yellow broth in the attached photo.
"Short Rib Khao Soi" ($26)
With Perilla, Chef Dieterle successfully tackled modern American fare before straddling the fine line between German and Italian cuisine at The Marrow. Meanwhile, his selection of Thai dishes at Kin Shop is both reasonably priced and generously portioned, and is prepared authentically to the region by the masterful hand of his celebrity. Amid a flurry of restaurants where questionable Thai food is thrown on a plate and labeled 'Pad Thai,' Kin Shop continues to turn out the kind of inspired fare that you can't just grab on any corner.
Rundown of the Meal
Salads & Soups
Fried Pork & Crispy Oyster Salad ($14)*
Wok-Charred Octopus ($16)
Noodles & Curries
Short Rib Khao Soi ($26)
Massaman: Braised Goat ($22)*
Red: Roasted Duck Breast ($29)*
*Meal Highlight
Related Articles
Share
About Author
(1) Reader Comment