Sundays are about to get a whole lot busier in the fall with the eventual return of football to every television and bar in and around the City. This we know. But we've also compiled a killer list of food and drink events, live shows and more to fill your calendar during the week and on weekends that don't involve covering your fingers with wing sauce and spilled Bud Light pints. The temperature might dip some, but enjoy the remainder of warm weather days this year. Here now are the September events in New York City: Where You Need to Be.

September 2014 Events in New York City: Where You Need to Be
Date: Thursday, September 4th 2014

Event: From BBQ to Braai

Place: Studio 450

Cost: $35

The Scoop: Just $35 and you can indulge in an evening of international eats and drinks entitled "From BBQ to Braai," a tour that stops in New York City for two and a half hours of tasting.  South African barbecue fare is slated to be prepped and served courtesy of Chef Hugo Uys, paired with a selection of wines from the region.  Best yet perhaps is that a portion of the proceeds will serve to benefit New York City's "Edible Schoolyard" to encourage students in public schools to make healthier choices.
Date: Saturday, September 6th 2014

Event: Pig Island 2014

Place: Waterfront at Erie Basin Park

Cost: Advance VIP – $75

The Scoop: Though the calendar might read September, the now annual "Pig Island" event is one of the last remaining vestiges of Summertime and with good reason- outdoor sunshine, unlimited drinks and best yet, more versions of prepared pigs than you can imagine.  The massive space will surely be swarming with hungry tastemakers noshing and imbibing on New York state hogs prepared by some of the City's most talented chefs.  The likes of Route 66 Smokehouse, Joe and Misses Doe, Hometown BBQ, Butter, Pig Guy NYC, Waterfront Ale House, Hecho en Dumbo and Jimmy's No. 43 are amongst more than two dozen restaurants participating along with Finger Lakes wines, beers from Sixpoint and plenty of hard ciders from Hudson County.  This one is a can't miss summer tradition, kicking off September in style.
Date: Sunday, September 7th 2014

Event: TASTE Williamsburg Greenpoint

Place: East River State Park

Cost: Advance VIP – $25 for 4 Tastes/2 Drinks; $45 for 8 Tastes/4 Drinks

The Scoop: Some of Brooklyn's biggest restaurants are lining up to serve you some exceptional food and beer, wine and cocktail samples paired with live music curated by Rough Trade NYC at "Taste Williamsburg Greenpoint."  Get ready for this list: Reynard, The Elm, Extra Fancy, Brooklyn Winery, The Brooklyn Star, Spike Hill, Sweetwater, The Meatball Shop, Dirck the Norseman and dozens more.  And any proceeds raised from the afternoon will benefit Wythe Avenue's Northside Town Hall Community and Cultural Center and reforming the old firehouse into a fully functioning community center.
Date: Friday, September 12th 2014 – Sunday, September 14th 2014

Event: Taste Talks 2014

Place: Varies

Cost: Varies

The Scoop: 2013′s "Taste Talks" debut brought attendees and chefs closer than ever before with a weekend packed with interactive conversations, cooking seminars and food tasting events.  The 2014 event is somehow expected to be even more grandiose with the session curated by chef extraordinaire Danny Bowien and presented by Mario Batali.  The excellent "Chicken and Waffles" event returns to Brooklyn Bowl along with the 20+ chef event- Sunday's "All-Star Chef BBQ."  You'd be best served to check out the event website for the full details but expect to see the likes of Andy Ricker, Ken Friedman, Sam Cifton, Brooks Headley, Gabrielle Hamilton, Christina Tosi, Dale Talde, Alex Guarnaschelli and a ton more.  Grab your tickets now.
Date: Saturday, September 13th 2014

Event: 2014 Vendy Awards

Place: Governors Island

Cost: VIP Tickets – $145; General Admission – $95

The Scoop: Twenty of New York City's most notable food trucks will vie for mobile food supremacy in an event that only Governor's Island can house.  It's the 2014 Vendy Awards and this year, the event is bringing some of the best trucks of the past and of the present in a friendly competition to crown award winners in the Best Dessert, Masters Cup, Best of Market and Rookie of the Year.  The event runs for 3.5 hours so rest assured that you'll be sufficiently fed by the likes of Ramen Burger, Chickpea & Olive, Big D's Khao Cart and Hallo Berlin to name a few.  Good food made quickly is meant to be savored.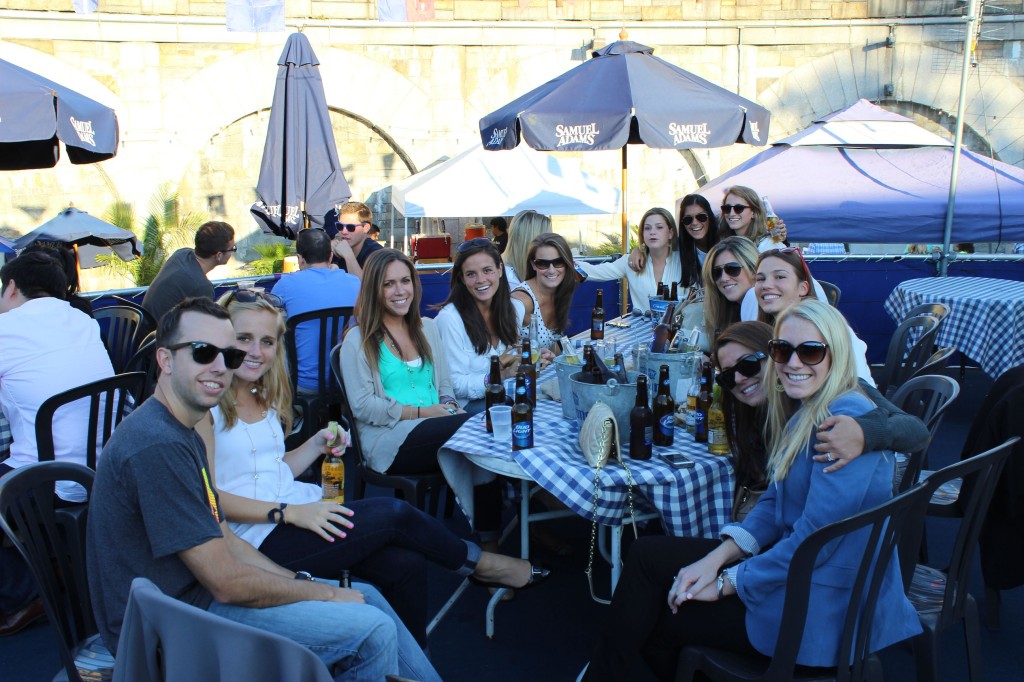 Date: Saturday, September 13 2014

Event: Sweet Tea City 4th Annual BBQ Tailgate

Place: Boat Basin Cafe

Cost: $70

The Scoop: Mix together unlimited drinks, unlimited barbecue, and unlimited football games shown on big screen TVs and you have yourself one heck of an afternoon.  Put it outside at the Upper West Side's spacious Boat Basin Cafe and you've got yourself a BBQ Tailgate.  Sweet Tea City's 4th Annual event welcomes in live music and pounds and pounds of brats along with corn hole, beer pong and plenty of people to enjoy it all with.  Revel in the outdoor festivities with a Sweet Tea Vodka in hand.
Date: Wednesday, September 17th 2014

Event: Let Us Eat Local 2014

Place: The Altman Building

Cost: VIP – $350; General Admission – $225

The Scoop: Rather than sell you on the two and a half hour affair inside of one of Manhattan's classiest event spaces or tell you about Just Food NYC, the beneficiary of the proceeds raised, focused on empowering communities with locally sourced and grown food in underserved areas of New York City.  Instead, read through the list of participating restaurants at Let Us Eat Local 2014, which reads like a 'best of' list from New York.  Back Forty, Aureole, Esca, Gramercy Tavern, L'Apicio, Riverpark, Luke's Lobster, Telepan, Perry St., Blue Smoke, Bubby's, Cookshop and more.  And more?  And more!  This one will sell out- grab your tickets now!
Date: Thursday, September 18 2014

Event: Harvest in the Square 2014

Place: Union Square Park

Cost: VIP – $400; General Admission – $125

The Scoop: Some of the Union Square neighborhood's best restaurants join forces to serve more than 1,200 locals during the massive outdoor "Harvest in the Square" event and the 2014 version is poised to be the most successful one ever!  Local New York wineries are teaming up with dozens of local eateries from Almond and BLT Prime to Petite Abeille and Blue Smoke, SD26 and Hill Country Chicken to The Gander and Union Square Cafe.  In support of Union Square Park, the festivities benefit the beautification and maintenance efforts in the neighborhood, but the event itself allows you to sample some of the most exquisite foods being prepared by expert chefs and their staffs.
Date: Thursday, September 18 2014

Event: The Joy of Sake 2014

Place: The Altman Building

Cost: $100

The Scoop: Hundreds of the finest sakes available will all be served hot and cold inside of The Altman Building in celebration of The Joy of Sake, an annual event that celebrates some of the finest Japanese food and drink in New York City.  Expert and casual drinkers alike will make their way around the massive room where restaurants like Brushstroke, Momofuku Ssam Bar, Bond Street, Sun Noodle Ramen Lab, wd-50 and SushiSamba will be serving an array of distinctive dishes.  And priced at just $100, the value of The Joy of Sake is simply unbeatable for the experience.
Date: Sunday, September 21st 2014

Event: Charlie Palmer's Third Annual Aureole Oyster Social

Place: Aureole

Cost: VIP – $135, General Admission – $85

The Scoop: Celebrating New York Oyster Week, one of the City's most highly regarded chefs returns to host an unlimited feast of the delectable mollusk in a mid-week tasting frenzy of unparalleled proportions.  It's the Third Annual Oyster Social at Times Square restaurant Aureole hosted by Charlie Palmer.   Taking place out in the restaurant's brand new al fresco patio space, the event proceeds will benefit Citymeals-on-Wheels.  In exchange, you'll enjoy live bluegrass music, unlimited oysters, wines, champagne, bloody Marys and more.  Hobnobbing with Chef Palmer is also included- he'll be right on site to chat with the philanthropic attendees.
Date: Friday, September 26th 2014

Event: Project by Project's: 2014 "Plate by Plate"

Place: Metropolitan Pavilion

Cost: Early Bird – $130; Regular Admission – $150

The Scoop: Every year, national volunteer organization Project by Project utilizes its New York City chapter to partner with a local non-profit group to raise awareness and funding for that organization's continued evolution and initiatives.  The 2014 'Plate by Plate' event is sure to be an evening that combines class and philanthropy in a spirited evening of delicious Asian inspired eats.  2013 brought forth restaurants like Cherry, Bell Book & Candle, Yunnan Kitchen, Yerba Buena Perry and Edi & The Wolf and a slew of different Mixologists serving delicious cocktails.  This year, the group has chosen Asian Bi-Cultural Mental Health Services at Henry Street Settlement as their official beneficiary for their work in community outreach and treatment services to the local Asian community.  The full list of restaurants has yet to be announced but you can be sure they'll be raring to go with limitless dishes of deliciousness.
Date: Saturday, September 27th 2014

Event: Village Voice 'Brooklyn Pour' 2014

Place: Skylight One Hanson

Cost: VIP – $85; General Admission – $55

The Scoop: Not all craft beer festivals are created equal.  Just ask the folks at the Village Voice whose annual 'Brooklyn Pour' has become one of the fall season's finest kickoff events.  More than 100 craft beers will be poured at the former bank space at Skylight One Hanson, a stone's throw from the Barclays Center.  The massive multi-level space will be swarmed with hundreds of thirsty beer-swillers for three full hours on Saturday afternoon with participants like Alphabet City Brewing Co., Harpoon, Keegan Ales, Saranac, Two Roads, Victory, Lake Placid and a ton more on board.  There's also going to be a ton of food options for purchase- but do yourself a favor and make your own pretzel necklace to enjoy the festivities in style.
Date: Sunday, October 5th 2014

Event: LocalBozo.com's #BrunchBash 2014

Place: Studio Arte

Cost: VIP – $50; General Admission – $40

The Scoop: Okay, okay this isn't in September.  But we'd be foolish not to include our own event right?  October 5th, enjoy a Brunch like never before with LocalBozo.com's #BrunchBash, a bottomless and unlimited brunch-centric food tasting event.  Enjoy beers from Blue Point and Alphabet City Brewing, a bloody Mary bar from L'Apicio, and unlimited eats from some of NYC's most popular brunch spots. Louro, Lexington Brass, Poco, Schiller's Liquor Bar, Fung Tu, The Black Ant and Burke & Wills will be slinging out delicious fare for two full hours. VIPs get some extra treatment with a local oyster tasting from Eddie Oysters and exclusive gift bags limited to just 50 guests!
Date: Monday, September 1st – Tuesday September 30th 2014

Event: Concerts Concerts Everywhere

Place: Varies

Cost: Varies
The Scoop: Check out our new concert listings for the month of September and make sure to secure your tickets before it's too late.
Monday, September 1st
Fools Gold Day Off f. Danny Brown, French Montana, 50 Kent
Tuesday, September 2nd
Jeff Bridges & The Abiders, City Winery
Wednesday, September 3rd
Aerosmith & Slash, Prudential Center
Charm City Devils, Mercury Lounge
Colbie Caillat, The Paramount
The Whigs, Rough Trade
Thursday, September 4th
Bleachers, Webster Hall
ZZ Top & Jeff Beck, Nikon at Jones Beach Theater
Friday, September 5th
Modern Baseball & Beach Slang, Brooklyn Night Bazaar
Mineral & Into It. Over It., Bowery Ballroom
Social Distortion, The Paramount
Twisted Sister, Best Buy Theater
Saturday, September 6th
Fucked Up, Irving Plaza
Gipsy Kings, Beacon Theatre
Governor's Island Seafood and Music Beach Party, Governor's Island
Mineral & Into It. Over It., Bowery Ballroom
Monday, September 8th
Gary Clark Jr., Central Park SummerStage
Die Antwoord, Irving Plaza
Amy Grant, City Winery
Tuesday, September 9th
Die Antwoord, Terminal 5
Amy Grant, City Winery
Fashion Rocks f. KISS, Jennifer Lopez, Pitbull, Barclays Center
Wednesday, September 10th
The Eagles, Prudential Center
Tom Petty & The Heartbreakers, Madison Square Garden
Spoon, Rumsey Playfield
Friday, September 12th
Animal Collective DJ Set, Brooklyn Bowl
Enrique Iglesias & Pitbull, Prudential Center
Luke Bryan, Madison Square Garden
Chromeo, Central Park SummerStage
Saturday, September 13th
The Eagles, Madison Square Garden
Natalie Merchant, Beacon Theatre
Phantogram & Action Bronson, JBL Live at Pier 97
Steely Dan, The Paramount
Sunday, September 14th
Crowbar, Gramercy Theatre
Steely Dan, The Paramount
Luke Bryan, Barclays Center
Lorde, JBL Live at Pier 97
Monday, September 15th
Accept & Raven, Gramercy Theatre
Lorde, United Palace
Tuesday, September 16th
Lorde, United Palacer
Phillip Phillips, Best Buy Theater
Tim McGraw, Hammerstein Ballroom
Grouplove & Portugal. The Man, Central Park SummerStage
Wednesday, September 17th
Billy Joel, Madison Square Garden
Cher, Prudential Center
Jason Mraz, Walt Whitman Auditorium
Thursday, September 18th
Jason Mraz, Lehman Center For The Performing Arts (Bronx)
The Eagles, Madison Square Garden
King Crimson, Best Buy Theater
Metronomy, Irving Plaza
Sam Smith, United Palace
Friday, September 19th
Cher, Madison Square Garden
Rusted Root, B.B. King's
Deer Tick & The Replacements, Forest Hills Stadium
Jason Mraz, Colden Auditorium (Flushing)
King Crimson, Best Buy Theater
OK Go, Bowery Ballroom
Sam Smith, Hammerstein Ballroom
Stromae, Terminal 5
The Weeknd, Barclays Center
Saturday, September 20th
Those Darlins & Landlady, Brooklyn Night Bazaar
Jason Mraz, St. George Theatre (Staten Island)
Cher, Madison Square Garden
Nine Days, Dishwalla and Stroke 9, The Paramount
The Dandy Warhols, Music Hall of Williamsburg
King Crimson, Best Buy Theater
The Source 360 Music Art & Culture Expo f. Wu-Tang Clan, Lil Kim, Bone Thugs-N-Harmony, Barclays Center
Stromae, Terminal 5
Sunday, September 21st
King Crimson, Best Buy Theater
Phil Lesh & Friends, Forest Hills Stadium
Willie Nelson, Prudential Hall
Monday, September 22nd
Jason Mraz, Radio City Music Hall
Tuesday, September 23rd
The Black Keys & Cage The Elephant, Barclays Center
Jason Mraz, Radio City Music Hall
Lily Allen, Terminal 5
Panda Bear, Irving Plaza
Wednesday, September 24th
The Black Keys & Cage The Elephant, Barclays Center
Lily Allen, Terminal 5
Thursday, September 25th
Clutch, The Paramount
Enrique Iglesias & Pitbull, Madison Square Garden
Train, Radio City Music Hall
twenty one pilots, Terminal 5
Friday, September 26th
Rise Against, Best Buy Theater
Broken Bells, Central Park SummerStage
Saturday, September 27th
Global Citizen Festival f. fun., Jay-Z, No Doubt, Central Park
Coheed And Cambria, Hammerstein Ballroom
kasabian, Terminal 5
Needtobreathe, Best Buy Theater
Sunday, September 28th
TJ Martell Foundation Family Day f. Pitbull, Hammerstein Ballroom
The BoDeans, B.B. King's
Monday, September 29th
Otherwise, The Studio at Webster Hall
Tuesday, September 30th
Banks, Terminal 5
The Black Lips, Irving Plaza
Delta Spirit, Mercury Lounge
- Jane Van Arsdale
Related Articles
Share
About Author
(0) Readers Comments