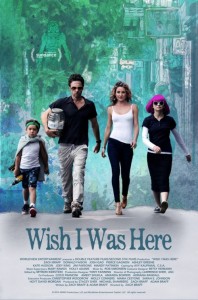 You may remember hearing about Zach Braff's Kickstarter campaign to fund the creation of a movie written alongside his brother Adam. The long awaited follow up to the critically acclaimed "Garden State," which Braff also directed, finally comes to light with "Wish I Was Here" (R), a sometimes emotional and sometimes funny dramedy about the crossroads of life in which many thirty-somethings find themselves. Often, the film is conflicted between the burdens of family life and the pursuance of dreams, between the existence of spirituality and the realization of what cannot be seen and the struggle between holding on to fantasy and being faced with the prospect of being forced to grow up.
"Wish I Was Here" features Braff as Aiden, a family man married with two kids who is in fact a grown up adolescent. The struggling actor has for years forced his family to sacrifice as he continued his pursuit of acting while his increasingly frustrated wife (Kate Hudson) played the role as breadwinner. When Aiden finds out that his father Gabe (played incredibly by Mandy Patinkin) is gravely ill with inoperable cancer and he can no longer continue to pay for Aiden's children to attend Jewish private school as a result, the actor must finally come to grips with the impact that his choices have made on his family.
It should be noted that the supporting cast here does an incredible job of alternating between keeping things light and emotionally engaging. Josh Gad provides most of the comedic undertones as Aiden's uber-lazy and ragged brother Noah, who's been estranged from their father for more than a year. The aforementioned Hudson meanwhile delivers her most captivating performance since "Almost Famous," stealing each scene in which she appears including a particularly spectacular and poignant conversation with a dying Gabe in his hospital room. Even child actors Joey King and Pierce Gagnon manage to enhance each scene, sometimes with youthful wonderment and others with a deep emotional understanding greater than their years would otherwise imply. Moreover, fine cameos from the likes of Jim Parsons (The Big Bang Theory), Leslie David Baker (The Office's "Stanley) and the late James Avery (The Fresh Prince of Bel-Air's "Uncle Phil") only add to much of the absurdity of Los Angeles acting auditions and provide some fodder in between wrenching scenes.
Strangely, there are some Sci-fi scenes that metaphorically relate to the film's backstory as Aiden continually daydreams about his youth where he and Noah had pretended to be superheroes with swords in hand protecting the planet. As the scenes re-emerge, though Aiden is dressed in metallic battle armor, it appears as he is continually running from an object in a black cloak – something akin to running from his deepest fears. Only when he confronts these potential detriments head on- the pending death facing his father, a colleague of his wife's who is acting inappropriate, challenging his lackadaisical brother to become more involved- does he finally take control of his own life for the very first time. It's not a difficult stretch to understand the biblical context of Aiden's conversation with Parsons' 'Paul' toward the film's conclusion- a character associated with the re-birth of Christ and here, with the rejuvenation of Aiden's life- nor the parallels with his daughter overcoming her fear of being unable to swim and throwing caution to the wind by jumping into a pool for the very first time.
"Wish I Was Here" is a deep film, far more complex than its main story might imply. It's about family and religion, adolescence and maturity and finding common ground between beliefs and reality. And it's entirely moving in a way that will leave you with more questions about your own life as a result of each characters motives.
"Wish I Was Here" starring Zach Braff, Kate Hudson and Mandy Patinkin is rated R, has a runtime of 120 minutes, and is in limited release on Friday, July 18th.
- Jane Van Arsdale
Related Articles
Share
About Author
(0) Readers Comments