Feel that? The sun she's a shining. The grass in the park is green. The sun tan lotion is out. The picnic baskets are full. Alright, enough cliches. June 2014 is finally here. However you decide to spend this month here in New York City, do it outside your apartment. Head out to Long Beach. Head to the Jersey Shore. Head to a Mets….nay….Yankees game. Whatever is on your radar, take full advantage of the outdoors this month before it gets way too hot. We've got a hockey team in the Stanley Cup Finals and plenty of reasons for you to stick around the City in the month of June.

June 2014 Events in New York City: Where You Need to Be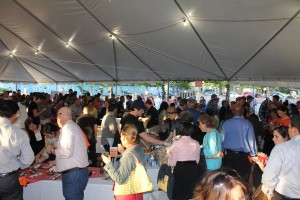 Date: Tuesday, June 3rd, 2014

Event: Taste of Long Island City

Place: Gantry Plaza State Park

Cost: White Chocolate – $60; Milk Chocolate – $150; Dark Chocolate – $400

The Scoop: With more than 50 participating vendors and incredible waterfront views of Manhattan some of Queens' best bars, restaurants and beer makers are once again flocking to Gantry Plaza State Park for the 9th Annual "Taste of Long Island City." The always jam packed space will again be completely filled up by hungry eaters enjoying the finest tastes from Long Island City spots like Alobar, Alewife, Sweetleaf, Masso Restaurant, LIC Market, M. Wells all paired with the likes of beers from Brooklyn Brewery, Manhattan Beer Distributors and SKI Beer. Guests are also given commemorative t-shirts, which make the overall value a steal for an always excellent affair.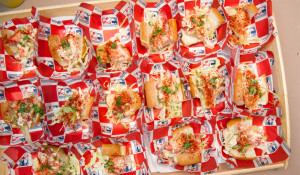 Date: Thursday, June 5th, 2014

Event: Tasting Table "Lobster Roll Rumble 2014″

Place: Metropolitan Pavilion

Cost: Sold Out

The Scoop: The battle over New York City's lobster roll supremacy happens once a year, courtesy of the folks at Tasting Table. The 2014 "Lobster Roll Rumble" brings a whopping 24 restaurants together with the purpose of crowning the city's best. With entrants this year from Grey Lady to Ditch Plains, betony to Lure, Luke's Lobster to L&W Oyster Co., to The Mermaid Inn and Red Hook Lobster Pound, guests will be treated to an unparalleled evening of exquisite eats amid a fiery competition of culinary geniuses. The 5th annual event will again serve to benefit Share Our Strength, which seeks to end childhood hunger in America by 2015 and will again, be as delicious an evening as you'd expect to enjoy.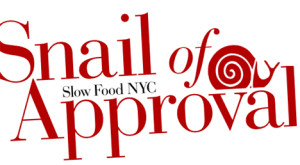 Date: Thursday, June 5th, 2014

Event: (s)low down, Slow Food's NYC Fundraiser

Place: Metropolitan Pavilion

Cost: General Admission – $130

The Scoop: In celebration of utilizing locally sourced ingredients inspired behind a movement away from the often questionable and unhealthy choices that are prevalent to us when we choose different foods to eat, the Slow Food NYC chapter is celebrating with their annual (s)low down Fundraiser. Guests will enjoy a spectrum of different tastes for their senses from live bluegrass music to tasty cocktails and spirits alongside dishes from Left Bank and Frankie's Spuntino to name a few, beer and wine sampling and even a fun and festive celebratory afterparty at Quartino Bottega Organica's outdoor garden. Chef Peter Hoffman (Back Forty West) is set to be honored for his adherence to utilizing local and sustainable foods in his menu preparation as the evening will benefit "Urban Harvest in the Schools," an initiative focused on providing support for local public school's food education programs.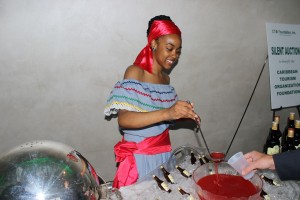 Date: Friday, June 6th, 2014

Event: 2014 Rum & Rhythm Benefit & Auction

Place: Tribeca 360

Cost: General Admission – $100

The Scoop: The sights, sounds and smells of the Caribbean return to New York City with the annual 2014 Rum & Rhythm Benefit & Auction, a festive four hour experience like none other. As the official media sponsor of the event, we take particular pride in the evening featuring expertly prepared and authentic fare, killer cocktails and drinks and an all-out dance party that brings out the wildest side in even the most conservative of attendees. And with tickets priced at just $100, there's no better value for all of the fun that you'll enjoy at Rum & Rhythm, where you'll bid on exciting auction experiences, indulge in some incredible eats and taste more varieties of liquors and spirits than you ever have before. The festival arrives just once a year, so make sure to secure your spot at Rum & Rhythm before the tickets are all gone.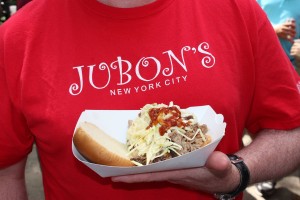 Date: Saturday, June 7th – Sunday, June 8th, 2014

Event: 2014 Big Apple Barbecue Block Party

Place: Madison Square Park

Cost: VIP Backstage Piggin' Pass – $265; Fast Pass – $125

The Scoop: Barbecue's biggest weekend returns to New York City with the 12th Annual Big Apple Barbecue Block Party. The country's biggest smokers and shakers take over Madison Square Park for an absolute eating fiesta. Though the food is for purchase, Fast Pass ticketholders get you access to some special lines where you can taste from local spots like Hill Country, Dinosaur Bar-B-Que, Delaney Barbecue and Blue Smoke but also sample from Texas (The Salt Lick), St. Louis (Pappy's Smokehouse), Missouri (Ubon's Barbeque of Yazoo), South Carolina (BlackJack Barbecue) and North Carolina (Skylight Inn). There'll be live music, tons of people and the ability to just capture it all free of charge for onlookers. Even if you don't grab any food, make sure to walk by the area, because there's nothing like the Block Party and there's nowhere like New York City to host it.

Date: Monday, June 9th, 2014

Event: Summer by the Sea: The 29th Annual Chefs' Tribute

Place: Rockefeller Center

Cost: Regular Ticket – $600

The Scoop: Citymeals-on-Wheels is the beneficiary of one of the spring's hottest food events. The 29th Annual Chefs' Tribute brings "Summer by the Sea" to Rockefeller Center with some of the City's biggest names participating. Michael Anthony, Leah Cohen, Daniel Boulud, Bobby Flay, Marc Forgione, Jean-Georges Vongerichten, Jonathan Waxman, Bill Telepan, Francois Payard, Craig Koketsu, Scott Conant and many many more lead the list of who's who. The 2013 event raised close to $850,000 and this year's is poised to even surpass that incredible figure. There's wine, there's great food and there's an amazing array of chefs to keep you eating and drinking all evening long.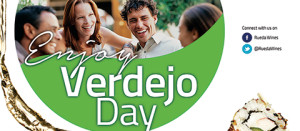 Date: Thursday, June 12th, 2014

Event: Verdejo Day

Place: Tavern 29 Rooftop

Cost: General Admission – $25

The Scoop: The Tavern 29 rooftop has become synonymous with great happy hour and weekend brunch settings, but June 12th will bring some of the finest wines of Spain for an affordable two and a half hour tasting. Verdejo Day is dedicated to celebrating the D.O. Rueda region of Spain and winelovers will congregate for a party atmosphere with a live DJ working the mix as you sip and swirl crisp, refreshing vino. There's sure to be some light eats and some good folks enjoying the outdoor atmosphere here, where we'll celebrate National Verdejo Day in style!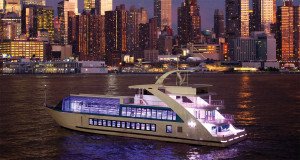 Date: Friday, June 13th – Saturday, June 14th, 2014

Event: La Nuit en Rose

Place: Hornblower Hybrid Yacht

Cost: $60

The Scoop: Translated, it means 'The Pink Night,' but in three outstanding sessions, La Nuit en Rose sets sail with more than 85 Rose wines and 1,500 likeminded drinkers joining together for a spectacular tasting experience at sea. Boarding the Hornblower Hybrid Yacht, guests will enjoy some tasty bites and sip on some of the finest pink colored wines from around the world with picturesque views from the Hudson River. Each ninety minute cruise offers a four hour wine tasting with an evening dance party and some live music during the day. Dress smart, dress casual, and dress pink for a weekend on New York's waterfront.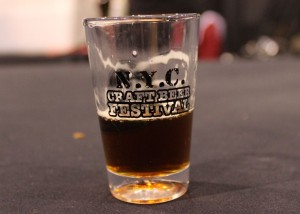 Date: Friday, June 20th – Saturday, June 21st, 2014

Event: NYC Craft Beer Festival: Summer International

Place: Lexington Avenue Armory

Cost: General Admission – $55; VIP – $75

The Scoop: Another season, another awesome beer event returning to the Lexington Avenue Armory where over this weekend, a few thousand thirsty beer enthusiasts will stock up on the best of international suds at the NYC Craft Beer Festival.  With a focus on summer beers, we'll taste foreign styles like Hobgoblin, Bombardier, Gose, and Krombacher alongside domestics like Great South Bay, Bell's Brewing, Dogfish Head, Lagunitas Brewing, Stone Brewing and Stoudts.  But those are only a drop in the spit bucket compared to the dozens upon dozens you'll find inside.  If you haven't attended one of these seasonal beer fests in the past, don't miss out on this opportunity to kickoff summertime the right way, kicking back with a cold beer in hand.
Date: Monday, June 23rd, 2014

Event: The Big Chill

Place: Brooklyn Brewery

Cost: $40

The Scoop: In the first exciting event from the folks at Edible Manhattan this month, The Big Chill is a three hour tasting event that features refreshing and cold dishes paired with some of Brooklyn Brewery's seasonal pours. From tasty ice cream sandwiches to savory chicken liver terrine and cold shots of borscht, just $40 gets you plenty to taste to cool you down as the temperatures rise. Cans of the Brewery's Summer Ale and Lager make the tastes go down all that much smoother and everyone in attendance will take home a special dessert courtesy of Salty Road.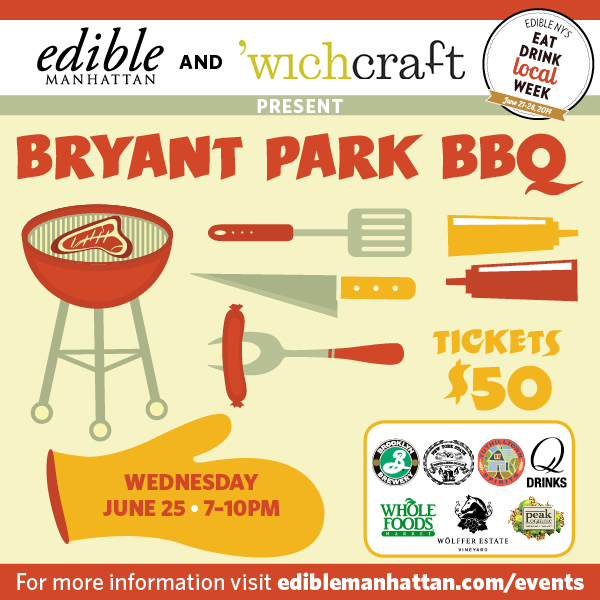 Date: Wednesday, June 25th, 2014

Event: Bryant Park BBQ with 'wichcraft

Place: Bryant Park

Cost: General Admission – $60

The Scoop: If you haven't had enough tasty 'cue by June's end, a Wednesday evening in Bryant Park should put you well over the edge. 'wichcraft is handling the cooking, so all you need to do is slap down $60 for three hours of chewing. Get ready for an array of BBQ staples like pork ribs, baked beans, fresh chicken, salt potatoes and more, with beers from Brooklyn Brewery and Peak Organic and refreshing cocktails from Tuthilltown Spirits, QDrinks and Brooklyn Republic Vodka. AND wines and ciders from Wolffer Estate Vineyard. The party ends at 10pm, so you'll have plenty of time to get home and recover from all that you've consumed in the park that night.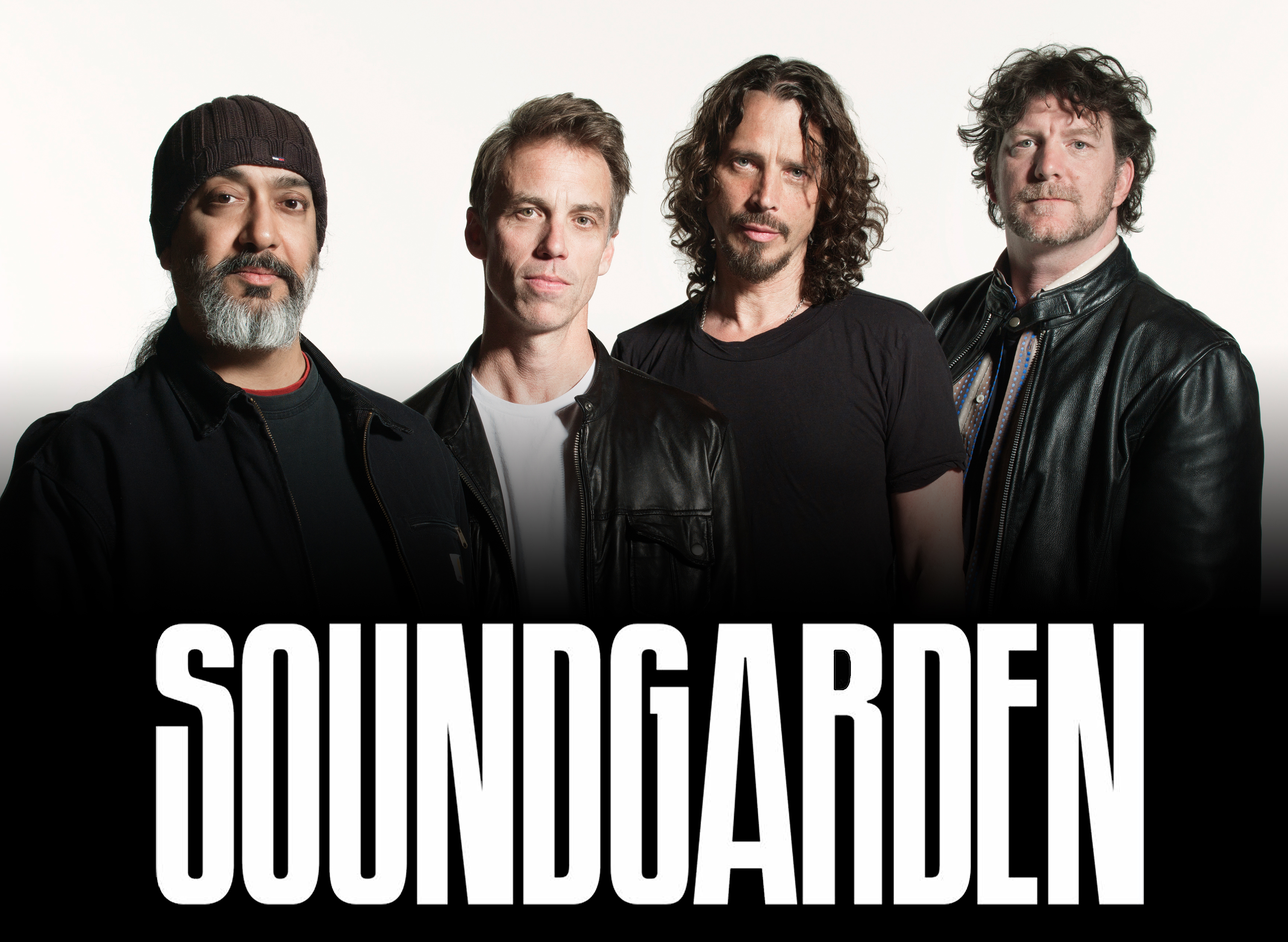 Date: Sunday, June 1st – Monday, June 30th, 2014

Event: Concerts Concerts Everywhere

Place: Varies

Cost: Varies
The Scoop: Check out our new concert listings for the month of June, which makes things a bit easier to track, to read, and for our own sanity, to put together.
Sunday, June 1st
106.1 BLI Summer Jam – Austin Mahone, Jason Derulo, Nikon at Jones Beach Theater
Hot97 Summer Jam 2014 – 50 Cent, Nicki Minaj, Lil Wayne, Nas, MetLife Stadium
EELS, Apollo Theater
Monday, June 2nd
Matisyahu, Mercury Lounge
Citi Presents Soundgarden, Webster Hall
Tuesday, June 3rd
Danity Kane, Irving Plaza
American Express UNSTAGED, Pharell Williams, Apollo Theater
An Evening with Failure, Music Hall of Williamsburg
Future, Best Buy Theater
Wednesday, June 4th
Governor's Ball Presents Banks, Irving Plaza
Thursday, June 5th
Robert Randolph and the Family Band, The Iridium (Early Show)
Robert Randolph and the Family Band, The Iridium (Late Show)
Friday, June 6th
Fu*ked Up, Bowery Ballroom
Salt-N-Pepa, Highline Ballroom
Saturday, June 7th
Hoodie Allen, Bowery Ballroom
Jack Johnson, Nikon at Jones Beach Theater
Eyehategod, Europa
Andrew Bird & The Hands of Glory
Governors Ball Presents Earlwolf f. Tyler, The Creator & Earl Sweatshirt
Sunday, June 8th
Hoodie Allen, Bowery Ballroom
Governors Ball Presents Damon Albarn, Irving Plaza
50 Cent, Webster Hall
Monday, June 9th
XXL Freshmen Tour, Best Buy Theater
Joe Satriani, The Iridium
Tuesday, June 10th
Die Antwoord, Irving Plaza
Jack Johnson, Celebrate Brooklyn at the Prospect Park Bandshell
Willie Nelson & Family, Radio City Music Hall
Thursday, June 12th
Devildriver, Stage 48
Body Count f. Ice-T, Gramercy Theatre
Titus Andronicus, Warsaw
An Evening with The Disco Biscuits, Irving Plaza
Homeboy Sandman, Santos Party House
Friday, June 13th
Kelis, Webster Hall
An Evening with The Disco Biscuits, Irving Plaza
Saturday, June 14th
Goo Goo Dolls & Daughtry, Nikon at Jones Beach Theater
Ed Sheeran, Hammerstein Ballroom
An Evening with The Disco Biscuits, Irving Plaza
Sunday, June 15th
The Vamps, Highline Ballroom
Aretha Franklin, Radio City Music Hall
Monday, June 16th
Journey and Steve Miller Band, Nikon at Jones Beach Theater
Delta Rae, Music Hall of Williamsburg
Idina Menzel, Radio City Music Hall
Tuesday, June 17th
The National, Celebrate Brooklyn at the Prospect Park Bandshell
Summerland 2014 Tour: Everclear, Soul Asylum, Eve 6, Spacehog, Irving Plaza
Tiesto & Special Guests, Terminal 5
Hank III, Gramercy Theatre
Sam Smith, Apollo Theater
Wednesday, June 18th
The National, Celebrate Brooklyn at the Prospect Park Bandshell
Tesla, Irving Plaza
Reggie Watts, Town Hall
Ringo Starr and His All Starr Band, Beacon Theatre
Thursday, June 19th
The National, Celebrate Brooklyn at the Prospect Park Bandshell
Paul Rodgers, Town Hall
Friday, June 20th
Little Dragon, Terminal 5
Kaiser Chiefs, Webster Hall
Stromae, Best Buy Theater
Saturday, June 21st
Little Dragon, Terminal 5
Fall Out Boy & Paramore, Nikon at Jones Beach Theater
Morrissey, Barclays Center
Kenny Wayne Shepherd, B.B. Kings
Billy Joel, Madison Square Garden
Meshuggah, Best Buy Theater
Zac Brown Band, Forest Hills Stadium
Sunday, June 22nd
Backstreet Boys and Avril Lavigne, Nikon at Jones Beach Theater
Tuesday, June 24th
Tegan and Sara, Hammerstein Ballroom
Thursday, June 26th
Andy Grammer, Irving Plaza
Saturday, June 28th
Avicii, Barclays Center
Clap Your Hands Say Yeah, Music Hall of Williamsburg
Sunday, June 29th
OneRepublic & The Script, Nikon at Jones Beach Theater
New Edition, Barclays Center
103.5 KTU's KTUphoria – Jennifer Lopez & Calvin Harris, Izod Center
Monday, June 30th
Counting Crows & Toad the Wet Sprocket, SummerStage Central Park
Beck, Hammerstein Ballroom
Related Articles
Share
About Author
(0) Readers Comments