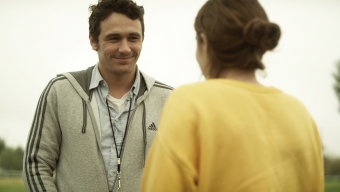 Until only recently, Gia Coppola was perhaps best known for being the granddaughter of famous film director turned winemaker Francis Ford Coppola. But with the release of her first full length directorial debut "Palo Alto" (R), it's a certainty that it's her name that will soon be on the lips of those in Hollywood as one of film's hottest young helmers. Though only 26 when the movie was made, her age is what may have best suited her to craft this film- a chilling and uncanny portrayal of the absolutely harshest elements of high school life, starring an immensely talented and believable cast beneath its two biggest stars.
"Palo Alto" may feature the name James Franco on the marquee, but in reality his role is more in the background, overshadowed by far more disturbing facets which come to light. Emma Roberts is cast as high school senior "April," an every-girl style soccer player, plagued by the same self-consciousness that everyone in their late teens discovers. Her classmates though drift to far more dire circumstances which are encompassed by the extremist form of drug and sexual temptation.
Adapted from a book of short stories, each scene is seemingly more uncomfortable than the last and as such, I found myself noticeably squeamish as some of the plot points developed. But the film is strangely captivating in that regard, forcing the viewer to recall their own days in high school to consider if the way we acted then may have been as outlandish as the unfolding scenes on screen.
Coppola to her credit, casted the film with equal brilliance with Jack Kilmer (son of Val, who has an odd cameo here to say the least) as the film's protagonist "Teddy," a talented artist with a good heart but a penchant for finding trouble and "Fred" (Nat Wolff) a maniacal wildcard who is so unhinged, you can't help but wait for him to go off the rails. And you can't help but feel for Zoe Levin's "Emily," who is adorable but promiscuous as she seeks acceptance from just about everyone around her. As each character seems to derail, it becomes clear that Teddy and April need to find each other if either of them has a chance at surviving the weight of their own teen angst. And it's that point that makes the trek through "Palo Alto" so utterly compelling, despite bouts of 'look away from the screen' discomfort that kept us unsettled throughout a film that was surprisingly very good in retrospect.
"Palo Alto" starring Emma Roberts and James Franco is rated R, has a runtime of 100 minutes, and is released in Los Angeles and New York on Friday, May 9th.
- Jane Van Arsdale
Related Articles
Share
About Author
(0) Readers Comments