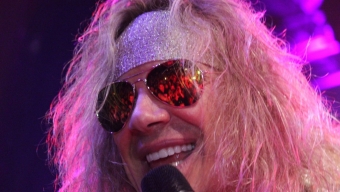 Steel Panther
A LocalBozo.com Concert Review
Irving Plaza, New York, NY
May 27, 2014
Touring on the heels of a new album release (April's "All You Can Eat"), it's fair to say that with song titles like "Bukkake Tears" and "She's on the Rag," the Los Angeles throwback rockers in Steel Panther don't exactly endear themselves to the tastemakers in radio. But nothing about Steel Panther has ever been traditional, which sort of explains the band's transcendent ascension solely through word of mouth about their excellent live show which mixes crass commentary, an authentic style of 1980′s glam rock and often, the stamps of celebrity approval in the form of jumping up on stage and performing with the four-piece band. Their stop at a just about sold out Irving Plaza on Tuesday night only furthered the group's reputation for carrying a performance that is both dirty and fun as hell as the flag bearers for keeping the flame of metal alive- one d* joke at a time.
Playing off of the stories and satire of the 1980′s west coast rock scene, Steel Panther was bred by the fundamental formula of creating somehow familiar sounding heavy metal anthems with some of the filthiest lyrics that you've ever heard. Though part of the fun is singing along with the band- who take every bit of their show in serious character- it's the minutes upon minutes of banter, whether ragging on each other or their outright racism toward the many members of their eclectic fanbase, that makes a Steel Panther performance more than just a concert. And it's that suspension of disbelief that keeps the throngs of their fans which now extend from coast to coast (the band has a weekly stint at Los Angeles' House of Blues) mesmerized throughout their never typical ninety minute set.
With the release of their aforementioned third album, the new material fit in quite nicely with tunes from the band's previous efforts. A flurry of purple and pink lights lit up a previously dark stage to reveal the four rockers donning their usual wardrobes- skintight pants, long pastel colored scarves and cut out t-shirts, underneath their characteristically long flowing locks. Instantaneously, the band opened with "Pussywhipped," a lightning fast new track that set the tone for what's to come from the get go. Crowd favorites "Tomorrow Night" and "Asian Hooker" followed in short order, with the entire standing room singing aloud to each hilarious, smut-filled chorus.
New cuts like "Gangbang in the Old Folks Home" and "If I Was The King" were solid additions to the set, while "Party Like It's the End of the World" was perhaps the most fitting with the build to its anthemic melody. In a nice touch, "Stripper Girl" and "Girl From Oklahoma" got back to back turns with acoustic treatment while another new track "Gloryhole" welcomed a slew of women up to the stage to dance- some from the very front rows of the crowd and some undoubted 'pros' from the Metropolitan area. By the time "Death to All But Metal" closed down the band's main set, it was clear fans hadn't had enough yet. Frontman Michael Starr returned to the stage capped in a red fedora and teased a cover of a 70′s rock tune, before launching into "Community Property," which the fans essentially sang in entirety on their own. Though because time ran a bit long with the banter between mates on stage we missed out on "17 Girls in a Row," show closer "Party All Day" more than delivered, finishing out a completely wild set on the band's own terms, and to a standing ovation from the 1,100 or so fans in attendance.
If you've read our reviews on Steel Panther previously, the band puts on a completely unparalleled live show that utterly guarantees a great experience. From a cavalcade of fans dressed up with large blonde wigs and spandex pants to the utterly ridiculous back and forth obscenity by each of the four members, your neck is as certain to be tired from headbanging as your mouth is from smiling so hard. And long after the final drum smash from the cleverly named Stix Zadinia and the final spritz of hairspray onto the mane of bass player Lexxi Foxx, you'll be recalling innumerable memories of the live show you just witnessed- and will immediately be checking for when the band returns to town next.
- Dave Gendelson
Related Articles
Share
About Author
(0) Readers Comments