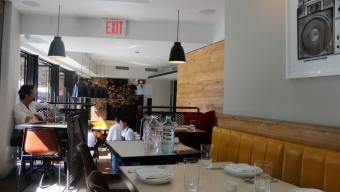 Charlie Bird
A LocalBozo.com Restaurant Review
5 King Street near Sixth Avenue, Soho
212-235-7133
Getting There: 1 to Houston Street; C,E to Spring Street
http://charliebirdnyc.com/

Restaurant Review: Charlie Bird
By the time you've finally secured your table at Soho's Charlie Bird, you're likely to have heard all about the restaurant long before sitting down. The unique layout and veritable hipster decor, the slightly Italian leaning menu and the supposedly wondrous service that greets you are all to be expected. But nothing truly prepares you for the experience of dining through the blaring hip hop music overhead- some of which can be explicit and a bit off-putting even for our hardly uptight sensibility- which is an avoidable but somehow purposeful detriment to an otherwise fine place to sit down.
First things first- none of our gripes have anything to do with the food or the intricate space, which is pleasantly vibrant and modernized. In light of the heaps of praise bestowed upon the service at Charlie Bird, our experience was an entirely different animal. Though everyone's entitled to an off day or night, our Sunday afternoon reservation, booked well in advance, was seemingly in danger according to the hostess and bartender, because the place closes down between lunch and dinner. And although it was ultimately honored, we were ushered in and out of the restaurant in about 45 minutes by our server, who between bringing courses out of order and selectively jotting down our drinks incorrectly, was outwardly aggressive and utterly unapologetic. Shocking to us again, considering the buzz that surrounds Charlie Bird's reputation for stellar service.
In retrospect, we would have been better served to grab seats on the place's newly opened outdoor patio which sits on a distinctively remote corner of King Street- but with the noise level and our one-off experience with our server aside, the food at Charlie Bird is good. Very good. And if you're the type that can shrug off a somewhat distracting atmosphere for an excellent meal, then we'd urge that you make your reservation now. Four elongated shells house the restaurant's "Razor Clams" ($13), a must try during any visit as the chilled viscous hunks are laced with fennel and tangy pickled chiles for visual and flavorful appeasement. Moreover, the "Crisply Roasted Half Chicken" ($23) though not necessarily on the level of The Nomad (nor anywhere near as pricey), is also quite good here. The generous thick breast meat is nicely quartered with a seasoned and savory skin, adding more complexity to the already juicy bites of tender meat, topped with a bed of a 7 herb salad for garnishing.
The place's colorful menu is categorically partitioned into four different areas for lunch and five for dinner, but the place is seemingly never short on specials. We thoroughly enjoyed their "Pork Belly" ($18) special served over soggy collard greens and topped with a runny egg which oozed yellow yolk atop the salt-laden cured meat, though the "Veal Pastrami" ($15), seemingly thrown together on a plate was far too fatty to enjoy. The elements here- rye crisps, spicy mustard and a pickle salad- worked well collaboratively, but could not override the underwhelming focus of the dish.
To date, the pasta dishes at Charlie Bird have probably received an unfair amount of criticism. Our nicely sized dish of "Gnocchi Rosa" ($16) was expectedly fluffy, but the array of subtly sweet travaglini tomatoes kicked up the spice to a surprising degree, allowing our taste buds to remain energized and the entirety of the pasta here with the requisite creamy ricotta and fresh basil worked together admirably. Though it seemed we had just sat down, it was already time for dessert and despite dining in record time, Charlie Bird's "Coconut Panna Cotta" ($12) was exceptionally good. Served sweet and jiggly, the lush white cream layer was topped with a touch of berry and some light gingerbread crumbles- but really, no accompanying ingredients would have been necessary here.
We'll be the first to admit that no restaurant experience is perfect, and yet we evidently selected the wrong time to stop into Charlie Bird with our critic's hat in hand. As the lunch crowd dissipated, the booming music did not- and when there are problems with the timing and accuracy of your server, every single component of your meal gets seemingly magnified. Fortunately for Charlie Bird, their array of dishes and quality of cooking allows this writer to see the forest through the trees, though it's hard to imagine returning for seconds.
Rundown of the Meal
Raw
Razor Clams ($13)* – Fennel and Pickled Chiles
Pasta
Gnocchi Rosa ($16) – basil, ricotta, travaglini tomatoes (spicy) fluffy gnocchi
Small & Large
Veal Pastrami ($15) – Pickle Salad, Rye Crisps, Spicy Mustard, Fatty
Crisply Roasted Half Chicken ($23)* – 7 herb salad
Specials
Pork Belly ($18)
Dessert
Coconut Panna Cotta ($12)* – Gingerbread Crumble
*Meal Highlight
Related Articles
Share
About Author
(0) Readers Comments