The NoMad
A LocalBozo.com Restaurant Review
1170 Broadway near 28th Street, Flatiron District
212-796-1500
Getting There: A,C,E to 34th Street-Penn Station; C,E to 23rd Street; N,R to 28th Street
http://www.thenomadhotel.com/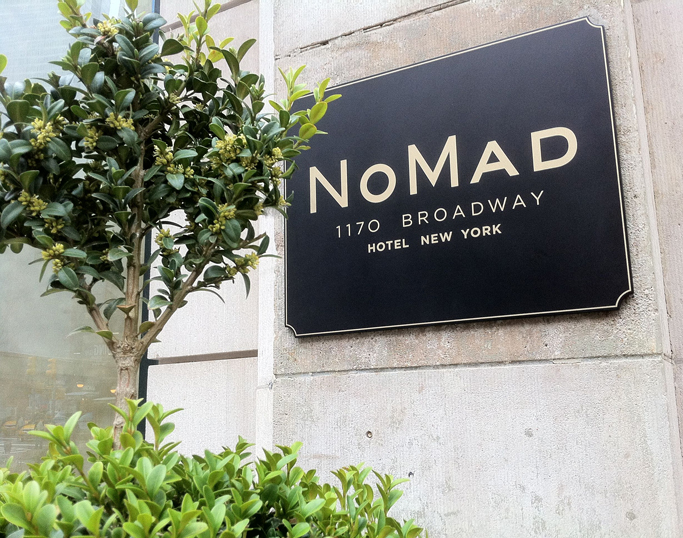 It can be difficult to temper expectations when hearing into a much ballyhooed restaurant for the very first time. In fact, when we recently secured a primo reservation at last year's most bandied about opening, we restrained, just barely, from doing a cartwheel. From Chef Daniel Humm and Will Guidara, owners/operators of Eleven Madison Park, The NoMad opened to rave reviews in 2012 and was among New York City's most eagerly anticipated and notable hot spots in town. Pleasantly, more than a year later, and the place continues to churn out an exceptional dining experience that combines a ritzy refined ambiance with some downright phenomenal American-nouveau style cuisine.
The lobby of The NoMad Hotel can be difficult to navigate if you don't know where you're going. But follow the small crowd and you'll find yourself at the host stand at The NoMad restaurant, adjacent to the ground floor lobby. The space is partitioned into different areas wrapped around a glass enclosed atrium and each a bit different from the others. Well dressed clientele are packed three rows deep at the energetic bar, which appears as an ideal setting for scenesters as we've come across in our recent travels. Our table sits just a few feet from the bustling bar area, in the main dining atrium room. The plush golden chairs and dark mahogany tables call out for business lunch meetings. But despite the overall feel of a restaurant in a hotel lobby, the dim lighting, chic decor, and the stylishly sophisticated patrons having conversations nearby only add to the place's trendy aura during dinner.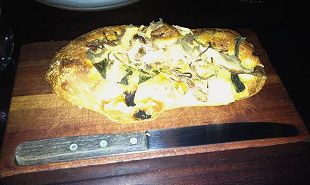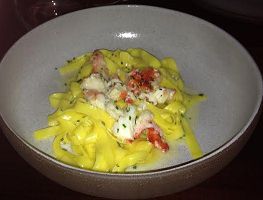 Because the menus in the Library and the Bar area are limited, it's important to sit in the Atrium or Library in order to have The NoMad's full menu at your disposal. Snacks, appetizers and entrees comprise the entirety of the expansive menu. At $24, the "Fruits de Mer" or "Le Grand Plateau" offer a variety of six chilled, two bite tastings from the raw bar which include king crab, oysters and scallop ceviche to name a few and is an unconventional approach to the traditional seafood tower. But the delicately prepared "Tagliatelle" ($20- small) proved to be an ideal selection to open our dinner with. Doused with fresh hunks of king crab meat and black pepper, the addition of the Meyer lemon was the stand out ingredient in the most subtle way possible. Hints of citrus splashed our palates with every bite of the freshly prepared pasta strands and paired effortlessly with draught beer pours of Peekskill Brewery's "Hop Common," pleasantly suggested by our friendly server.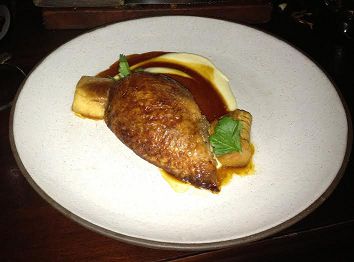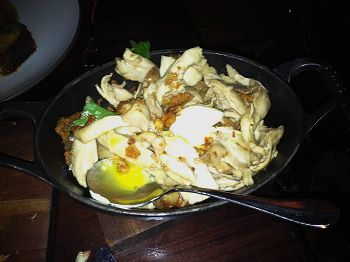 While the menu includes hearty fare like "Suckling Pig" ($35) and roasted "Duck" ($34) with winter citrus and kumquat, any broad research into The NoMad will reveal a plethora of praise heaped upon the restaurant's "Whole Roasted Chicken For Two" ($79). Some skeptics scoff at ordering a basic chicken dish when visiting such an exciting restaurant, but here, there's nothing basic about this chicken. At first, the whole roast chicken emerges, brought table side on a tray by a member of the staff who reveals your beautifully garnished chicken in a cast iron pot before the chef intricately carves the meat and artistically plates each dish for your party. The dish pairs brilliantly with Brooklyn Brewery's "Le Poulet" served in an eye-catching growler and specifically crafted to accompany the chicken dish by the Brewery's brewmaster Garrett Oliver. The brown ale was deliciously malty with some flashes of spice and sweet that was tailored perfectly to suit the embedded foie gras, brioche, and black truffle laden chunks of warm chicken meat. Each meaty white breast was served with its crispy cooked skin in tact above a thinly layered mashed potato spread. Meanwhile the small shared boat of dark meat was incredibly moist and sweet at once, joining butter, morels, and truffles before being laced with crunchy chicken cracklins for a contrast of texture and flavors. Frankly, we can't say enough about the absolutely masterfully prepared chicken dish- the finest main course that we've enjoyed all year without question.
From start to finish, there wasn't much to take umbrage with at The NoMad. Minor hitches like the absence of a previously ordered draught beer growler and an uncomfortably high priced wine suggestion from the Sommelier were quickly forgotten by the first serving of warmed rustic mushroom topped bread.  Instead,we focused on our surroundings from the friendly, entirely accommodating staff, the modernized and unbelievably cool atmosphere inside, and the unforgettable dishes that we enjoyed that will surely have us discussing this visit for months to come. Despite the considerable buzz and the praise the restaurant has received for the better part of two years, it's abundantly clear that The NoMad isn't resting on its reputation alone as it continues to wow first timers and repeat visitors time and time again.
Rundown of the Meal
Appetizers
Tagliatelle ($20)*
Entrees
Roast Chicken for Two ($79)*
*Meal Highlight
Related Articles
Share
About Author
(1) Reader Comment