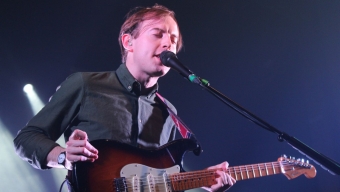 Bombay Bicycle Club
A LocalBozo.com Concert Review
Webster Hall, New York, NY
May 9, 2014
There were particularly good vibes radiating around the second of two sold out shows at Webster Hall on Friday night as New York City warmly welcomed the quickly ascending Londoners in Bombay Bicycle Club to town. Though wildly successful overseas, the band's no nonsense stage show certainly preceded them and they delivered a 16 song, one hundred minute set that showcased elements of folk, electronica and downright hard rock that make them so appealing to such a wide audience. And the skilled musicianship evident in their performance has only given further credence to their rapidly growing indie cred.
In February, the band, named after a now shuttered chain of Indian restaurants, released their fourth studio album "So Long, See You Tomorrow" which was prominently featured throughout Friday evening's set. The crowd roared in anticipation of the band's 9pm arrival, as quickly as the lights had dimmed. Young fans began lining up at 4pm that afternoon to ensure they'd be front and center as frontman Jack Steadman and his mates strode out to the stage. With little acknowledgement, the band tore into "Overdone," the opening track from the new record that fuses each of the group's six members together behind a tantalizing style of electronic beatmaking.
Behind the band on stage, five screens displayed varying animation throughout the show which ranged from eye-catching to utterly hallucinogenic. But the group didn't need to rely on any gimmicks to keep their audience entertained between the genuine excitement in the room and Steadman's harmonizing with touring member Liz Lawrence on stage. The lullaby-esque "It's Alright Now" and the feel good "Shuffle" were particular highlights early in a set rife with them. Fortunately for the crowd, the band's set was almost entirely upbeat which allowed most of the room to dance around in place – and often, not in place- especially during funkier tracks like the uplifting "Feel" and the sweet "Whenever, Wherever" which translated well in this live setting along with the live crowd chanting the song's chorus.
The crowd though, thoroughly exploded for "Always Like This," among the band's catchiest and best written tracks to date, despite having been released some five years ago. The slow building title track to the album was particularly fitting to close the show as the fast paced crescendo somehow turned the energy inside of the room to an entirely new level and the Webster Hall Grand Ballroom became a party akin to the club scene going on just a floor below. It's pretty incredible to consider just how gifted the young bandmembers of Bombay Bicycle Club at this point, still the beginning of their career. And perhaps even more incredible to consider where they're going, once they've truly reached their peak.
- Jane Van Arsdale
Related Articles
Share
About Author
(0) Readers Comments