Well, we've finally found it. Spring! Before the unholy heat of summer arrives, let's take some time to enjoy the present conditions that range between breezy and downright comfortable. And as the rain continues to be in our rear view mirror, it's about time that we focus on the month of May and the splendor that it brings. Not to mention a ton of great shows, food events, wine tastings and more, all of which your pals at LocalBozo.com have outlined for you here. As always, scroll to the bottom of the page for a list of notable concerts coming through the area all month long; for these are the May 2014 Events in New York City: Where You Need to Be.

May 2014 Events in New York City: Where You Need to Be

Date: Thursday, May 1st 2014

Event: Grand Gourmet: The Flavor of Midtown

Place: Vanderbilt Hall – Grand Central Terminal

Cost: General Admission – $125; VIP Admission – $350

The Scoop: It's become a rite of passage in springtime and 2014 will prove no different as a collection of midtown's best restaurants collaborate under the historic roof of Grand Central Terminal for "Grand Gourmet: The Flavor of Midtown." A chunk of the proceeds raised benefit programs and initiatives that support the homeless in the area and the betterment of the Grand Central Partnership. And with some 35 restaurants and bars participating you can expect to indulge in the likes of Benjamin Steakhouse, Shake Shack, Strip House Midtown, The Capital Grille, Naples 45, Lexington Brass, The Campbell Apartment, Pescatore among many many more!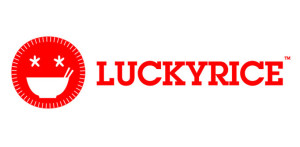 Date: Friday, May 2nd, 2014

Event: LUCKYRICE New York Feast

Place: Mandarin Oriental

Cost: General Admission – $150; VIP Admission – $250
The Scoop: Any conversation about New York food tasting events focused on a singular style of cuisine begin and end with the annual LUCKYRICE event. Following up on last month's "16 Hours to Hong Kong" celebration LUCKYRICE, in its fifth year, is poised to host its grandest food frenzy yet with the New York Feast inside of the posh Mandarin Oriental hotel overlooking Columbus Circle. This year, the festival combines each style of popular fare from previous years condensed into one incredible evening. From some of the city's most renowned cocktail purveyors like Employees Only to restaurants like Asiate, Morimoto, Pig & Khao, RedFarm, Coppelia, Yunnan Kitchen and Delicatessen among many other notables.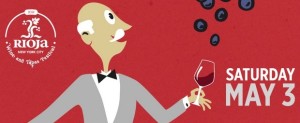 Date: Saturday, May 3rd, 2014

Event: Rioja Wine and Tapas Festival

Place: Weylin B. Seymour's

Cost: $55
The Scoop: For just $55, you'll get the chance to taste some fantastic wines and foods in Brooklyn. It's the 2014 Rioja Wine and Tapas Festival, a celebration that benefits culinary scholarships at the prestigious James Beard Foundation. The now sold out showcase brings together more than 25 different chefs and over 30 different winemakers to enjoy the spirit and festivities that define the Rioja region of Spain. Sample different cheeses and charcuterie, paella and tapas' and of course, wines, all without having to leave the confines of New York City.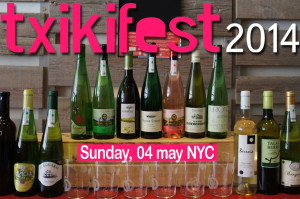 Date: Sunday, May 4th, 2014

Event: Txikifest 2014

Place: Back Alley of Txikito

Cost: $50
The Scoop: Nobody wants to wind down the weekend with a lazy Sunday. Head out to Txikito in Chelsea for a festive afternoon of eating and drinking with Txikifest 2014. For four hours and $50 that goes to benefit Edible Schoolyard, the culinary diversity of New York will be fully on display with participants including Co, La Vara, Kuma Inn, Wild Edible Oyster Bar, Cucharamama and of course, Txikito- coupled with wineries from Basque Country- Ulacia, Berroia, Gaintxa and many more.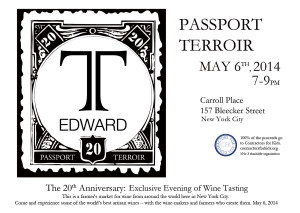 Date: Tuesday, May 6th, 2014

Event: T. Edward Wines – Passport Terroir Wine Tasting

Place: Carroll Place

Cost: $115
The Scoop: Drinking up for a great cause has always been at the forefront of our advocacy and at the Passport Terroir Wine Tasting, all of the proceeds go to Contractors for Kids. Guests will enjoy a walk through tasting of some of the world's most exceptional wines, brought to you by the makers themselves. Represented regions include both domestic (Washington, California & Oregon) and international (Italy, France, Portugal, Spain, New Zealand and more) and for two hours you'll be able to taste some great varietals and nibble on some fresh breads and cheeses just as wine was intended, courtesy of T. Edward Wines, who has been importing them for two full decades.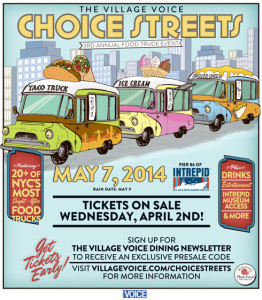 Date: Wednesday, May 7th, 2014

Event: The Village Voice 3rd Annual 'Choice Streets'
Place: Pier 86 of the USS Intrepid

Cost: $50 – General Admission; $60 – Early Entry Full Ticket Price; VIP Ticket – $70
The Scoop: Walking from food truck to food truck near the USS Intrepid has become fairly commonplace each May, thanks to the folks at the Village Voice. Annually their 'Choice Eats' extravaganza is among the most highly attended food events of the year but with 'Choice Streets,' they've carved out an event all their own. Along the picturesque west side waterfront, guests are free to sample from some of the City's best mobile food vendors like Carl's Steaks, Coolhaus, Korilla BBQ, Luke's Lobster, Nuchas, Moo Shu Grill, Uncle Gussy's and more. And best of all, former bassist of The Smiths, DJ Andy Rourke will be working the mix live all night long.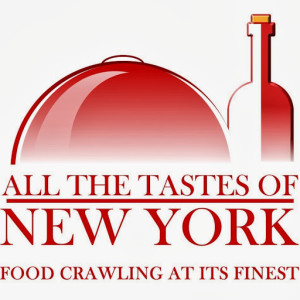 Date: Thursday, May 8th, 2014

Event: Spring Cocktails and Eats

Place: Midtown Loft & Terrace
Cost: $69
The Scoop: Fresh off of their success with the "Fall Food and Wine Festival," All The Tastes of New York returns with "Spring Cocktails and Eats" at the chic Midtown Loft & Terrace. With dozens of samples to choose from with import beers from Cusquena and Queens Brewery, Finger Lakes' wine from Fox Run and Anthony Road Wine Company and cocktails aplenty courtesy of Tree Vodka and Van Gogh Vodka and Los Arango Tequila. There will be no shortage of offerings to keep you satiated as the evening progresses.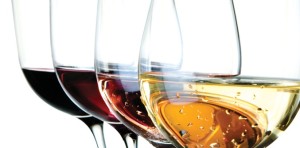 Date: Thursday, May 8th, 2014

Event: Snooth Selects Spring Tasting in NYC

Place: Studio 450

Cost: $35
The Scoop: Snooth.com is among the most highly regarded online wine resources in the entire world. You can find recommendations, points of purchase for your favorite bottles, read reviews and critiques and even connect with likeminded enthusiasts from casual novices to expert drinkers. Who better than the folks at Snooth Media then to bring more than 100 wines to the Studio 450 space at a perfectly reasonable $35 fee for a seasonal wine tasting event. You'll learn a ton about what you like and what you don't in this ideal foray into new wines for those trying to get a grasp on vino without all the pretentiousness.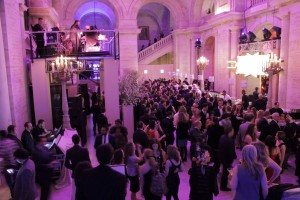 Date: Friday, May 9th, 2014 – Tuesday, May 13th, 2014

Event: The Manhattan Cocktail Classic

Place: Varies

Cost: Varies
The Scoop: There's no way for us to sufficiently highlight the many events that comprise the annual Manhattan Cocktail Classic's five days worth of exciting drink related events at some of the finest bars in the City. And what's more, they are concocted by the hands of some of the country's most expert mixologists. The Gala is an incredible spectacle though at the New York Public Library, and despite the $295 price tag (all that's remaining is VIP) we can't foresee any circumstance where you would leave having had a bad experience at the ritzy event. Other events include "Swig N' Swine" at Union Pool, "A Deliciously Decadent Afternoon of Chocolate and Cocktails" at American Whiskey and even "Japan-inspired Mixology" at Angel's Share, among dozens of other great ones. Do yourself a favor and check out the list of offerings now.
Date: Saturday, May 10th, 2014

Event: Laithwaites Wine Spring Tasting

Place: The Level at Metropolitan Pavilion

Cost: General Admission – $59; Group Discount – 4 or more – $53
The Scoop: There's a reason why so many New Yorkers indulge in the weekend brunch: it's fun to get your drink on during the day. With that in mind, why not spend a Saturday afternoon sipping and swirling some great wines in style at the Laithwaites Wine Spring Tasting. Offered at a reasonable $59 per ticket (discounted to $53 if you purchase four or more), the entirely relaxed setting emanates from the sprawling Metropolitan Pavilion where you'll enjoy upwards of 70 different wines from a variety of regions and vintages, meet some of the winemakers and enjoy cheeses and meats for pairing over the course of three full hours.
Date: Saturday, May 10th, 2014

Event: Lobster De Mayo

Place: Capitale

Cost: General Admission – $295; VIP – $450
The Scoop: Gramercy Tavern. Jean Georges. Marea. Betony. ABC Kitchen. Marc Forgione. Lavo. Tao. Need we say more? Hosted by Celebrity Chef Katie Lee, the first ever "Lobster De Mayo" brings together a super premium evening filled with lobster, beer, tequila and more in the sultry setting of Capitale. The proceeds will benefit City Harvest, which makes the cost a bit more palatable. But on the other hand, when will you have the chance to find all of these restaurants in one place serving up the most luxurious array of foods imaginable?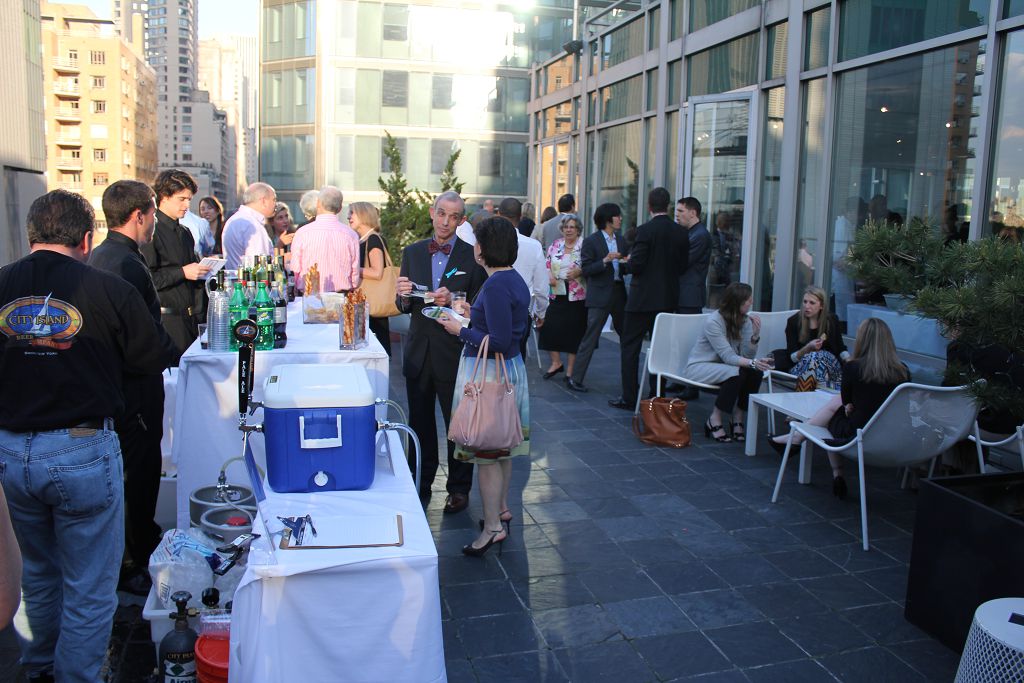 Date: Thursday, May 15th, 2014

Event: A Taste of HOPE

Place: Steelcase

Cost: Event Ticket – $125; Event Tickets – Pair – $200
The Scoop: The Steelcase building is a beautiful event space that provides breathtaking terrace level views of Columbus Circle. The third annual A Taste of HOPE event returns to the incredible setting for a cocktail party of sorts that brings together some delicious eats and drinks for an evening that aims to help empower New Yorkers forced to live in poverty. The HOPE Program is an advocacy and development organization that equips folks with checkered histories to turn their lives around. They'll be helped by the likes of Neuman's Kitchen, Red Gravy, Russ & Daughters, Jimmy's No. 43, Chelsea Market Baskets and more. Best of all, 98% of the revenues generated from this night directly support HOPE's program functions.
Date: Saturday, May 17th, 2014

Event: Crawfish for Cancer

Place: The Boat Basin Cafe

Cost: $90 until 5/13; $95 until 5/17
The Scoop: The 6th annual crawfish boil returns to the Boat Basin Cafe for five hours of outdoor eating and drinking for a great cause. It's "Crawfish for Cancer" and year after year this perennially sold out event takes over the waterfront venue with tons of festive folks, great eats and live music. Get your fill of a feast of hundreds upon hundreds of pounds of piping hot crawfish, fresh hunks of potatoes, seasoned corn on the cob, bottomless beers, wines and signature crafted cocktails. Last year's festivities were shrouded in a passing storm but that hardly subdued the energetic and wild crowd on hand to help raise money for multiple myleoma cancer research. It's a wonderful reason to step out for an afternoon to support cancer research at one of Manhattan's most truly unique venues.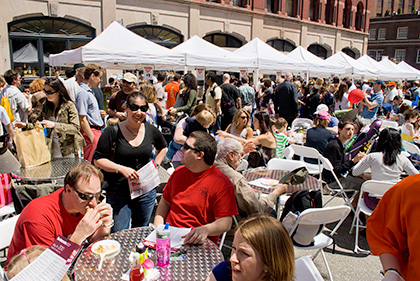 Date: Saturday, May 17th, 2014

Event: Taste of Tribeca

Place: 334 Greenwich Street at Duane Street

Cost: $40 – $50
The Scoop: The annual Taste of Tribeca shines a bright spotlight on one of Manhattan's most prestigious and luxurious neighborhoods and the restaurants that comprise it. This year, the outdoor event features six fantastic food tastings for just $40 through May 1st and $45 thereafter. And the frenzy of eats reads like a who's who: Brushstroke, Telepan Local, Distilled NY, Locanda Verde, Nobu, The Harrison and dozens of others. The day plays out like a perfectly executed street fair, only this time, you don't have to be lucky enough to live in the neighborhood to enjoy all that Tribeca has to offer. And with a self guided wine tour to boot, guests can also get a nice daytime buzz on.
Date: Saturday, May 17th, 2014

Event: The Judgement of Brooklyn

Place: Skylight One Hanson

Cost: $55 – Enthusiast Admission; $90 – Connoisseur Admission
The Scoop: The concept here is a novel one- it's been adapted from the 'Judgement of Paris '76 Tasting,' which originally was a wine competition with the winners selected from a blind tasting. Similar elements are in play at 'The Judgement of Brooklyn,' where foods, beers and wines from around the borough will be quite literally put to the taste test. A critics panel will score each sample and the results will be announced during the consumer tasting, where guests will also enjoy the varied pairings and evaluate the samples themselves. It's interactive and delicious and it all takes place in one of Brooklyn's most grandiose venues- Fort Greene's Skylight One Hanson.
Date: Tuesday, May 20th, 2014

Event: Taste of Sunnyside 2014

Place: Queens Blvd/46th Street

Cost: $30 – General Admission; $60 – VIP
The Scoop: Oh come now Queens. You didn't think we'd forget you, did ya? A quick ride on the 7 train takes you out to Sunnyside, a part of our sister borough that rarely gets sufficient love. But the 2014 "Taste of Sunnyside" is certain to change all that. For three full hours, guests can imbibe courtesy of Queens Brewery, Singlecut Beersmiths and Lowery Wines and Liquors and indulge upon eats from Williamsburger, White Castle (!!), Arriba Arriba, Dog and Duck, Nita's Aubergine Cafe, Quaint, De Mole and a bunch more with more than 25 different spots participating. It's cheap, outdoors and is the perfect excuse to do some exploring in Queens.
Date: Tuesday, May 27th – Saturday, May 31st, 2014

Event: New Taste of the Upper West Side

Place: Varies

Cost: Varies
The Scoop: Admittedly, we're a little biased. After all, the annual "New Taste of the Upper West Side" is one of our favorite events every year. With the proceeds raised over the course of the extended weekend going to the Columbus Avenue Business Improvement District (BID), the financial impact of the chef led festival cannot be understated. The funds go directly to making an already fantastic neighborhood even more beautiful. The three events in 2014 are perhaps the biggest ones yet. First, the May 27th "Soiree in the Park" ($155) kicks the "New Taste" off right amid Theodore Roosevelt Park as the setting with some hors d'oeurves from Corvo Bianco, Loi, Sarabeth's, Calle Ocho and more along with champagne flutes and some great live music. Next up, the May 30th "Comfort Classics," ($105.00) is our very favorite event. Co-Hosted by Travel Channel's Adam Richman and Butter chef/TV personality Alex Guarnaschelli, "Classics" packs a ton of restaurants under a massive tent year after year. Taste fare from 5 Napkin Burger, Citrus Bar and Grill, Isabella's, Parm, Momofuku Milk Bar, The Meatball Shop and more! Finally, it all concludes on May 31st with "Best of the West" ($135) which honors chef Daniel Boulud. Hosted by Jill Martin, the evening features live music and, of course, eats from Bar Boulud, Atlantic Grill, Blue Ribbon Sushi Bar & Grill, Jean-Georges, Dovetail, Fishtag, Tavern on the Green and more. Wow. Best of all, the chance to schmooze with chefs from each of these fine establishments all weekend long.
Date: Wednesday, May 28th, 2014

Event: STREETS International – 7th Annual Event

Place: The Astor Center

Cost: $100 – General Admission; $225 – VIP
The Scoop: STREETS International is a nonprofit organization that formed in 2007 docused on developing programs for disadvantaged youths in Southeastern Asia. From classroom instruction to outright support, STREETS strives to equip the impoverished children with the tools and skillset to forge a successful career in the hospitality industry. Each year, the organization welcomes some of New York City's finest chefs and representatives to The Astor Center for an evening of food and cocktails inspired by Southeast Asian street fare. This year, the evening features Michael White (Ai Fiori), Andy Ricker (Pok Pok), Anita Lo (Annisa), Danuel Boulud (DBGB), Richard Kuo (Pearl & Ash) and many more among a three plus hour feast with a bevy of great silent auction items- all to benefit STREETS.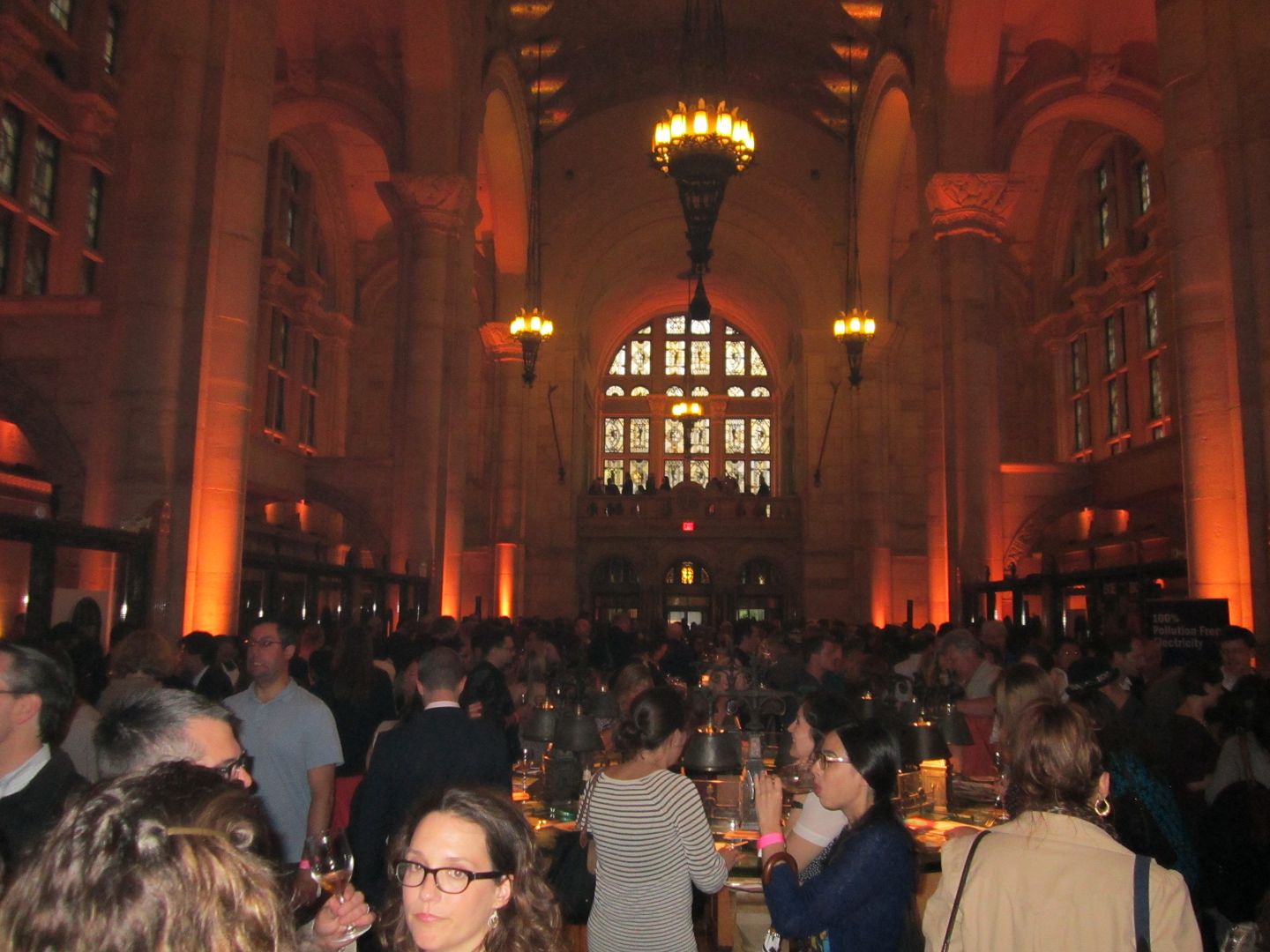 Date: Thursday, May 29th, 2014

Event: Edible Manhattan's "Brooklyn Uncorked"

Place: Skylight One Hanson

Cost: $65 – General Admission
The Scoop: Edible Magazine's "Brooklyn Uncorked" is one of New York City's most popular events. This year, the food and drink evening returns to Skylight One Hanson for an action packed evening of eats from Taco Santo, Watty & Meg, BAMcafe, Allswell, Gramercy Tavern, Krescendo, La Vara, The Dogwood. Conceptually, each sample will be paired wines from Brooklyn Winery, Lieb Cellars, Bedell Cellars, Wolffer Estatre, Sherwood House and just a ton more. Grillo's Pickles. Orwasher's Bakery. There's too many to name and this one WILL sell out. Grab your spot now!
Date: Tuesday, May 1st – Saturday, May 31st, 2014

Event: Concerts Concerts Everywhere

Place: Varies

Cost: Varies
The Scoop: Check out our new concert listings for the month of May, which makes things a bit easier to track, to read, and for our own sanity, to put together:
Thursday, May 1st
The Knife, Terminal 5
The Both (Aimee Mann and Ted Leo), Music Hall of Williamsburg
Ray Lamontagne, Town Hall
Friday, May 2nd
CHVRCHES, Terminal 5
Ray Lamontagne, Town Hall
Saturday, May 3rd
Against Me!, Webster Hall
CHVRCHES, Terminal 5
Sunday, May 4th
CHVRCHES, Terminal 5
An Evening with Sevendust Acoustic, Highline Ballroom
Monday, May 5th
James Blunt, Webster Hall
Framing Hanley & Devour the Day, The Studio at Webster Hall
Coldplay, Beacon Theatre
Tuesday, May 6th
Foals and Cage The Elephant, Terminal 5
Wednesday, May 7th
Foals and Cage The Elephant, Terminal 5
Thursday, May 8th
Bombay Bicycle Club, Webster Hall
The 1975, Terminal 5
M.I.A. and A$AP Ferg, Knockdown Center
Friday, May 9th
Bombay Bicycle Club, Webster Hall
M.I.A. and A$AP Ferg, Knockdown Center
Bilal, Stage 48
Billy Joel, Madison Square Garden
Cher, Barclays Center
Saturday, May 10th
HAIM, Terminal 5
Black Label Society and Down, Best Buy Theater
Vulture Festival: M.I.A. & Solange, Webster Hall
Sunday, May 11th
HAIM, Terminal 5
Monday, May 12th
Twelve Foot Ninja, The Studio at Webster Hall
Tuesday, May 13th
Royal Blood, Mercury Lounge
Buckcherry & Fozzy, Irving Plaza
Thursday, May 15th
Mastodon, Terminal 5
Tokyo Police Club, Webster Hall
Lily Allen, Highline Ballroom
Friday, May 16th
Chromeo, Terminal 5
Hayes Carll, The Bell House
Saturday, May 17th
Chromeo, Terminal 5
Ghost, Best Buy Theater
Sunday, May 18th
Juelz Santana, Stage 48
Swans, Bowery Ballroom
Monday, May 19th
Eric Hutchinson, Irving Plaza
Swans, Bowery BallroomTheater
Tuesday, May 20th
Anvil, Santos Party House
Wednesday, May 21st
A Conversation with D'Angelo, Cantor Auditorium at The Brooklyn Museum
Macklemore & Ryan Lewis, Hammerstein Ballroom
Saturday, May 24th
Mobb Deep, Irving Plaza
Tuesday, May 27th
Steel Panther, Irving Plaza
Red Fang, Music Hall of Williamsburg
Wednesday, May 28th
Tamar Braxton, Irving Plaza
moe., Stage 48
Thursday, May 29th
Ingrid Michaelson, Terminal 5
The Dan Band, Marlin Room at Webster Hall
Friday, May 30th
Jake Owen, Manhattan Center
Rascal Flatts, Nikon at Jones Beach Theater
Saturday, May 31st
Sister Sparrow and the Dirty Birds, Bowery Ballroom
Related Articles
Share
About Author
(0) Readers Comments