Local H
A LocalBozo.com Concert Review
Mercury Lounge, New York, NY
April 21, 2014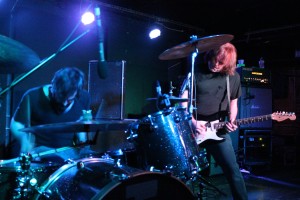 M y ears are still ringing from Monday night's jam packed show at the Lower East Side's Mercury Lounge. It may have been ill-advised for me to stand directly in front of newly minted drummer Ryan Harding's kit sans earplugs as I drastically underestimated the loud-as-all-get-out ninety minute set that was to follow. The Illinois two piece band Local H, led by guitarist and vocalist Scott Lucas, absolutely tore through twenty songs leaving nary a moment to relax during a show that wasted little time with ballads or banter and focused heavily on the band's propensity for unabashed rock music.
Despite a particularly loyal, and on this night vocal following, you may not know Local H by name. And while the band garnered a modicum of mainstream success with their singles in the mid-90′s with "Bound to the Floor" and "Fritz's Corner"- both of which are sure to ring bells with casual rock listeners- Local H is a band that today seems largely relegated to some sort of rock music wasteland of forgotten bands. But Monday night's high octane show proved that to be a truly unfortunate sentiment as Local H's simplistic yet vastly underrated style is one that resonates with their faithful listeners, and if given a fair chance, would be destined to make converts of any one with a passing interest in this band based solely on their live performance.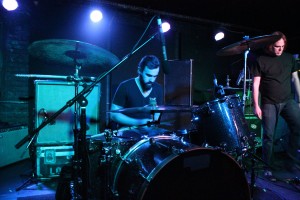 Though Harding joined up with Lucas just six months ago replacing long time drummer Brian St. Clair, the pair worked together incredibly cohesively- so much so that you'd think they'd been performing together for a decade. Their punk rock infused set meanwhile went back as far as 1995′s "Ham Fisted" through a soon to be released new track with 2014′s "One of Us" and punctuated all of the band's strongest suits in between, with enough riffs that you couldn't help but bang your head. Tracks like the slow building to frenzied "The One With 'Kid,'" the emo-meets punk "Taxicabs," a rendition of Lorde's "Team" thrown in for some modern measure and the pounding drum intro to "All Right (Oh Yeah)" were particularly rousing, even for the slightly older skewing crowd on hand to experience it all.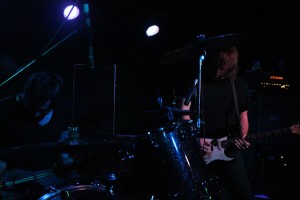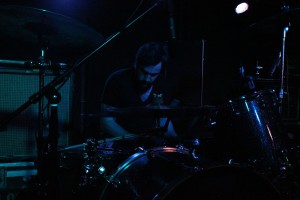 Lucas made the most of his moments in between songs, often responding to a crowd member directly or even pausing mid-song during "Hands on the Bible" to make sure that everyone in the house was having a good time. For as energetic and utterly affordable a rock show as this was, pardon the cliche but Local H left every ounce that they had up on the small Mercury Lounge stage. Promised Lucas, "so we'll play a few more. Then we'll get lit up," which inspired a massive ovation from the crowd. Closing the show in fitting Local H style was the raucous combination of "High-Fiving MF" and the lighting fast "Heavy Metal Bakesale," after which Lucas jumped from the stage and crowd surfed himself to the very back of the room before taking his spot at his own merchandise table, and began doling out the band's gear to a line of waiting fans. It served as appropriate closure to a raw, without the frills performance for Local H, a band whose talents far outweigh their recognition.
- Jane Van Arsdale
Related Articles
Share
About Author
(0) Readers Comments