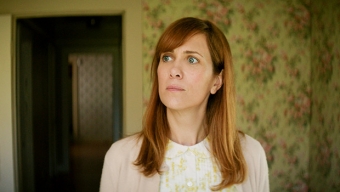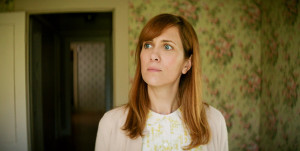 In the adaptation of an Alice Munro short story, director Liza Johnson (Return) made some truly interesting decisions in casting and in adopting Mark Poirier's screenplay to the big screen. The most notable, unsurprisingly, is the surprising role of Kristen Wiig, cast not as Gilly or The Target Lady, but as the immensely troubled and subdued Johanna Parry in a dramatic role that reveals no silly faces, no perfectly timed quips and no embarrassing revelations. And yet, Wiig's first dramatic turn is completely effective and is the primary reason why "Hateship Loveship" though slow and droll, sails along admirably with an originally modernized premise.
Sans the use of costumes and even makeup, Parry quietly has been working as a caretaker for most of her life from her upbringing to adulthood. As her only patient dies, she is recruited to rural Ohio to care for a teenage girl named Sabitha, played by Hailee Steinfeld (True Grit). She arrives in the midst of a fracas as the girl's flaky addict of a father (Guy Pearce) and grandfather (Nick Nolte) with whom she currently resides, are clearly at odds. When the estranged father pays her a bit of attention, despite his bad boy persona, Parry is immediately hooked and she engages in what she believes is an online romance with him. We come to find that Sabitha and friend Edith (Sami Gayle) have been playing a bit of Catfish with Parry and as the continued romance leads to a real-life meeting, there is an unsettling bit of anxiety as Parry uproots everything for what appears to be her first and only chance at love in the midst of his sleazy Chicago motel business.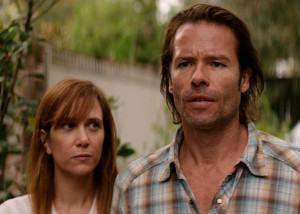 Though there's no explosive moment that you wind up anticipating as the film progresses, you realize that every movement that Wiig takes no matter how slow is calculated. Although she appears to move through live emotionally stunted, her character is far more aware and far more self-confident than we might have given her credit for. It's a testament to Johnson's vision and her commitment that she sticks with her gut instead of immediately appeasing the viewer's desire for confrontation. And the numerous parallels from character to character throughout the film show that each person's seemingly incessant loneliness gets increasingly appeased in every forthcoming scene with a character who is equally as lonesome.
"Hateship Loveship" is a dramatic film that's not necessarily sad, but reveals a weird side to the human spirit- one that Johnson describes as "falling in love with the idea of a person." Fortunately the Upper East Side's 92Y gathered Wiig, Johnson and moderator Annette Insdorf for a conversation as part of their "Reel Pieces" series on Thursday night. Guests were treated to a screening of the film, which opens today, and a candid chat between the three followed by a Q&A with the audience, most of which was spent complementing Wiig's career. The ladies discussed facets like "The Heiress" and "Being There" being potential similarities to the film, their avoidance for improvisation during the four weeks of shooting on account of the script being so strong and of course, Wiig's career on Saturday Night Live and on film.
Of Saturday Night Live, said Wiig: "SNL prepares you for anything. You don't have time to think. You have to work with an ensemble which I live for. It's a cast and it's a group thing and this movie felt that way for me. While "Bridesmaids," which Wiig co-wrote and starred in, changed her life, she also owed a lot of gratitude to director Judd Apatow who was a true influence in her writing style. While it's easy to look forward to the September release of "The Skeleton Twins" where she stars opposite fellow SNL-alum Bill Hader in a drama with comedic elements, let's not look past "Hateship Loveship" in her first incredible turn as a fully fleshed out actress and not one pigeonholed solely in comedy.
"Hateship Loveship" starring Kristen Wiig, Guy Pearce, Nick Nolte and Hailee Steinfeld is rated R, has a runtime of 104 minutes, and is in limited release in theaters on Friday, April 11th.
- Jane Van Arsdale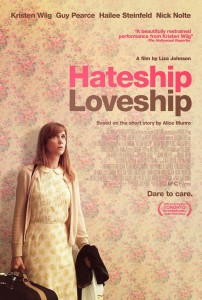 Related Articles
Share
About Author
(0) Readers Comments