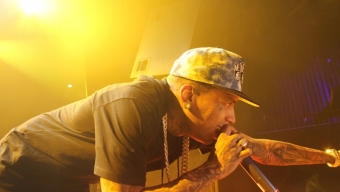 Kid Ink
A LocalBozo.com Concert Review
Irving Plaza, New York, NY
April 20, 2014
Concert Review: Kid Ink at Irving Plaza
W hether it was purposefully scheduled or simply a coincidence, Sunday evening's sold out 'Ones to Watch with Skype' performance at Irving Plaza didn't just happen to take place on the night of Easter. From inside the venue it was plain to see that the calendar also definitively read 4/20 and perhaps fittingly, taking center stage as the headliner was hip-hop artist and marijuana proponent Kid Ink. Amid a perpetual cloud of smoke, Kid Ink's hour long set showcased a young and charismatic performer that seems to be just touching upon his potential, even if the haze in the building made the stage tough to see from the back of the house.
Things have been moving rapidly for Kid Ink, who with the release of his second studio album (January's "My Own Lane") scored his biggest commercial success to date, debuting at number three on the Billboard 200. With guest appearances from Chris Brown, Wale, French Montana and Machine Gun Kelly, Ink showed his mettle in hanging with some of the game's biggest rising stars. And on Sunday night, he also proved that his stage presence in a live setting was equally as revelatory.
The massive video board lighting up the stage behind him was matched only by the sea of cellphones shooting video and lighters striking up joints in the crowd in front of him as Ink confidently strode out to the stage at 9:30pm. The overwhelming approval from the sold out audience rang out in unison as the rapper appeared, fittingly donning his Brooklyn Nets cap and gold chain; his black t-shirt would only remain on temporarily before revealing the dozens upon dozens of tattoos on his face, chest and arms that garnered his hip-hop moniker Kid Ink.
Promising special guests at his shows- he brought out Macklemore at his Seattle show a few weeks back- New York City welcomed A$AP Ferg to the stage as the pair bounced around during "Bossin Up." Despite the absence of French Montana, the crowd didn't seem to mind as Ferg, in a bright yellow rain coat, brought the house down with his sole arrival with his mic in hand. But even as he performed alone, Kid Ink made sure the audience knew whose show they were at with electrifying performances of tracks like "Murda," "Hell & Back" and particularly rousing renditions of "Iz U Down" and "Sunset" that brought the crowd to its knees.
Though the show was set on Easter Sunday, Kid Ink's show in Manhattan was more of a celebration of the 4/20 holiday, his advocacy for cannabis being boldly announced early and often throughout the evening. Staying true to his words and true to his fans, Ink went so far as to grab a blunt from the hands of a fan in the front row, taking in a couple of puffs in the coolest way possible and returning it to a gleeful member of the audience. Though the transgression of events was unique to say the least, it was somehow perfectly suitable on this night- a fun and raucous ride of a concert by one of hip hop's fastest rising commodities.
- Jane Van Arsdale
Related Articles
Share
About Author
(1) Reader Comment