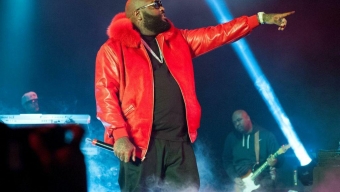 Rick Ross
A LocalBozo.com Concert Review
Best Buy Theater, New York, NY
March 3, 2014
Concert Review: Rick Ross at Best Buy Theater
To celebrate the release of his sixth studio album "Mastermind," the Best Buy Theater in Times Square welcomed one of the game's finest emcees to town as Rick Ross and a gaggle of his hip hop pals swooned a jam packed crowd during his hour long set on Monday night. Fans voiced their displeasure early on as show opener DJ Enuff attempted over the course of an hour to calm the crowd, rowdy with anticipation for the oversized rapper. And shortly after 10pm, their voices were finally heard.
"To me, this ain't a concert," boasted Ross as soon as he took center stage. "This an album release party to me." Emerging in a bright red fur coat with leather trim, the crowd went wild as the show kicked off, holding up "Mastermind" posters high overhead to the detriment of the fans toward the back of the venue. Acknowledging his local supporters, Ross shouted out "Def Jam, Hot 97 & 106. Park are here" before launching into his opener "B.M.F." At this point in his career, Ross has become a seasoned performer, often parading to both sides of the stage and playing to the crowd, making sure to take his time with every lyrical drop. The show's first surprise came in the form of DJ Kahled who gave Ross a bearhug, handing him a bottle of Belaire Rose in celebration of the album release.
Throwing his coat to the floor, Ross then performed "John," "FuckWithMeYouKnowIGotIt," then "The Devil Is A Lie"- all three of which revealed just how much the rapper was enjoying himself, with a smile sitting between his ears throughout each song. With many of his hits out of the way, Ross then brought members of the Maybach crew to the forefront. The surprises continued as French Montana exploded onto the stage to perform "Nobody." The crowd meanwhile was in complete shock, loving every minute of it as the pair then jammed on "Pop That." After a few handshakes, the melody of "MoneyPowerRespect" started blaring and the crowd again erupted for the arrival of powerhouses Jadakiss and The LOX to the stage, bouncing around with drinks in hand.
It seemed that Rick Ross managed to save the biggest surprise for last, ending with the arrival of Busta Rhymes. "Put Your Hands Where My Eyes Can See" tore the roof off of the Best Buy Theater and culminated in a poignant speech to the crowd calling Ross "one of [my] favorite MCs of all time." Rhymes continued to put Ross' stature as an artist in perspective. "I never publicly say who's my favorite and the reason I say this is because he rhymes and uses words that I wish I could've said. From one MC to another I wish you congratulations"- a humbling and fitting tribute that showcases the talents that make Rick Ross so distinctive and one of the finest rap artists of the modern era.
- Stephanie Pearl, Stephanie Pearl Photography
Related Articles
Share
About Author
(0) Readers Comments