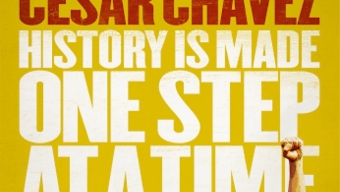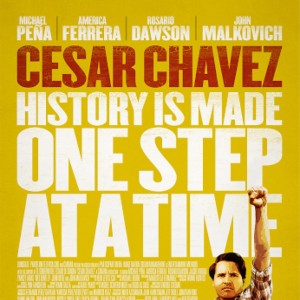 Cesar Chavez the man was quiet and reserved and yet somehow, undyingly inspirational. "Cesar Chavez" (PG-13) the film, while revealing the man's ability to motivate and show courage in the face of true danger, often moves far too quickly for the naturally slow-building story, one that true to history was more gradual than director Diego Luna's finished product might imply. To their credit though, the cast does perform to the best of their abilities in spite of a film that doesn't scratch the proverbial surface of what it could have been.
"Cesar Chavez" follows diminutive actor Michael Pena (American Hustle, End of Watch), capably cast as Chavez, as he leads a California grape strike for migrant workers. Much of the film revolves around Pena and wife Helen (America Ferrera) recruiting farm workers to ignore the potential collective backlash that their loyalty may stimulate and understand that the impact of their strength in numbers can actually bring about change. It's a backstory that fundamentally writes itself and yet, "Cesar Chavez" still fails to completely satisfy the real story's historical significance.
While there are several scenes that piece the movie together which are particularly effective- you root for the arrival of Robert F. Kennedy, support Chavez's incredible hunger strike, and boo the loathesome Sherriff Smith (Michael Cudlitz), and to a lesser extent, the businessman Bogdanovich played by John Malkovich, who, to no surprise is the shining star of the film- overall "Cesar Chavez" just seems to be missing something. Perhaps it's Luna's persistent use of a handheld camera, which never seems to deliver on the anticipated promise that you'd hope for as a viewer. Or maybe it's the prevailing story of Chavez's son who is seemingly relegated to an afterthought in comparison to Chavez's efforts toward unionization as the bond between the two never seem to fully materialize in front of our eyes. They simply never seem close enough for us to really care if they are able to patch things up.
Overall the story of Chavez the man, is an incredible one. And the story of "Chavez" the film does manage to keep your interest over its 101 minutes, but moves far too quickly for any of our feeling to develop. At no point do we abhor the film's main villains as we should nor do we truly feel vindicated when Chavez's eventual successes come along. It's that apathy that remains within us both during the film and afterward and it's something that Chavez the man, would inspire us to avoid.
"Cesar Chavez" starring Michael Pena, America Ferrera, John Malkovich and Rosario Dawson is rated PG-13, has a runtime of 101 minutes, and is released in theaters everywhere on Friday, March 28th.
- Jane Van Arsdale
Related Articles
Share
About Author
(0) Readers Comments