Amnesty International: Bringing Human Rights Home
Featuring Imagine Dragons, Tegan and Sara, Blondie, Ms. Lauryn Hill, The Fray & More'
A LocalBozo.com Concert Review
Barclays Center, Brooklyn, NY
February 5, 2014
Inspiring a generation of young people to get involved in defending basic human rights worldwide, the 1988 "Human Rights Now Tour" touched twenty different cities around the world led by the likes of Bruce Springsteen & The E-Street Band, Sting and Peter Gabriel, with the focus on raising awareness for Amnesty International. Some 16 years later, with much of the world rightfully outraged by the imprisonment of punk outfit Pussy Riot for staging a protest in a Russian church, the "Bringing Human Rights Home" concert was staged Wednesday night at Brooklyn's Barclays Center. With a bill comprised of modern rock and pop acts, alongside the appearances of some iconic musicians both in person and via taped video message, the event aimed at targeting the next sea of supporters, in true Amnesty International style, utilizing music as a tool to attract thousands of new advocates for free expression.
The four plus hour festival atmosphere featured some of music's biggest artist intertwined with brief video pieces depicting the harsh deprivations of human rights occurring around the world, which most of us often ignore or are too naive to truly understand. But the lineup of musicians on this night made sure the plea for true freedoms were heard loud and clear by the almost entirely full Brooklyn arena. Shortly after 8pm, Cold War Kids opened the show with particular fire- their two song set capped by "Hospital Beds." Up next, the never outspoken Susan Sarandon addressed the audience and the three million members of Amnesty International urging the crowd to become more active in being heard, proclaiming "Art has the power to bring positive change." With that, songstress Colbie Caillat was out next in short red shorts and black cowboy boots, performing a trio of pop songs- "Realize," "Hold On" and hit, "Brighter Than the Sun" which seemed to resonate with the live crowd on hand.
Following a video package including recently shot interviews with Sting and Peter Gabriel and clips of the historic 1988 shows featuring Springsteen, Imagine Dragons' frontman Dan Reynolds spoke of the next collection of artists tasked with recruiting supporters for Amnesty International, and introduced The Fray to the stage for another trio of hits including "You Found Me," "How to Save a Life," and the group's recently released single "Love Don't Die." The show would then take a more serious tone as star of CBS drama "Blue Bloods," Bridget Moynahan introduced a man named Kianoosh Sanjari, an Iranian activist who was held captive, violently beaten, and left in solitary confinement. He spoke of his desire to bring equality to his country in the face of tyrannical abuse, so that women would be free to enjoy the same freedom as men.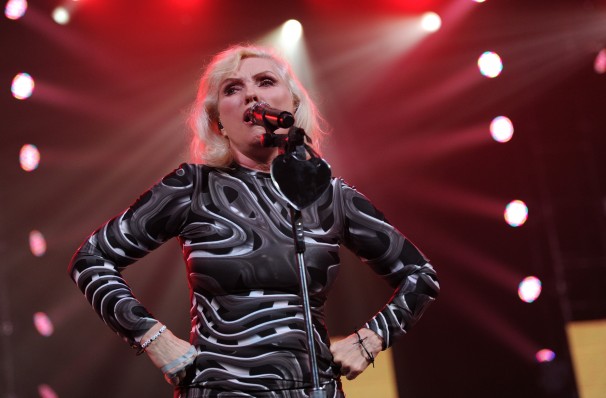 (Blondie's Deborah Harry, Photo courtesy: The Washington Post)
Little did we know meanwhile, that the Barclays Center was set to erupt with the arrival to Blondie to the stage. Led by the iconic Deborah Harry, who was every bit the rock star that she was back in the 1970′s, the group pounded through three songs to a now standing audience. "One Way or Another" and a rocking version of "Call Me" sandwiched a newer track "A Rose By Any Name" which competently stood alongside the other two songs. The audience perhaps in surprise, really seemed to get behind the band here and for the first time, really got involved in the live show. Sarandon would return to the stage next, introducing a man named Kerry Max Cook who spent 22 years on death row in Texas before having his conviction overturned. With modern technology and DNA testing that our generation now has at our disposal, Cook joined Sarandon in calling for the abolishing of the death penalty internationally for fear that wrongful convictions here result in unnecessary deaths, despite evidence proving otherwise decades later.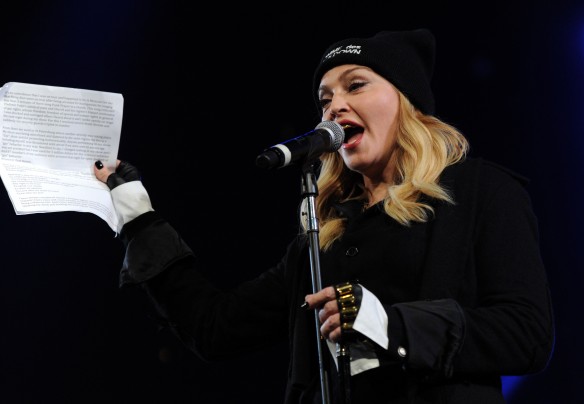 (Madonna, Photo courtesy: The Washington Post)
Following an abbreviated if not inspired set by Cake, the entire crowd again took to their feet to welcome Madonna to Brooklyn. Madonna's impassioned pleas were aimed particularly at Vladimir Putin's ban on homosexuality, revealing that she had even been sued by the Russian government for $1 million because of acts involved in her own stage show. The singer's five minute speech was profanity laced but certainly poignant and seemed to hit home with the New York City crowd- when Madonna speaks, everyone stands. The introduction of the two previously imprisoned members of Pussy Riot was perhaps the evening's political highlight, as Maria Alekhina and Nadezhda Tolokonnikova were welcomed out to a thunderous applause. The pair, making their first public appearance in the United States vociferously ran down Putin and thanked their supporters through the use of a translator and discussed their continued fight to help save those who remain imprisoned.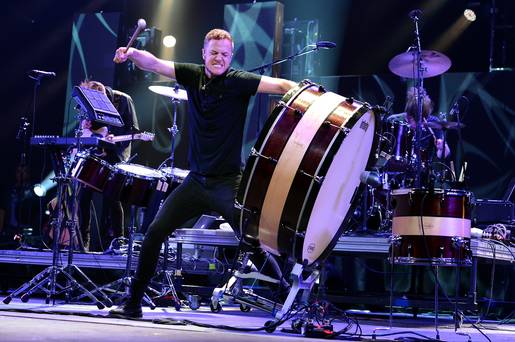 (Imagine Dragons' Dan Reynolds, Photo courtesy: independent.ie)
While performances from Bob Geldof, The Flaming Lips, Tegan and Sara, and a strange set from Ms. Lauryn Hill, who throughout seemed to be having issues with her microphone, her sound and seemed to frantically be conducting her backing musicians with when to play and when to pause, were each noteworthy in their own right, the arrival of Imagine Dragons seemed to invigorate a mostly stoic if not overly polite audience. "Tiptoe" and "Amsterdam" served as revved up precursors, but hit single "Radioactive" made the 18,000 seat arena come unglued. The absence of Kendrick Lamar mattered not a bit to the live crowd, who reveled in every second of the five piece band's drum breakdown mid-song, before raucously exploding for the track's final chorus. Looking around the building, finding a single person not singing the song's lyrics proved to be a challenge. And judging by the response of the fans assembled on this night, it seems that Imagine Dragons, a band just on the cusp of super-stardom is an ideal choice to lead the next charge of Amnesty International voices and ensure that their voices will no longer be silenced.
- Jane Van Arsdale
Related Articles
Share
About Author
(1) Reader Comment