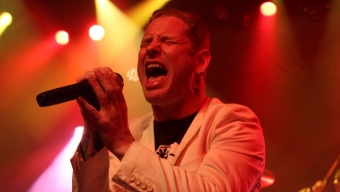 Stone Sour with Pop Evil
A LocalBozo.com Concert Review
Irving Plaza, New York, NY
January 18, 2014
It was back in mid-December when the announcement of Stone Sour's headlining run would bring them through New York City for a Saturday night show within the intimate confines of Irving Plaza. The band's previous tour through Manhattan saw them headline a jam packed show at the far larger Terminal 5 space last January. This time around though the smaller venue could hardly diminish the wild enthusiasm of a rowdy audience as the band's appearance seemed to be a genuine thank you to their diehard faithful.

Concert Review: Pop Evil at Irving Plaza
Following openers Stolen Babies, Michigan's Pop Evil took center stage by storm. The group's abbreviated nine song set culled much of the material from their latest release 2013′s "Onyx" but also managed to give an ode to long time listeners. Led by frontman Leigh Kakaty, the group opened furiously with "Deal with the Devil" and the always raucous "Hero," perhaps the most well known track from 2008′s "Lipstick on the Mirror." The shortened set unfortunately eliminated a slew of the band's well known tracks in favor of some new material, but that said, their admirable performance here was a testament to a fast-paced style that suits the new record well. Tracks like "Torn to Pieces" and "Flawed" were showcased for more casual listeners before "Trenches" brought a bit of familiarity to the set, evidenced by the crowd's response. Although we longed for the days of "100 in a 55" and "Stepping Stone," it was hard to argue with the band's high octane set on this night- including the likes of "Last Man Standing" and "Boss' Daughter," both rocking versions in this live setting.

2013 certainly seemed to be a banner year for the guys in Stone Sour, stamped by the release of the second half of their double disc release back in April with "House of Gold & Bones: Part 2." They've been called concept albums, but really, they are two very distinctive and very good heavy records- rife with some of the best written rock singles of the past five years. There's a certain unspoken divinity at each Stone Sour show as much of the crowd has a sacred level of respect for the band's frontman. Corey Taylor, while not a deity, personifies an almost untouchable level of rock star- outspoken yes, but almost roundly adored- certainly by his loyal fans- but also critically acclaimed by even his skeptics. Saturday night in New York City was truly no different as chants of "Cor-Rey, Cor-Rey" rang out from bell to bell in between the band's pulverizing song list.
The clock had barely touched upon 10pm as the house lights lowered and the buzz began to build inside amongst the now titillated crowd. The opening strums to "House of Gold & Bones" set a feverish pace for Taylor's first appearance, fittingly in an all white suit. The group wasted little time letting the audience know who was on stage with a head pounding trio of openers, with "RU486" and "Say You'll Haunt Me," that followed. From his microphone to his mannerisms there wasn't an eye in the house not affixed to Taylor from the show's opening- his stage presence and command of the crowd nearly demands your eyeballs, despite a wildly talented band that backs him and allows his magical abilities to be so punctuated.
Vocally, its uncertain whether Taylor truly has an equal in 2014. Perched upon his trademark riser, the singer rarely moved from his centered position, often meeting the adoration of the glaring eyes that looked up toward him and acknowledging their faith. Lesser known cuts like "Gravesend" and "Black John" were met with appreciation, but the group's many singles caused the entire room to become unglued. "Made of Scars," "Tired," and even the now entirely overplayed "Through Glass," were essentially excellent on this night. And if you've somehow managed to miss out on the experience of watching Taylor perform mega-hit "Bother" and his expertise in harnessing his passionate fanbase, then it's certainly something that belongs on your rock music bucket list. It's stirring and inspiring at once.
Among the band's newer tracks, the popular "Do Me a Favor"- both catchy and frenzied- led into the encore, when the collection of fans yelling and their requisite excitement for the band's return to the stage forged an incredible level of suspense inside of the room. As the opening riffs to "Gone Sovereign" boomed over the house PA, the band returned collectively just as the song kicked into its fastest pace- a mesmerizing riff-led romp that lasted roughly ten minutes and through the far superior "Absolute Zero"- though both of which are perfect compliments to one another and in fact, were released as such. Stone Sour's outstanding cover of Judas Priest's "Heading Out to the Highway" closed the show out in ideal fashion- a tip of the cap to one of heavy metal's forefathers, delivered by a band that's among the biggest in the spectrum today.
- Jane Van Arsdale
Related Articles
Share
About Author
(0) Readers Comments