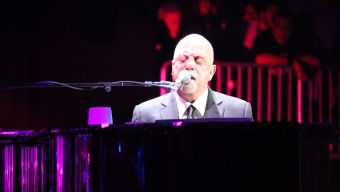 Billy Joel
A LocalBozo.com Concert Review
Barclays Center, Brooklyn, NY
December 31, 2013
As 2013 drew to its conclusion, there was no hotter ticket in the Metropolitan Area on New Year's Eve than Billy Joel's return to New York City for the first time in roughly eight years. His first visit to Brooklyn's Barclays Center sold out instantaneously, with the revelation of his upcoming Madison Square Garden residency coming just a few weeks afterwards. Fans who snatched up the upwards of 18,000 seats were treated to more than two hours of material sandwiching the ball dropping on 2014.
When we last saw Billy Joel, it was 2008 and he was seated at his piano in what would be the final live performance at Flushing's Shea Stadium. It was perhaps that lasting image that rendered the prospects of an upcoming New Year's Eve performance so entirely surreal. On that July night in Queens, Joel welcomed out the likes of Garth Brooks, Steven Tyler, and Tony Bennett to join him on stage, capping the show off with the unimaginable arrival of Paul McCartney. With these memories in mind, we wondered what Joel had up his sleeve for the first show in his hometown city after so many years on hiatus and we speculated a list of potential guests certain to join him on stage during this highly anticipated show. The unfortunate answer was that there would be no special guests though and coupled with something of a head scratching setlist, Joel's New Year's Eve show, while great, could have been historic.
The prospect of Joel's full time return to touring kicked off by a New Year's Eve performance in New York City would have ideally been an relentless romp through the many hit singles which comprise almost the entirety of Joel's unprecedented catalog. Considering the pianist's upcoming string of shows in New York City, you would think that Brooklyn would serve as the benchmark for what fans would hope to expect from the sold out shows in the coming months and one that would have been geared to the more casual fan, just looking for the familiarity of their favorites on December 31st. Instead, Joel chose a different path, digging deeper into his archives and pulling out lesser known tracks from albums like 1978′s "52nd Street" and 1982′s "The Nylon Curtain" among virtual unknown songs that dominated much of the show's first hour. Although as the show progressed, Joel did appease the crowd by busting into many of his iconic anthems,  his selection of rarities was definitively questionable, especially on this great a stage.
With some of the mild criticism of Tuesday night's show now out of the way, Billy Joel remains a truly phenomenal musician and performer. His voice on the eve of 2014 holds up as well today as it did forty years ago, despite rarely leaving the confines of his piano bench. Joel opened the show with "Miami 2017 (Seen the Lights Go Out on Broadway," as fitting an opening number here as you could ask for, with the entire arena becoming unglued for the line "We held a concert out in Brooklyn to watch the island bridges blow." "Everybody Loves You Now" and the requisite "New York State of Mind" followed in short order before the run of "All for Leyna", "Until the Night" and "I've Loved These Days" among a few other unknown songs brought the room down some. But to his credit, it was these tracks- dated and forgotten by many- that seemed to rejuvenate Joel as a performer as he seemed to genuinely enjoy performing them for the first time in years. So while the set selection was underwhelming, if the appeal to the artist is to perform the relics from his catalog to get him back on tour, then it's something that we should wholeheartedly endorse and champion. There are only a handful of legends that can still perform at Joel's level, a level that candidly, performers some forty years his junior are unable to reach.
Nuggets like "The Entertainer" and the much welcomed "Allentown" popped into the early portion of the set unexpectedly before it was time to celebrate the ball dropping. The band launched into "Auld Lang Syne" and "Big Shot" before going live on the air for Dick Clark's New Year's Rocking Eve with "You May Be Right" to commemorate the first live performance of the new year shortly after midnight. Anthemic tracks like "Movin' Out (Anthony's Song)" and "Don't Ask Me Why" led to the main set closers "River of Dreams," "Scenes From An Italian Restaurant" and "Piano Man" which brought the entire venue to its feet. While we were concerned that the show would conclude at 1am, Joel proved that three bullets still remained in his handgun as "We Didn't Start the Fire," "It's Still Rock and Roll to Me," and the exceptional "Only the Good Die Young" closed the show amid thousands of dancing feet moving everywhere around us and ear to ear grinning as now drunken showgoers hugged each other, singing every lyric excitedly. The last seven songs of the show captured the essence of what the entire two hours should have been and even still, it's hard to ever be disappointed when marveling at Billy Joel's talents. He's just that exceptional a live performer equipped with a catalog filled with a litany of some of the finest songs ever penned.
- Jane Van Arsdale
Related Articles
Share
About Author
(4) Readers Comments