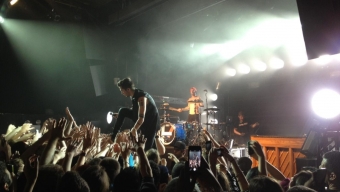 Twenty One Pilots
A LocalBozo.com Concert Review
Irving Plaza, New York, NY
December 5, 2013
In the second of back to back sold out shows in New York City, Columbus Ohio's Twenty One Pilots ripped through an energy laced ninety minutes, pulling out all the stops and leaving an exasperated audience gassed by the show's close. Interestingly, the group is comprised of just two members- the tireless drummer, Josh Dun and the versatile frontman, Tyler Joseph- who move around on stage enough to make you forget about any missing bandmates. Drawing parallels to a range of artists from Eminem to Panic! at the Disco, the duo combines to product a confluence of sounds, seamlessly meshing pop, rock, hip hop, and electronic sounds to create their very own style.
The pair took the stage at 9:40pm, donning ski masks just long enough for the sea of photographers down in the pit to dissipate. Although their faces were concealed, the group's talents were clear as day. Performing in front of a sizable video board, Dun's relentless drum smashes set the tone for Joseph's musical dexterity- be it seated at a piano, strumming a ukulele, working at a synthesizer, or masterfully handling lead vocals throughout the show- all of which he took a separate turn at. Musically, the electro pop sound is on full display throughout the band's performance, assuming that you can hear anything above a sold out crowd singing at the top of their lungs.
The pleasantly poppy "Fake You Out" was a fast paced opener to a show filled with songs of similar speeds and showcased Joseph's vocal ability to crescendo to the peaks of high pitch, before a lightning quick lyrical breakdown with Macklemore-esque white boy speed. Tracks like "Fall Away" and "Car Radio" allowed the frontman to own the spotlight with full use of his hip hop flow, the latter of which led to an out of control dance scene with the entire standing room floor jumping together with their hands raised high overhead. Hardly a one trick pony though, Twenty One Pilots unleashed their more melodic side on songs like the riveting "Screens," "Addict with a Pen," and recent single, the catchy "House of Gold," which featured Joseph leading the rowdy crowd by jamming on his ukulele.
With the release of 2013′s "Vessel" being their first studio release on Atlantic's Fueled By Ramen subsidiary, the group dipped into a few cover tune teases to the delight of the excitable crowd. Inventively, the duo briefly touched upon Van Morrison's "Brown Eyed Girl" and then tapped into their inner Andrea Bocelli during a fun rendition of "Time to Say Goodbye" in a nod to any fans over twenty- of which there seemed to be few. But the show's most spectacular moment- of which there were many- aside from Joseph jumping around from pillar to post, was Dun's appearance on his drumkit being held high overhead by the crowd underneath him as the show neared its close. The intricate light show and brightly illuminated video board certainly added to the club like atmosphere inside Irving Plaza. But it was the sheer talents of the two musicians on stage, having a blast in front of their New York City faithful, whose lights managed to shine even brighter.
- Jane Van Arsdale
Related Articles
Share
About Author
(0) Readers Comments