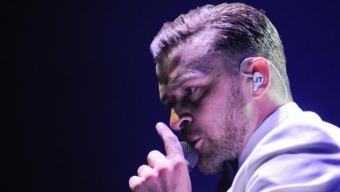 Justin Timberlake
The 20/20 Experience World Tour
A LocalBozo.com Concert Review
Barclays Center, Brooklyn, NY
November 6, 2013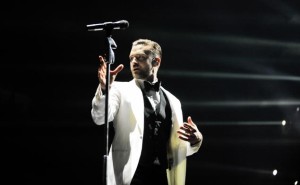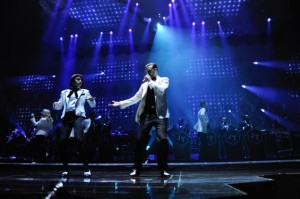 (Photo Credit: Julia Xanthos, New York Daily News)
Avid fans of pop culture icon Justin Timberlake certainly got their money's worth at the Barclays Center on Wednesday night. With support from The Weeknd, the former boy-bander played thirty songs during a nearly three hour performance that time traveled through the singer's considerable four album catalog, with some fun covers pumped in for good measure. As suave as his stage presence was however, the long running show- a testament to Timberlake's work ethic and incredible talents- would have perhaps been better suited at an abbreviated set time, eschewing many of the bells and whistles that dragged an often times fun show into the wee hours of the evening.
It's difficult to find complaints with a Timberlake performance under normal circumstances, and on the first night of the 'The 20/20 Experience World Tour,' it quickly became clear that the showman was pulling out all the stops in Brooklyn. And that said, from our vantage point and judging by some of the restless crowd members around us, many of us could have done without much of the filler. Touring on the heels of the release of "The 20/20 Experience: Part II" which dropped in September, Timberlake made sure to perform a good deal of new material to the jam packed audience, which included late night host Jimmy Fallon, who was acknowledged later in the set. But with two albums released in 2013, and much of them actually quite good, he may have over leveraged his set some by leaning on so many new tracks.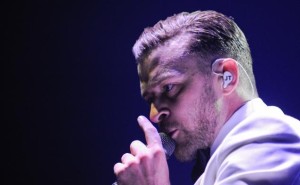 To Timberlake's credit though, there was no shortage of his hits during the performance as he played each and every song any casual listener would have wanted to hear- although some of them were abbreviated a bit. Backed by band The Tennessee Kids and a cavalry of choreographed dancers parading around the stage beside him for much of the show, Timberlake emerged from underneath the stage by his lonesome as a clock counted twenty seconds down to the show's open. The slow and swanky "Pusher Love Girl" proved to be an ideal opening track, as the band joined him on stage in front of a truly sensational array of lights. From there, it was clear Timberlake was in charge leading his backing dancers around on stage as if he was the leader of a gang. Tracks old and new blended together with the likes of "Rock Your Body" and "Like I Love You" setting the stage for "TKO" and "Magna Carta…Holy Grail." While a much anticipated Jay-Z appearance never wound up playing out, there was hardly reason to complain as Timberlake was hitting his stride. Surprisingly, "Cry Me a River" which featured a full on guitar breakdown, closed the first set on its highest note.
Following a head scratching ten minute intermission that went off without warning, Timberlake returned with highs ("Only When I Walk Away" featured the most uplifting and spectacular light show of the night) and lows (the cartoonish "True Blood" was more 'N Sync than a polished 2013 Timberlake), culminating in a large illuminated stage riser lifting the frontman and his backing vocalists high overhead and placing them toward the back end of the floor space. Covers of "Heartbreak Hotel," Michael Jackson's "Human Nature" and an inspired collaboration of "What Goes Around… Comes Around" more than made up for a flat version of "Take Back the Night." But the crowd seemed completely rejuvenated by the cover of Bel Biv Devoe's "Poison," bringing the entire arena back to their feet. And where "Suit and Tie" and "Sexy Back" were good but not great, perhaps worn down by end of show fatigue, the audience again exploded for the show's closer "Mirrors," a rousing capper to an evening that may have gone on a bit too long, but had some truly brilliant moments that showed off Timberlake's unique talents as a singer, a dancer, a showman, and as a solo phenomenon in front of 18,000 screaming Brooklynites.
- Jane Van Arsdale
Related Articles
Share
About Author
(0) Readers Comments