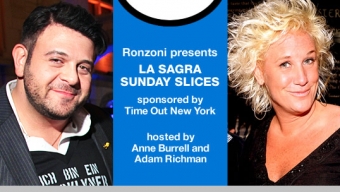 Looking for last minute, off-the-cuff weekend plans? LocalBozo.com has got you covered. It's not too late to figure it all out. For a glimpse of upcoming events that we'll be covering, check out the calendar in our side bar to your right. Otherwise, here are a few highlights to check out in and around Manhattan this weekend!
Arts & Culture
Friday, October 18th – Sunday, October 20th – This weekend, you've got the opportunity to do something truly special. And that's be in the presence of The Dalai Lama. The Beacon Theatre is the hosting site for two sessions per day on Friday and Saturday and a singular one on Sunday. His holiness is annually here in New York City and this year he'll be also doing a Q&A session to boot. In a day and age of so much turmoil, it might be a good idea to try and find some peace. Tickets aren't cheap, but on your deathbed, you're certain to find total consciousness. Which is nice.
Saturday, October 19th – Join the PT Barnum of the home culinary world as Matt Timms takes over Brooklyn's Bell House once again for 'The Bacon Takedown.' Dozens of home cooks gather to dole out more than 20 different samples of cured bacon. It'll be in strips, in cookies, and who knows what else. But tickets are cheap and the experience is always special. Now what are you waiting for?
Sports
Sunday, October 20th – Well a week after we were effectively teased by the prospects that a Jets team might be good in 2013, they go out there and pull out a fart of a game against the Steelers at home. Life doesn't get much easier this week as they welcome the arch rival New England Patriots to New Jersey for a 1pm showdown of AFC East teams headed in opposite directions. The 5-1 Pats. The 3-3 Jets. The battle for bragging rights.
Music & Entertainment
Friday, October 18th – Quiet night in tonight? Check out the movies opening this weekend. Hurray! Sly Stallone. Arnold Schwarzenegger. "Escape Plan." Rated R. That's all you need to know. Well, that and it also features James (don't call me Jim) Caviezel, you know, from that "Passion" movie. Also opening, for 99 glorious minutes, catch the remake of the horror classic "Carrie" (R), featuring Chloe Grace Moretz and Julianne Moore. A shy girl, largely ignored by her peers? Sounds like Jane Van Arsdale, the high school years. And if you're looking for something a bit more 'real,' "The Fifth Estate" (R) follows the story of WikiLeaks' earliest days. Meh.
Friday, October 18th – Saturday, October 20th – The rock returns to New York City all weekend long. Friday and Saturday, Pearl Jam celebrates the release of their latest album with two sold out shows at Brooklyn's Barclays Center. Recent performance times have exceeded 3 hours and with no opener, be prepared for Eddie Vedder and the boys to dig deep into their archives. Also on Friday, Roseland Ballroom hosts the devils in Danzig celebrating the 25th anniversary of their self-titled album. They had better play "Mother." And finally (a little out of context) but you can join LocalBozo.com at Irving Plaza on Monday night for pop duo 3Oh3! headlining the Journeys Noise Tour. Tickets are just $20!
Nightlife
Friday, October 18th – Saturday, October 19th – The CMJ Festival rages all weekend long. On Friday, head over to Williamsburg at Output, where the Ghostly Party kicks off at 10pm with luminaries like Com Truse, Lord Raja and Contakt. Or check out Aspen Social Club for the Art Basel Miami Beach Fundraiser as the Con Artist Girls have a FREE guestlist until 12:30am if you say Con Artist at the door. Saturday, try and sneak into Lavo as DJ Mel DeBarge works the mix all night long…or from 8-10pm.
Other
Friday, October 18th – Sunday, October 20th – Get ready New York City, the 2013 'Food Network New York City Wine and Food Festival' is back! It's bigger than ever before with a slate of events, most of which are sold out. Now there's some availability left at this point, but many of the more sought after events are gonzo. This weekend is a celebration of all things New York City and all things food, with celebrities and chefs like Rachel Ray, Adam Richman, Anne Burrell, Mario Batali, Joe Namath, and a slew of others all signed on board for the festivities. You can join LocalBozo.com on Friday at "Meatpacking Uncorked" and on Sunday at "Sunday Slices," but pick up tickets to anything that strikes your fancy. It may be costly, but it all goes to benefit the Food Bank for New York City.
And as Always, Droid users- make sure to Download the official LocalBozo.com App for FREE from Google Play (formerly the Android Market)! Get all the information we can fit onto your smart phone, NOW!
Related Articles
Share
About Author
(0) Readers Comments